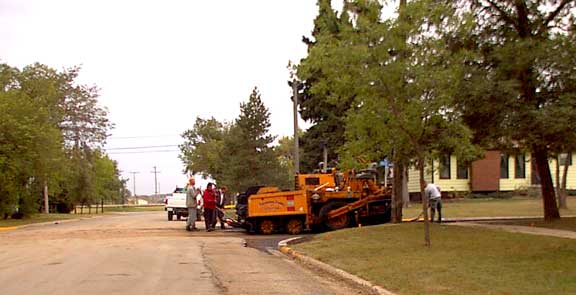 Streets Get New Tops North and South
FTLComm - Tisdale - Wednesday, September 5, 2001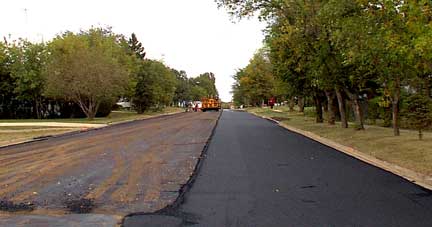 Though showers threaten work today the contractors are working from one end of town to the other. Above we and here on the right we see a gravelled street in the South side of town getting a very nice smooth black surface and that will actually boost the property values in the area.

Just a block East of the hospital (below) the street has been dug down to clear away soft material so that a new solid hard surface can be laid.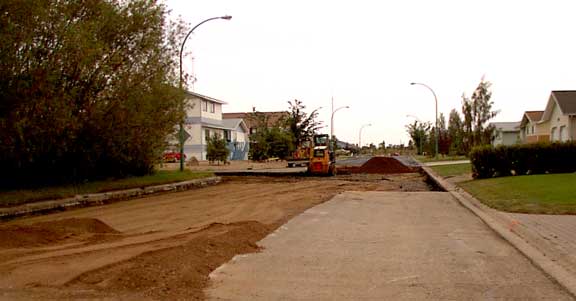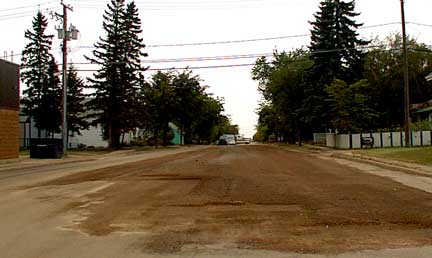 The block East of the SAAN store which three years was dug up at least once a week for a whole summer is at last going to be fixed. A surface coat of gravel is in place and the curbs have been repaired so that this street will once more be useable.

Beside the Lion's park work is in progress today as Patterson Concrete installs new curbing for the whole block. Half of this street was tore up to replace water lines and now is the time to clean it up.

This work is expected to go on for more than a week as the NewMarket road is ready to be surfaced and several streets including our own (95th street) will be given a new cap.