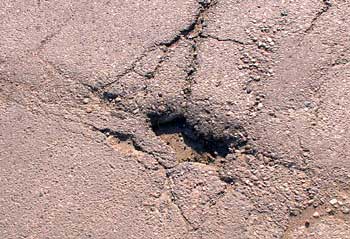 The town usually gets some of the more obvious holes fixed in May or June but this year the way things have worked out they have been doing installation work and these projects have delayed the street patching routine.

The installation of water and sewer services to the new house to be moved to the town's South West side resulted in a major excavation as they had to install a loop as this was the end of the water line, but the project is finished today as the grader was in use sorting out the street surface.

The wear and tear and ravages of water and ice are now the main course as this crew is heading up and down the streets fixing as best they can the cavities that have formed since last summer. Many of the streets which passed on paving last summer are going to regret their decision as fractures like this one seem to spread until the whole surface is a crumbling mess, especially on those high traffic streets where the buses hustle in and out each day flexing the plastic surface and causing crumbling.