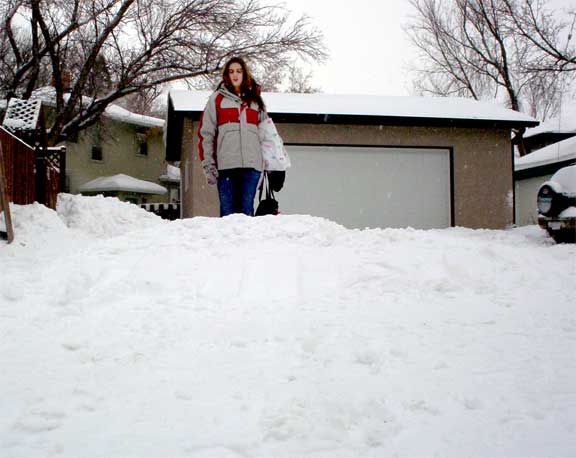 Back Alley Barrier
Regina - Tuesday, February 3, 2003 - By: Stu Innes
Here are two photos from my back alley in the morning of Feb 01 2004.
A payloader has been sent up our alley to removed snow accumulation because the hill is too steep for the garbage truck to make it if the snow is left never mind us poor taxpayers.
The knee deep pile of snow you see in these photos is what faced may neighbour this morning on return from her night shift. She was stuck in the snow last evening before going to work as Leopold had not been cleared and she was forced to park there anyway as our alley was impassable.
Today the alley is cleared up to this point where the last three residences are cut off from the exit by this knee deep pile of snow abandoned by the payloader.
Her little red car had no way of getting to the spot over by the black vehicle with the spare on the back and the other two residences are not happy either.
It would not have ben quite so bad but between us neighbours this end of the alley had been cleared out quite well before the payloader came along.
A phone call to the city indicated that the payloader leaves a hard packed knee deep pile of snow and that is all there is to it.
Just as an additional note - at least one of my neighbours also phoned the city and this problem was taken care of by at least three in the afternoon.
The good news here is that someone was more concerned than the person who answered the call I made to the city phone line initially.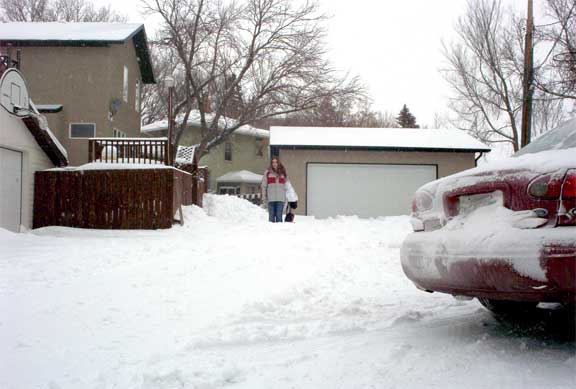 ---
Return to Ensign - Return to Saskatchewan News
This page is a story posted on Ensign and/or Saskatchewan News, both of which are daily web sites offering a variety of material from scenic images, political commentary, information and news. These publications are the work of Faster Than Light Communications . If you would like to comment on this story or you wish to contact the editor of these sites please send us email.
Editor : Timothy W. Shire
Faster Than Light Communication
Box 1776, Tisdale, Saskatchewan, Canada, S0E 1T0
306 873 2004