The countries of the world have been pushing the recycle philosophy for quite some time now. "Do your part" , etc, etc. Well; here's my part; which, might have a minuscule impact.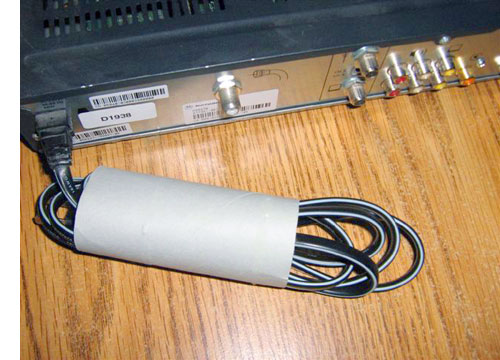 A number of years ago I came across this method of recycling. We all use that supposedly soft; however, under certain circumstances, it can feel quite abrasive, item identified as toilet paper. We as humans in this century utilise a tremendous amount of it; which, for the most part is exported from our domicile by way of the flush toilet. Now; what do we do with the core of the roll - can't flush it. Can we ? - I understand that some people have tried; however, those are the people with the same mentality that sued fast food outlets for serving coffee that was to hot!
Here's what I found was a good use for them. We all know; particularly at this time of the year (Christmas), that we have a lot of electrical cords to deal with. They usually have (or don't) those black ties; that, are to, begin with, a pain to undo and then, we lose them, so when it comes time to store the cord (can't find the little black tie), , we just stuff the cord wherever. Why not use the core of the toilet paper. Easy to put on , take off - easy to find when needed - an unlimited supply; and as I said ; a minuscule impact on recycling; but, an impact. Truly; it works and is extremely neat and convenient. Rather than sending them all to the dump.

I might mention that the white ones in the picture are the centre of a roll of paper towels that I cut into different sizes; the brown one is from toilet paper rolls.
P.S. They won't work for snorting cocaine - but maybe for a Moose call!