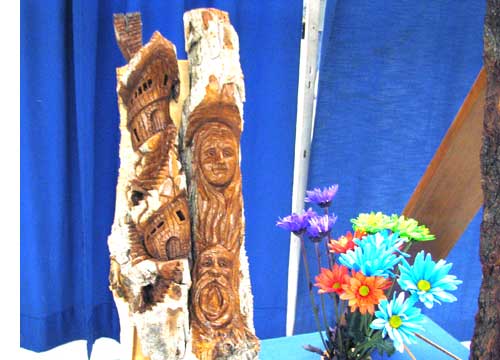 Recently, you posted an article about Delawnification and some time ago about people having trees removed from their yards. Thinking on this ; it came to mind that there are alternatives to completely removing large trees.
Recently, we spent some time in the Qu'Appelle area. We enjoyed the privilege of being graciously offered accommodation at our niece and nephew's home in Qu'Appelle; Len, who is a wood turner and Doris Sheldon, who is a wood carver.
While there Doris recited an incident where a neighbour was about to have a tree removed from their front yard. Doris mentioned to the neighbuor that if they left the stump about six feet high, she would carve it for them. Apparently, the neighbuor (having seen some of Doris' work), was quite receptive to the suggestion. End result is at the top of the page.
Doris' and Len's web site, for anyone interested in wood carving & turning.
http://www.cottagecountrycarving.com