This past Thursday a twenty-four year old collage graduate was charged with forging a medical prescription to obtain a medication that is easily abused, but is actually very similar to Valium. Now on the scale of things that incident should hardly merit worldwide news coverage. The young woman has suffered from drug difficulties for almost a decade and has spent time in a rehabilitation clinic. On Friday she was to start a new job with a software company and friends reported that she suffered from a panic attack.

So why did this incident hit almost every major newspaper and television channel in the world. It just so happens that Noelle Bush is the daughter of Florida governor Jeb Bush and her Uncle is president of the United States. Her grandfather was President of the United States.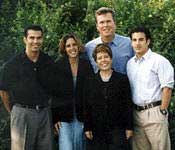 What disturbed me about this story most was that police photographed her at the time of the arrest and the picture of her is really unpleasant. Her eyes are at half-mast and her tong appears to be coming out of her mouth. It is the sort of picture that would describe someone who is definitely not sober and definitely not the sort of thing anyone would want others to see of themselves. Yet newspaper editors worldwide decided to run that picture. I saw this picture on web sites for newspapers from Tokyo, Bonn, London and Melbourne and everything in between and wonder if this was news.

One web site pointed out that during the Clinton administration the Republican press has shown no mercy to either Bill Clintonís family or to that of his wife, digging into the details of their lives to use against the president. So now it appears the Democratic leaning press, feel it is okay to use the little tragedies of the Bush family as some evidence of poor character.

This behaviour appals me because every parent of every walk of life do their best to raise their children as best they can and suggesting that the follies of a personís off-spring is somehow an indication of a parentís bad character is truly unfair especially for the child of the famous or infamous. Noelle Bush did not select her grandfather for presidency, nor her uncle as president and it was her misfortune to be born son of a future governor. Dealing with a drug problem is a serious matter and it can affect anyone of any walk of life. It is plainly unfair that a photo of her at a very sad time in her life be published world wide only because of her family name.