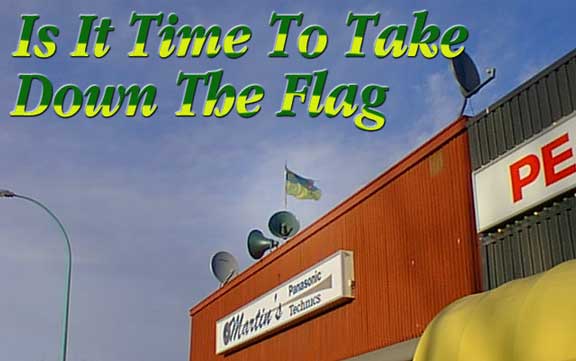 FTLComm - Tisdale - March 22, 2000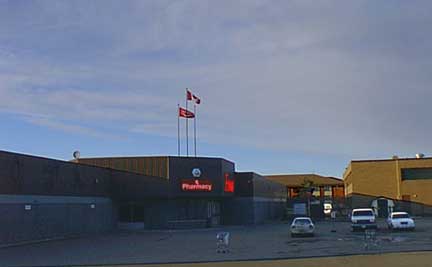 In his comments about the disturbing situation in Carrot River Kevin McIntyre asks for solidarity.

It was coincidence that tattered the Saskatchewan flag at Beeland Co-op and manager Larry Parks had it removed. I asked him at the time if it was in sympathy with our neighbours to the North East and Larry explained it was just that the thing was worn out.

As I thought about Kevin's article I went into Martin's Television (shown at the top of the page) and asked the owner if he would consider taking his Saskatchewan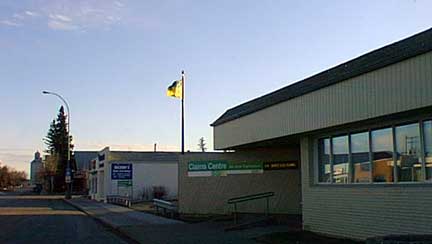 flag down and we talked about
the issues that both he and I see besieging rural merchants and he said that he would certainly consider taking down his flag because he too is seriously disturbed at the way things are going. He asked me to come back today and we could discuss this matter more.

Unlike Carrot River most of the Saskatchewan services are still in place in Tisdale, like the SGI operation here and with the inland grain terminals operational Tisdale is seeing continued business. With Zellers reopening this summer we expect to see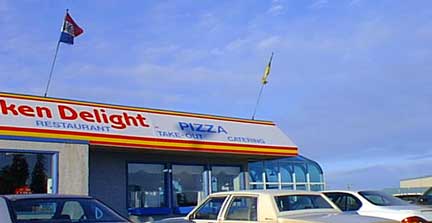 increased trade in this
community despite the high gas prices and low grain prices. However, Carrot River is a big town and if it can be threatened and abandoned then it would seem that we in Rural Saskatchewan are all in danger.

Rumors come from Regina yesterday that the appointment of Louise "Wellness" Simard to head of SAHO is a clear signal that the provincial government has decided that a hospital in Regina, Saskatoon and PA should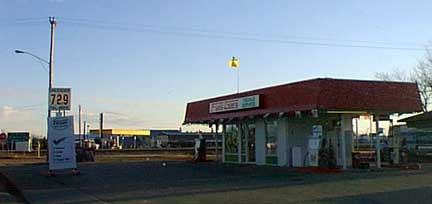 pretty much handle the few
people living in Saskatchewan.

The mayor's business (chicken Delight) still flies a Saskatchewan flag as does Fast Gas, and the two motels but it might just be the time to reconsider. Is the provincial government mounting a major assault on Rural Saskatchewan as Edwin Wallace suggests in his article today?

The provincial election saw rural Saskatchewan voters

turn away from the government
leaving almost no rural representation in government and at the time the premier said that he had heard us. It looks like he is going deaf again as more hospital closings, gross threats to rural life with consolidation of the efficient rural municipal government and still no money, just promises for Saskatchewan agriculture.

I believe the time has come for store keepers and merchants from Kerrobert to Kenora, East End to South End, Oxbow to Outlook to consider the way the Saskatoon based Premier view the rest of us and it is time to pull down those Saskatchewan flags and let everyone know that we are definitely upset.