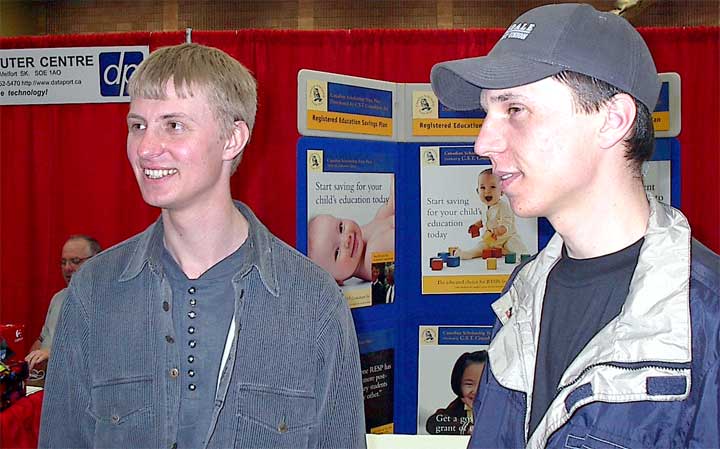 Roman and Valerie
FTLComm - Tisdale - Friday, April 9, 2005

For years Northern Steel Industries has struggled with the difficult problem of obtaining and retaining skilled welders and fabricators for their plant here in Tisdale. Always abundant supply of workers in the winter but farmers are farmers and come spring, many were tugged back to the land. This past fall the company decided to try something different and were able to come up with an interesting plan to bring in workers from the Ukraine.

The first group of these fellows arrived just over a week ago and are getting used to their new environment in Saskatchewan.

A community support group and individuals have pitched in to make the transistion to Canadian life as smooth as possible as these are the furst of many more who will, over the summer, join the work force making tanks for Northern Steel.

Roman has a good command of English but the ambient sound in the Trade Show made it difficult for him to sort out the questions and respond. In general he said things were positive, the work at Northern Steel is what he had expected and he and his fellow countrymen are adapting to their new environment.

Valerie, who is from Kiev has a little more trouble with English but Roman was quick to translate for him. Both men seemed happy and relaxed in the environment here which must surely seem very very strange.

One factor that seemed to come through is that with so many people here and throughout Saskatchewan sharing a common heritage it is impressive to see everyone making an effort to help the newcomers adjust and at the same time have an opportunity to try out the language which has grown pretty rusty through the years. Mrs.Tatarynovich said that the young men talked so fast.

Canada is a nation of immigrants and we can only hope that continues to be the case. Be it my grandfather or these young welders, each has come to this land to find a place for themselves and I am confident it will work out to the benefit of everyone as these new Canadians build tanks, friends and more friends.

Basil Forsberg (below left) said he had seen Roman and Valerie at church in Nipawin last Sunday and he has been trying provide the group with some material support. Beside him Mike Tatarynovich introduced these two young men to me and told me about the help that he and others have been giving to make the fellows comfortable. This evening Northern Steel had tickets for them all to see the Saturday night rodeo.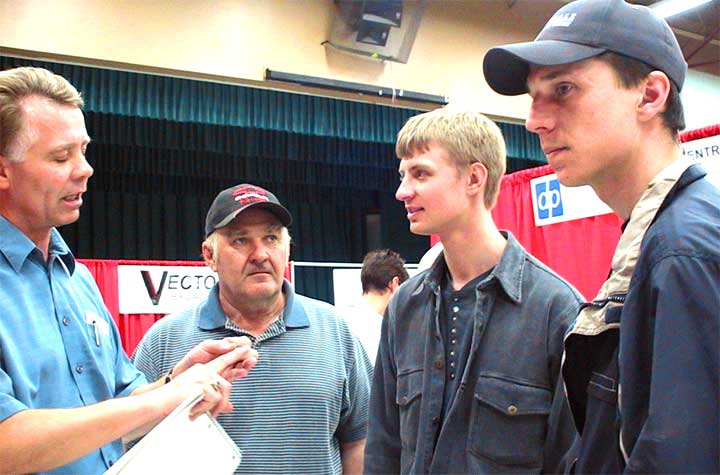 Return to Ensign - Return to Saskatchewan News
This page is a story posted on Ensign and/or Saskatchewan News, both of which are daily web sites offering a variety of material from scenic images, political commentary, information and news. These publications are the work of Faster Than Light Communications . If you would like to comment on this story or you wish to contact the editor of these sites please send use-mail.
Editor : Timothy W. Shire
Faster Than Light Communication
Box 1776, Tisdale, Saskatchewan, Canada, S0E 1T0
306 873 2004