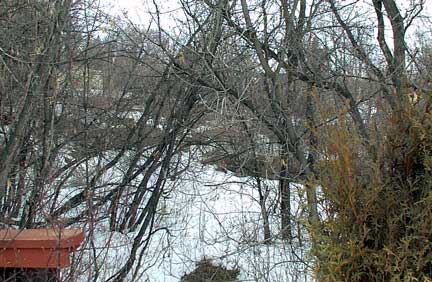 The cold temperatures have kept this part of the community deep in winter as the Doghide Creek remains a solid frozen entity and the fairways covered with the winter's snow.

These pictures taken this morning show the narrow fairway (above) as it is with the trees longing for warm sunlight to bring out the leaves and wipe away the white chill of winter.

If you are using Microsoft windows, the Microsoft media player can not display a QuickTime VR like the one shown below and you must download Quicktime which will allow you to see this kind of image and many other things like streaming movies and broadcasts. (Microsoft media player will display a QuickTime VR but it will do so as a vertical long picture 90º off.) The image below begins looking due East and with the detail in this large virtual reality image you can use the zoom function to get into the scene or back away from it, but with your mouse you can move around the image looking at things as they are 360º.