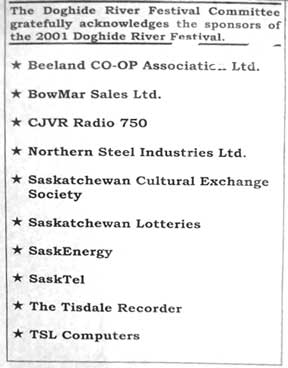 Each year Tisdale and its surrounding communities celebrate the arts, culture and history of the communities and it looks like this is going to be an outstanding series of events this year. From live theatre and performances to a series of history events, music and event to involve every age group.

The Festival is a week away and to get ready for the event a fine display has been set up in the Tisdale Mall and it seemed like a good idea to show it to you.

The sponsors of this year's festival are shown on the right and it is money and encouragement from these businesses that make this remarkable festival possible.

This year there is a great emphasis on history of the surrounding area with many special presentations planned that will enlighten and highlight the various developments through the years.

The image below demonstrates this year's theme as we see this outstanding photographic quilt depicting the history and heritage of the Arborfield area. The Quilt is handing at the back of the mall window display.

You can look around the display using the QuickTime VR panorama at the bottom of the page. Use the zoom to take a closer look at things.