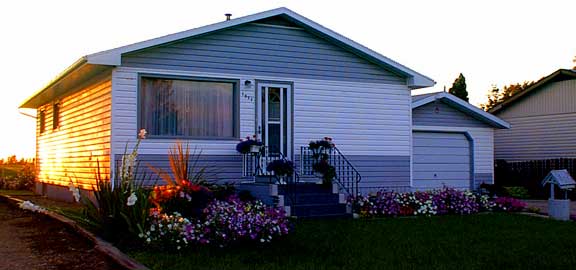 On a street where you live
FTLComm - Tisdale - Monday, September 2, 2002

I wish I could remember the grade but alas it is in that dim mist of elementary school but I remember the primer story (perhaps grade four) of the country mouse who goes to the city to visit his relatives the city mice. Set in England in the early part of the last century the story tells of the stark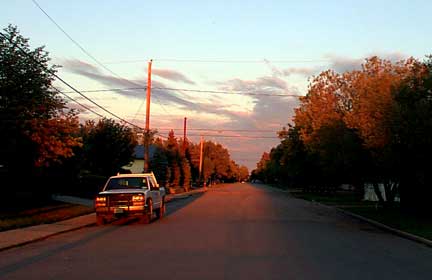 differences between rural and urban life. As a kid it really made sense to me because it was one of those clear facts of life. My life in our little village of ninety people was simply a different kind of existence than the kind of life my cousin Ron had growing up in Moose Jaw which for me was the "big city."

The most recent Canada census revealed that Canada was most rapidly becoming entirely a country of urban dwellers. I recall in a human geography class in the 1970s how the professor emphasised the location aspect of habitation and compared the relative differences between North America and Australia where here people were spread out across the country side while almost all Australians live in five large cities each one larger than the largest Canadian city.

But all around the world the phenomena of urbanisation continues it is the major feature of the last half of the twentieth century as the world's population went from two billion to six billion in around fifty years.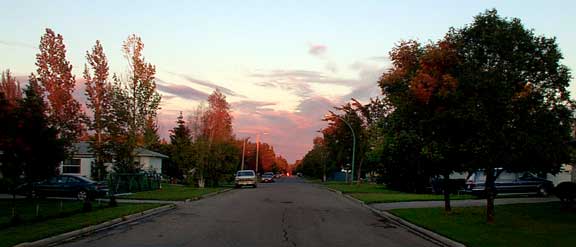 Actually no one is surprised at this development because we have always known that humans are by their very nature much closer relatives to bees that spiders. We are for certain social beings and throughout our residence on this planet we have always grouped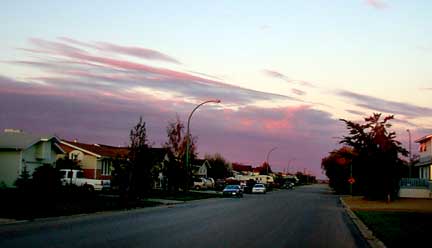 ourselves into defendable and interdependent communities. It was only when we Europeans ventured into the vast apparent emptiness of North America that we adapted to isolation. The very appearance of North America as being almost empty was because the actual inhabitants the First Nations people were themselves village people who lived in tight little communities and ventured into the wilderness to hunt, forage and steal from each other.

So we western Canadians (of which I include myself) grew up in the twentieth century thinking that the way we were meant to be was like the country mouse but now everything country is being emptied and we find ourselves living on streets. Living in neighbourhoods. Gosh I thought that was only something that Yankee movies portrayed the community life in some urban megalopolis was a foreign place.

These pictures were taken Saturday night as we went for a walk and with the setting sun behind us I snapped a picture of the streets we crossed.

During the later half of the twentieth century there was a great resurgence in the idea of living in a semi rural setting as people moved from cities to create suburban neighbourhoods hoping to create low crime safer places to raise their family and live in peace. The phenomena is of course known now as "urban sprawl" and every city in North America seems surrounded by these crescents and many are "walled" communities. With the "burbs" came problems of their own, most obvious was the need to build extensive highway systems to move the people to and from work and market, then absorb the pollution of the commuting process, find parking for the commuting cars, and find time enough to live while working two hours of commuting time into each working day.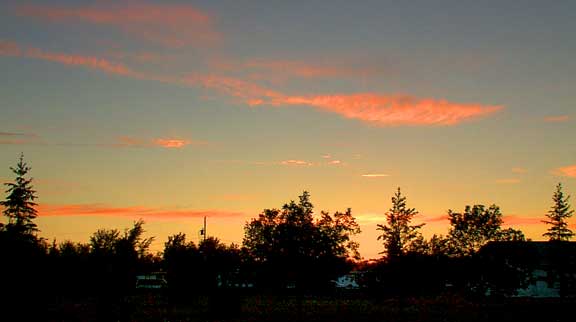 Prince Albert and Saskatoon have, like many other parts of the continent, gone much further than just developing the "burbs" with extensive areas divided into "acreages". Rural living for city dwellers.

Hardly a new concept as the English refined this type of life centuries ago as the upper class had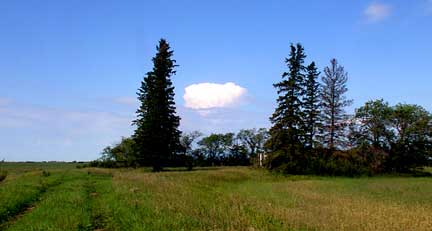 their country manner and then a "town house" in which they spent the winter. The rural estate with its palatial house and staff was essential a summer cabin. Around Vancouver, Calgary, Edmonton and Winnipeg massive extended de-urbanised acreages provide a class of people with a non-urban life style while affording them the urban benefits of work place, services and entertainment. Every small town in Saskatchewan has seen this same development as people buy farm yards of absorbed farms and these become their acreage, a place to live in the country, have a horse and a big dog and enjoy the absolute bliss of sky and clean air.

I have lived in a farm yard for a year and for several years lived on an acreage on the edge of a small city and discovered it was not the life for everyone but my wife, my children and I all consider it one of the best ways to live. In many ways small town Saskatchewan, Tisdale, Kindersley, Maple Creek, Esterhazy, Shellbrook, Kipling are an interesting compromise. No dwelling in these places and their are perhaps a hundred such towns and villages that are in the size where services like hospital, education and recreation are still viable, offer the resident almost that acreage kind of life. No house or apartment is more than a few minutes walk from the countryside yet every other service associated with town life is just as close. No need for a car or subway but a street to live on with neighbours you know and trust a shared living experience that is less rigourous and much less expensive than an acreage and a whole lot cheaper than a suburban home yet still making a country mouse or city mouse happy.
Retrun to Ensign - Return to Saskatchewan News
This page is a story posted on Ensign and/or Saskatchewan News, both of which are daily web sites offering a variety of material from scenic images, political commentary, information and news. These publications are the work of Faster Than Light Communications . If you would like to comment on this story or you wish to contact the editor of these sites please send us email.
Editor : Timothy W. Shire
Faster Than Light Communication
Box 1776, Tisdale, Saskatchewan, Canada, S0E 1T0
306 873 2004