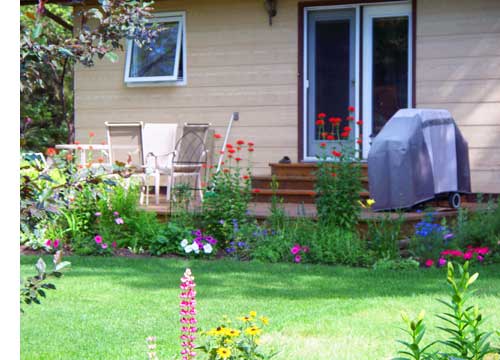 Our back yard has been pretty much abandoned since we had to tear off the deck for repairs to the basement walls. Since then the issue has been what should the replacement deck be like with so many outstanding designs to pick from we have been stalled.
Well that is until today when it became abundantly clear that the deck is not the issue at all. Certainly we could go for multiple levels and a whole range of materials but check out this fabulous deck in these pictures.
It is a no nonsense rectangular structure, simple to build and maintain and totally functional. Its main feature is not the deck itself at all but instead the attitude of the home owners who have furnished their back yard and enhanced their plain jane deck with stuff that grows and looks outstanding. The flowers, shrubs and greenery in the yard and surrounding the deck make this not only an attractive place to spend ones time but turn simple into comfortable and rewarding. These folks should be proud of the power of the plants around their deck and in thei back yard because that produces the atmosphere that says class and simplicity all in one.