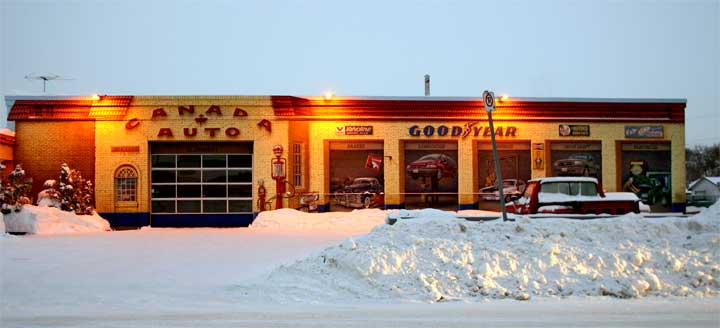 Images by Andrew Shire
Believing is not Seeing
FTLComm - Winnipeg - Tuesday, February 3, 2004
We have all seen murals on buildings that become part of the landscape of the town or city in which they are created, but this is entirely different.

No doubt you have seen in magazines advertisements for various printers that show a remarkable picture, sometimes a person wearing a swim suit, then the shocking discovery is to find out that the image is actually the swim suit painted on the model. The idea being that the printer is so good that it tricks the eye.

Indeed, this is exactly what has been done with this Winnipeg tire shop. There are only three elements of what constitutes the building that are real. The lights, the large dark doorway under the name "Canada Auto" and the external conduit that runs the length of the building seen just above the snow in this picture. The conduit has a bit of snow on it and that makes this line visible only at this time of the year.

Everything else is in effect an elaborate deceptive illusion. From the bricks themselves, the roofing tiles, the window to the left of the real door, the vintage gas pump and battery stand, the signs, the doorways, all created to disceive the eye. Only the various doorways appear as pictures as the rest of the building appears as though it were real.

Perhaps the most confusing element in the picture is the apparent extension toward you that appears to jut out of the building with the large real doorway. This also is merely a painted illusion.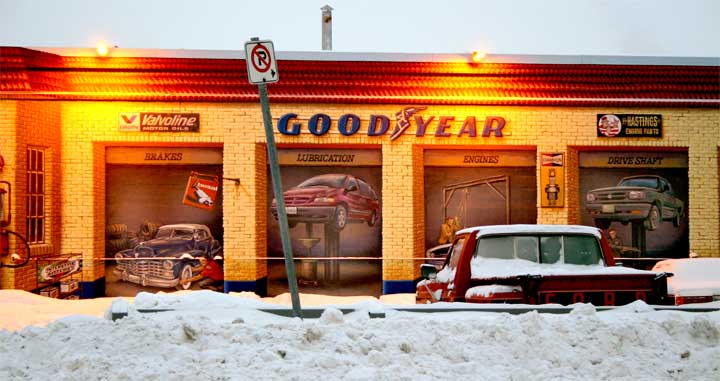 pictures by Andrew Shire
Return to Ensign - Return to Saskatchewan News
This page is a story posted on Ensign and/or Saskatchewan News, both of which are daily web sites offering a variety of material from scenic images, political commentary, information and news. These publications are the work of Faster Than Light Communications . If you would like to comment on this story or you wish to contact the editor of these sites please send us email.
Editor : Timothy W. Shire
Faster Than Light Communication
Box 1776, Tisdale, Saskatchewan, Canada, S0E 1T0
306 873 2004