Bob and Carol Abbot's house on 95th street a few doors down from us is celebrating its thirtieth birthday this summer but its going to be without the front step. The precast concrete step and side walking around it have lost their integrity and its time for them to go.

Chupa Trenching and Excavation were on hand a few nights ago when it was time to do the job.

The front step has been going through some radical changes in the way we think about this fixture on our houses. During the forties and fifties the front door to a house was protected by a verandah or porch and in most houses of that era it was used, it was the main entrance to the building.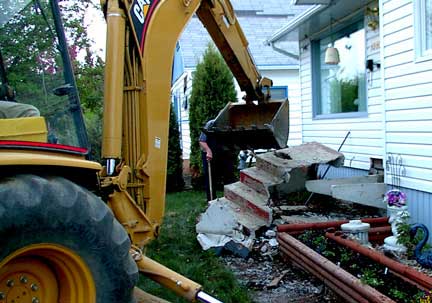 In the 1960s the seventies the front door of a typical bungalow enters into the front room of the house and unlike the houses of earlier decades does not have an entryway and is usually not separated from the living room. Most people found it impractical to use this door at all and you will find on many streets because of the uselessness of the front door people do not even have steps to it and in many cases you will see a sign on the door telling visitors to go to the side door.

The dictates of fashion and trends that seem to come with buildings as well as clothes have been bullying people around for a long time and it is about time that people began regaining control of their dwellings.

Bob and Carol are doing just that, they are going to replace the step with a useable deck. Another neighbour took his step out in the fall and created a sort of modern verandah and put a nice swinging seat under the new roved porch.

Yards with large trees have been undergoing renovations as several houses in town have had the deck, which is usual put in the back yard installed off the front room and replacing the "step".

Several new homes have been built without the front step but people have realised the practical nature of the verandah and new houses are being built with this gentile and sensible front on their house.

In the future we will be doing a feature story on the life of the "deck/patio".