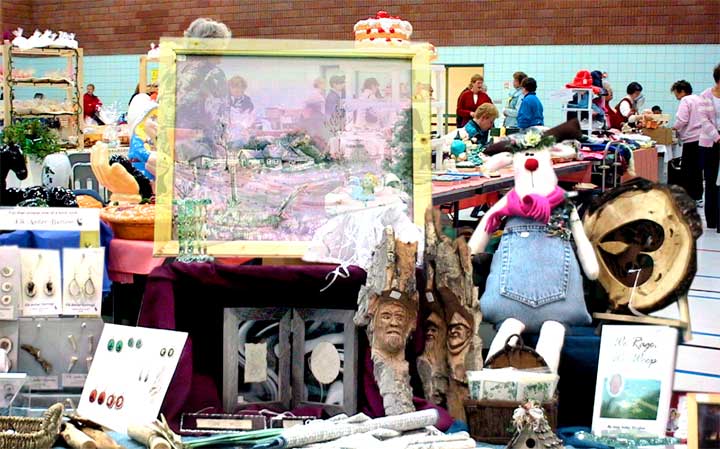 Flea Market brings out the talented and the clever
FTLComm - Tisdale - Tuesday, October 26, 2004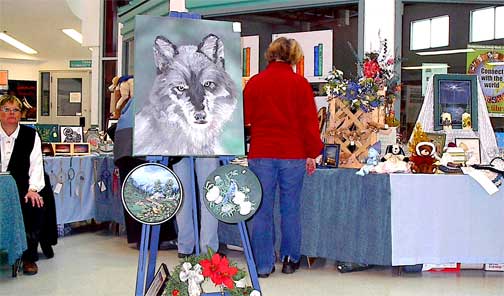 Let's start our tour of the Tisdale Craft and Flea Market held last Friday afternoon and Saturday with this display from Nipawin. Original art work in the form of paintings, ornaments, decorations and a huge amount of relaxed fun.

One of the show stoppers was the display below by a couple from Domremy. The plastic pop bottle butterflies look as fragile as a bubble but are indestructible. Just like the painted rocks and the light bulbs dressed up as Christmas tree decorations.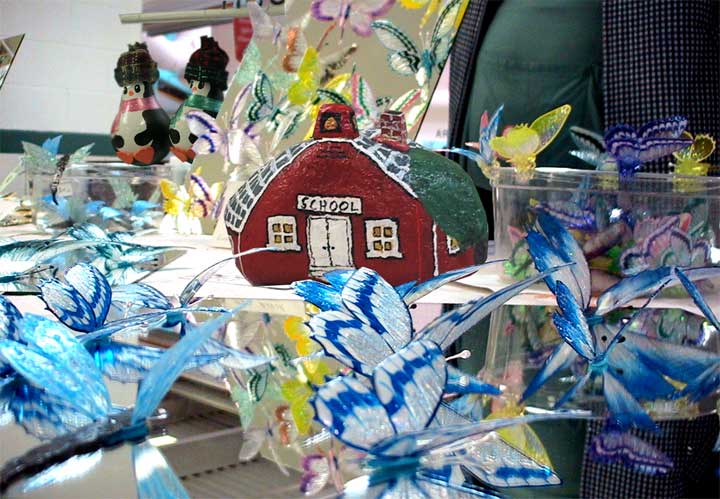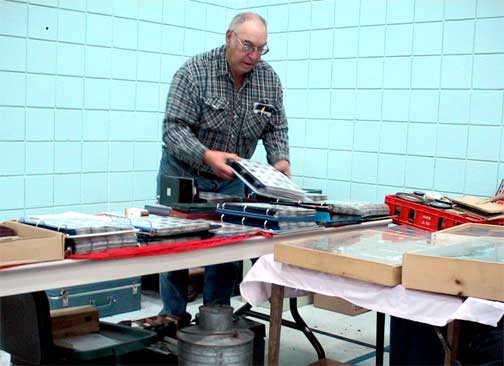 I expected to see several memorabilia merchants but there were only a few and this one with coins, antique containers, toys and stamps was the most impressive.

Many of the franchise dealership peddlers were on hand like the Avon lady below.

Scattered through the show were many home craft people with knitting, cushions, dolls and the kind of things that seem to build up in every household awaiting the ultimate garage sale. I was disappointed as I saw few quilt displays although there were a number of displays of afghans.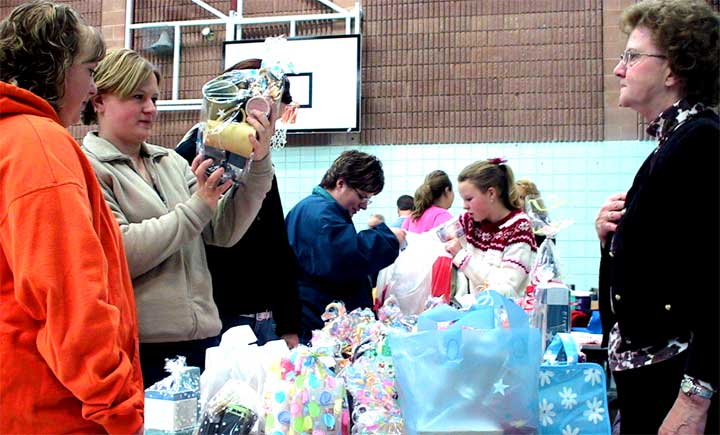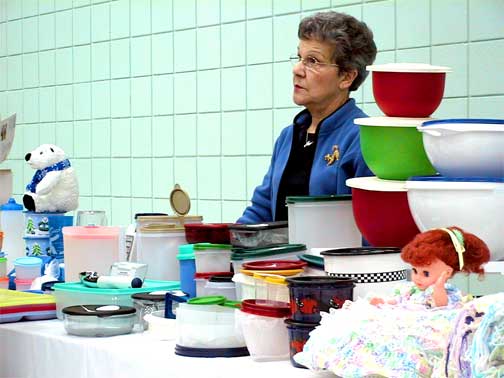 Did you know they still make and sell "Tupperware"? As a kid I remember going along with my mother to a "Tupperware Party" and it still makes me smile when I take one of these ageless contains from a cupboard and "burp" them. Long after all other artifacts of this civilisation have turned to dust there will still be Tupperware with missing lids awaiting archaeologist to find them and report that there once was a culture that worshiped plastic.

The best name at the show as from Lac Vert with a pair of young women and their display for "Sublime Creations". Tie died clothing and articles that migrated from the wonders of the sixties.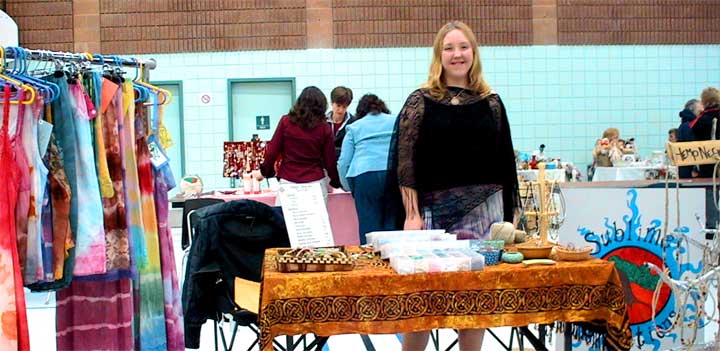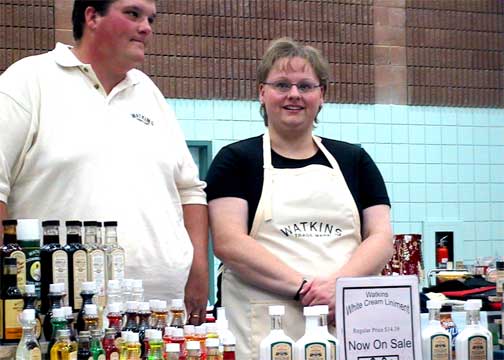 As a kid I remember the Watkins man who would come to our house selling stuff and my mom would get some lineament and some Watkins cordial to make cold sweet drinks with. But here they are, modern day Watkins people with their coloured bottles and potions that still fill a place in today's market place.

Sonja Barr (below) from Nipawin had a fabulous display of her "Barr Soap". This is one cottage industry that can really produce remarkable products. The neat thing about home made soap is that it is an art form of sorts with the need for patient and careful attention to preparing age old family traditional materials.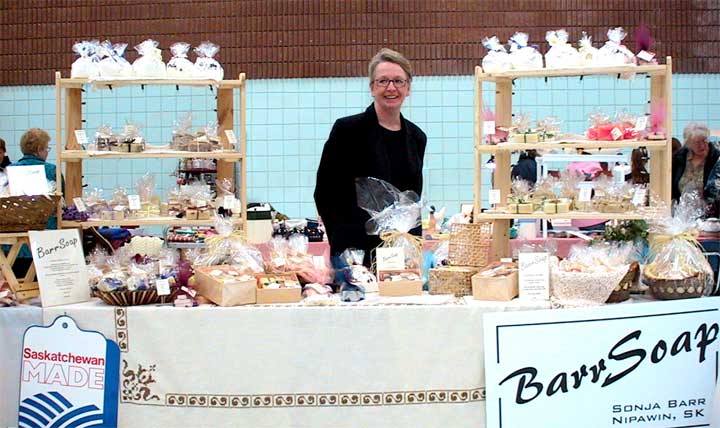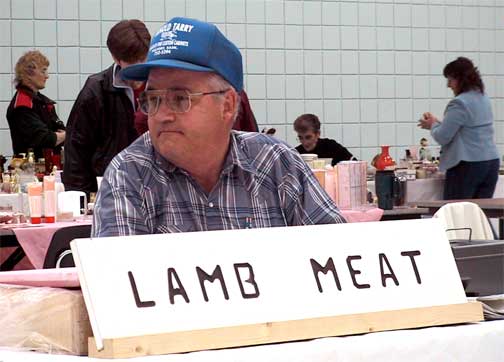 This is Arnold Tarry from Fairy Glen with a box of lamb chops and other mutton. He raises Katahdins sheep and like all farmers raising sheep and cattle his market has been severely curtailed since the outbreak of BSE which closed the border to his products.

The display below was one that I avoided giving it lots of room. I seem to have a problem with smells and this amazing selection of dips and spices was really extensive. My wife looked it over and told me about the wonders to be found and I carefully guarded my nose. (not for my sake but for the upset I fear I might do if the sneezing began)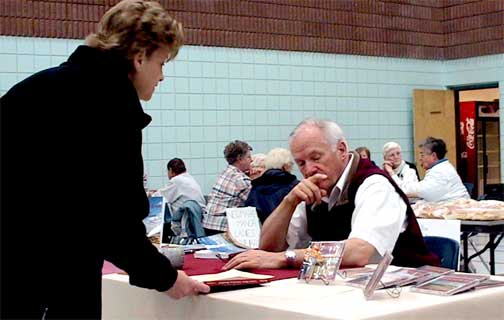 Author Ron Evans was on hand selling signed copies of his book and chatting with readers.

Artist Andrea Salmond (below) who grew up in Mistatim before going off to college and now lives with her husband in Porcupine Plain has an exciting business doing design work including murals, theme rooms, signs and her paintings. Andrea likes to work in oil and her work is light and ideally suited to brightening up a room or a wall with an image that will live a life of its own. Its worth a look at her great web site.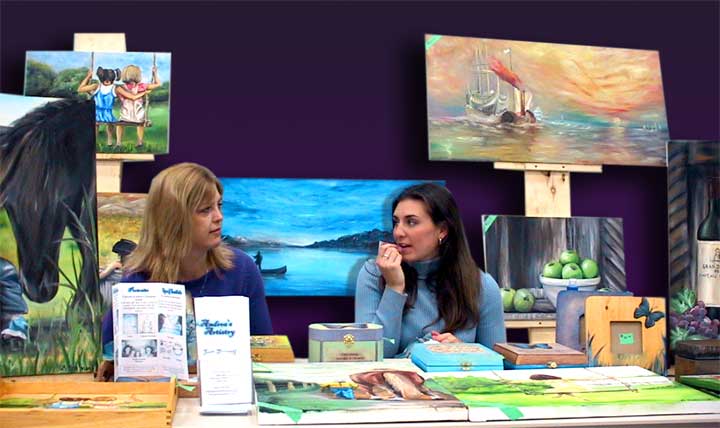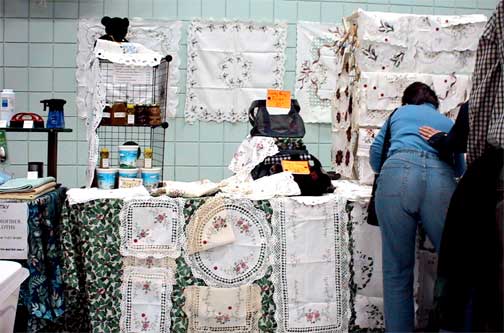 This is the kind of detailed needle work that was once so popular in the part of Saskatchewan in which I grew up. Both of my grand mothers and my mother produced these linens with intricate designs with practice purposes in the home.

The jewelry display below was the only one of its kind in this show.

There was quite a crowd having coffee and donuts while busily hawking tickets for several charities. The downtown enhancement project had their display in place including pictures of items that they do not intend to purchase or install (tree grates).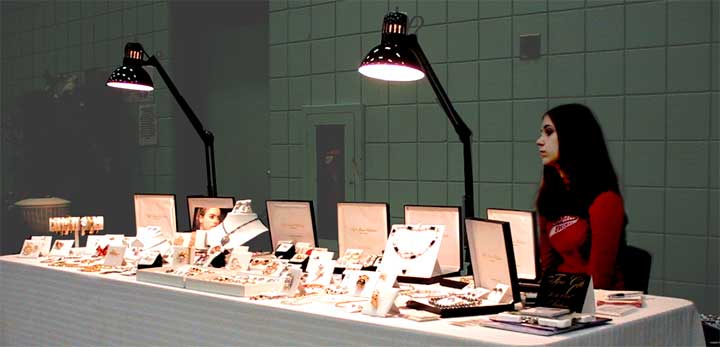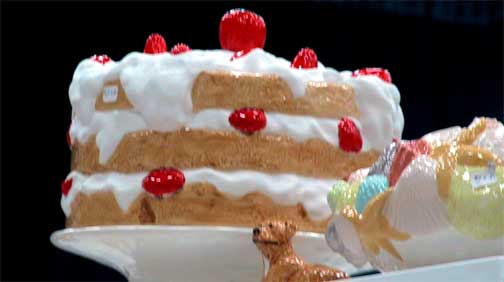 This cake would be pretty hard on the teeth as it was part of a very flashy display of ceramics. For many of us diabetics this is the only kind of cake we can still enjoy.

This last picture shows a stack of hats and scarves with other knitted items, dancing with colour and ready for any nastiness winter can send our way.

It was a great show, my thanks to all those who took the time to set up a man a display.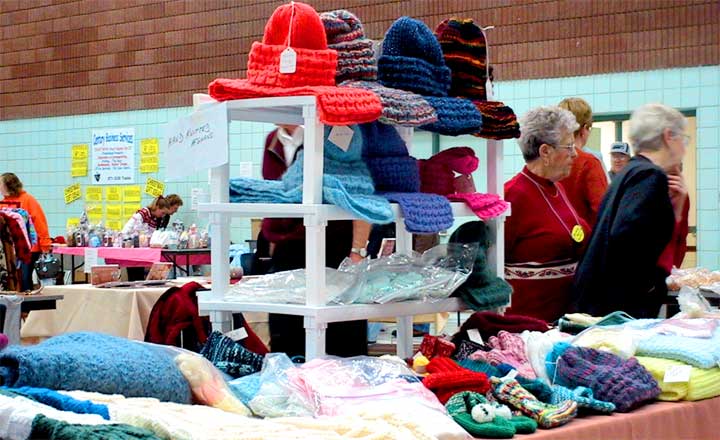 Return to Ensign - Return to Saskatchewan News
This page is a story posted on Ensign and/or Saskatchewan News, both of which are daily web sites offering a variety of material from scenic images, political commentary, information and news. These publications are the work of Faster Than Light Communications . If you would like to comment on this story or you wish to contact the editor of these sites please send us e-mail.
Editor : Timothy W. Shire
Faster Than Light Communication
Box 1776, Tisdale, Saskatchewan, Canada, S0E 1T0
306 873 2004