Tanks for the memories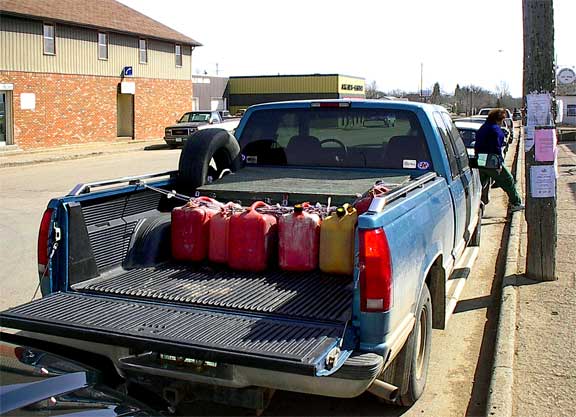 FTLComm - Tisdale - Tuesday, April 6, 2004
Though it is very hard to tell at this point, but this scene reminds me of the kind of things we did in the 1970s, when gasoline pricing got well out of step with the economy. It is important to remember, that the consequences of that era, lasted for nearly thirty years and perhaps beyond.
Experts are warning that the upward spiral of gasoline prices has only begun. Each year people seem to put more miles on their vehicles in late spring and early summer and the petroleum industry feels the pinch on their supplies and the prices rise each year in May. This year they have been creeping up quite a bit earlier.
US gasoline prices, have almost always been much lower than Canadian prices and they are seeing prices marching toward that $2.00 US per US gallon, which is really only about 65¢ a litre in Canadian funds. However, there is a need to be concerned and to consider travel plans for this spring and summer.
At the bottom of the price spiral is a series of economic and political events that are putting a lot of pressure on oil prices. The United States had planned to have Iraq oil flowing generously by now, more than a year since they conquered that oil rice country and those production goals are just not panning out, as the United States forces are in control of only portions of the country, with incredible levels of violence in many places.
The second factor that has come along is also related to the United State's adventure in the Middle East. In order to pay for the cost of war and mass destruction they have been borrowing at a level not seen before and their deficit is far beyond what we can imagine. This has put pressure on the United States dollar and the oil producing countries have had no choice but to increase the price of the product and OPEC has even reduced production levels, further forcing the price up.
But wait there's more, much more. The way to put money in a negative budget government coffer is to sell treasury bills to banks creating the lowest interest rates in my lifetime. US banks are getting money at ten cents on the dollar and can afford to lend it and the American consumer has been on a spending binge for a year now. They are loading up with debt, they are buying big new vehicles that use a lot of gas and many of those vehicles are moving to their owner's driveways at 0% financing. What we all know is that there is no free lunch and the affects of this spending has lifted the economy artificially, while at the same time brought massive amounts of products into the US economy from China and elsewhere creating a monumental trade imbalance.
So what has happened is that the oil companies are low in their stock of fuel and that will push the price up, and up, and up. With the heavy use of cars and trucks not yet upon us, the demand for fuel will steadily increase and with easy credit, American drivers will keep on driving no matter what the cost.
Now this will eventually affect the US economy, but its size and focus is such that they will move along, after all, the US cares little about the low income earners in its population. This massive rise in fuel prices will mostly hammer the already weakened economies of the world's poor nations. Necessities prices will rise dramatically, world wide, especially in those countries dependent upon Internation Monitary Fund reliant countires who have already suffered the loss of their local economies by the effects of globalisation.
High fuel prices, have in the past, had a remarkable destabalising affect on marginal countries and the closer they move toward oblivion, the less constrained everyone becomes and human life simply becomes less important to those with weapons and a little hard currency. Surprisingly, the high fuel prices do not produce huge wealth in the oil rich countries, because of the inflated value of the US dollar they are not seeing any greater real return on their production and almost all of the oil producing countries are dictatorships, the money from oil does not find its way to the poverty stricken citizens.
The consequences are extensive and would take a lot more space to identify but we have to be aware that more than a Canadian dollar may be needed to get a litre of gasoline for your vehicle. Many will demand that govenment reduce it level of taxes so that the consumer can keep fuel prices within their present budgets but that is not a workable solution. Those high fuel prices will also affect every thing that needs to be transported from the grain grown here to the lettuce we import.
Return to Ensign - Return to Saskatchewan News
This page is a story posted on Ensign and/or Saskatchewan News, both of which are daily web sites offering a variety of material from scenic images, political commentary, information and news. These publications are the work of Faster Than Light Communications . If you would like to comment on this story or you wish to contact the editor of these sites please send us email.
Editor : Timothy W. Shire
Faster Than Light Communication
Box 1776, Tisdale, Saskatchewan, Canada, S0E 1T0
306 873 2004