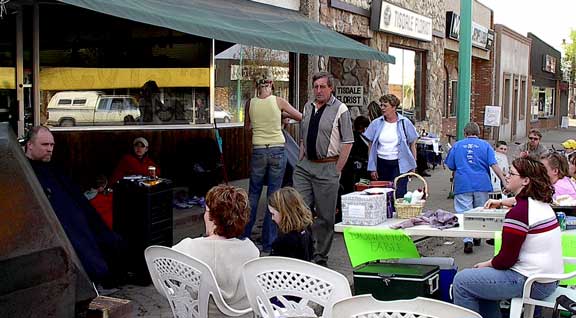 Cuts for cancer
FTLComm - Tisdale - Thursday, May 22, 2003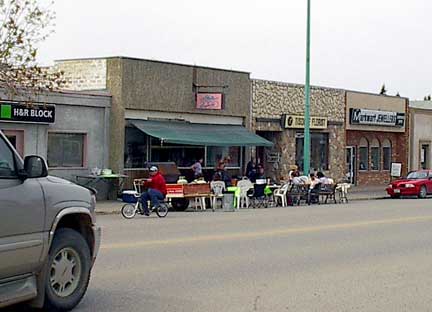 Each year Tisdale and its various organisations really pitch in and participate in the annual fund raiser for Cancer research. This year the project is dubbed "relay for life" and winds up with a run on May 30th.

Downtown today the hair stylists at Hair 2000 jumped in with their contribution and mid afternoon began doing hair cuts out front. Business was slow at first (below) but later it was steady and by supper time (above) the place was really busy.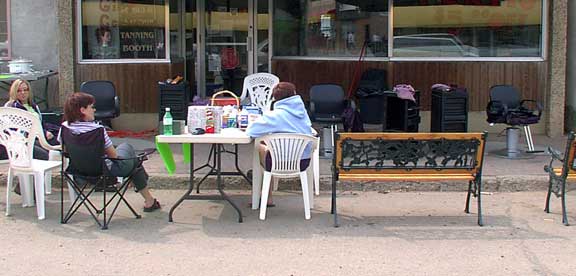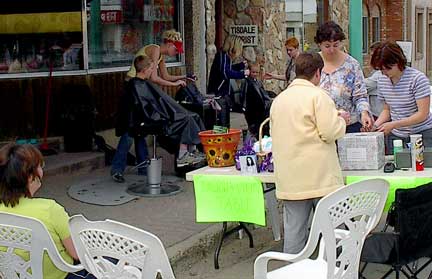 There were a couple of raffles in progress (right and below) as simple fund raising became yet another social event.

A chance for folks to visit and enjoy each other's company. The afternoon temperature was around 22ºC with a wind from the Southwest which meant this location was sheltered and very pleasant. The breeze kept the mosquito population on the East side of town for the afternoon.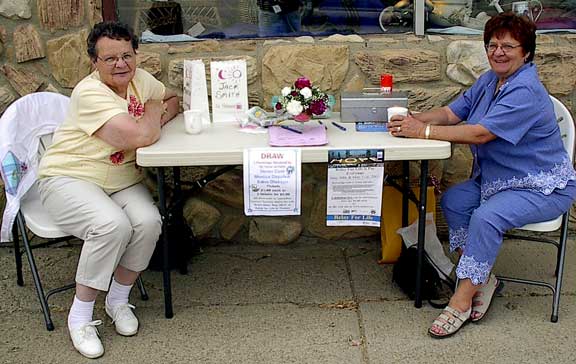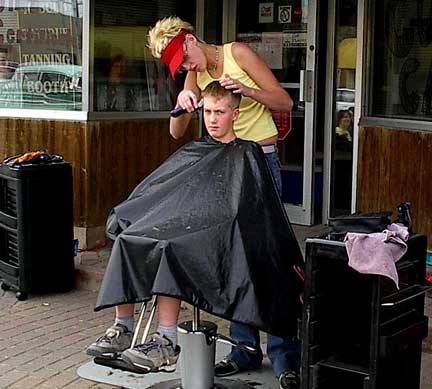 Mosquito attacks in Tisdale are making outdoor activities unpleasant. As students were heading home from school this afternoon you could see them all waving, but on closer observation the waves were attempts to clear away the bugs as they walked along.

But out in front of Hair 2000 the summer hair cuts were the big news as individuals were getting trimmed and freshened up.

The cuts for cancer project not only raised money for the fund but provided the customers with a hair cut while the staff of Hair 2000 made their contribution to the community project.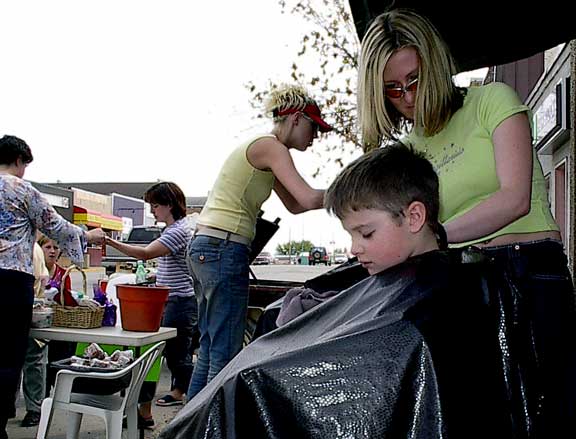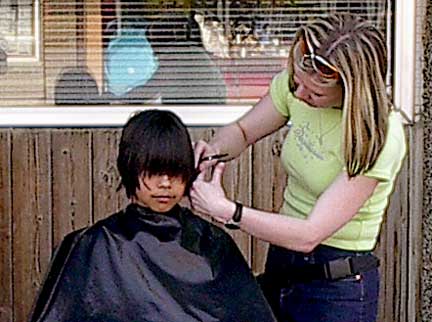 Just after 5:00 the hamburgers were ready and a large crowd was gathering after 5:30 to have a great hamburger and a soft drink for $3.00.

The socialising was in full swing as I jumped on my bicycle and headed home. No question that this was for a good cause and the hair stylists really played their part in the project. I got a great hamburger, lots of folks got great hair cuts and everyone had a good time, win, win, win.
---
Return to Ensign - Return to Saskatchewan News
This page is a story posted on Ensign and/or Saskatchewan News, both of which are daily web sites offering a variety of material from scenic images, political commentary, information and news. These publications are the work of Faster Than Light Communications . If you would like to comment on this story or you wish to contact the editor of these sites please send us email.
Editor : Timothy W. Shire
Faster Than Light Communication
Box 1776, Tisdale, Saskatchewan, Canada, S0E 1T0
306 873 2004