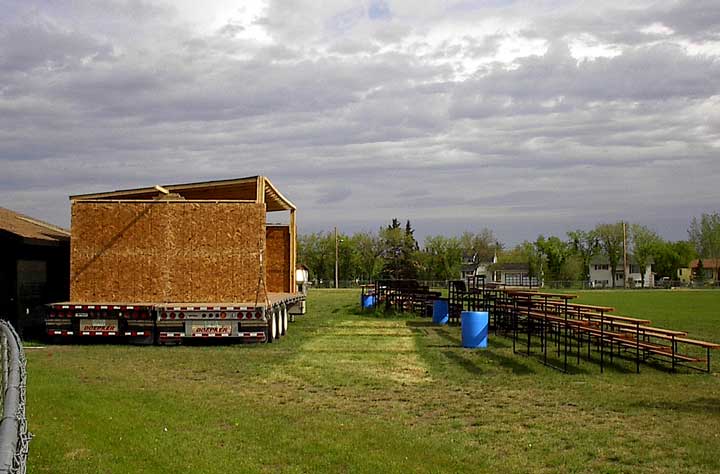 Relay for life tomorrow night!
FTLComm - Tisdale - Thursday, May 29, 2003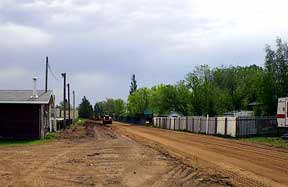 For more than a month organisations and individuals have been raising funds for the "Relay for life" that begins tomorrow night at 5:00 and goes round and round a track on this field until 7:00AM. This morning the stage was in place and the bleachers will be turned around to face the music that will on hand through the evening, night and early morning.

Behind the outdoor arena a new roadway is nearing completion (right) adding to the mix of activity around the RECPlex.

While I was discussing the event with Tisdale's recreation director a camper trailer was being easied into position, a donation by Cropper Motors, to serve as headquarters for the huge event.

Dwight explained that there were more than twenty teams entered in the relay and besides raising money there is an aim to have some fun with costumes, uniforms and perhaps even some tom foolery of one kind or another.

If you have been watching local television you will have noticed that Tisdale is not alone in this project as many Saskatchewan cities and communities will be out Friday night and Saturday morning in a massive multi-community drive to raise funds for cancer research.

The pictures on this page were taken shortly after 9:00.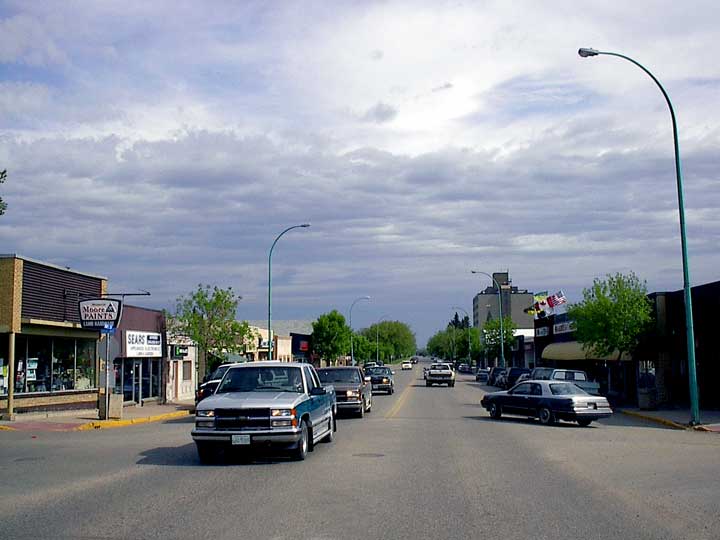 ---
Return to Ensign - Return to Saskatchewan News
This page is a story posted on Ensign and/or Saskatchewan News, both of which are daily web sites offering a variety of material from scenic images, political commentary, information and news. These publications are the work of Faster Than Light Communications . If you would like to comment on this story or you wish to contact the editor of these sites please send us email.
Editor : Timothy W. Shire
Faster Than Light Communication
Box 1776, Tisdale, Saskatchewan, Canada, S0E 1T0
306 873 2004