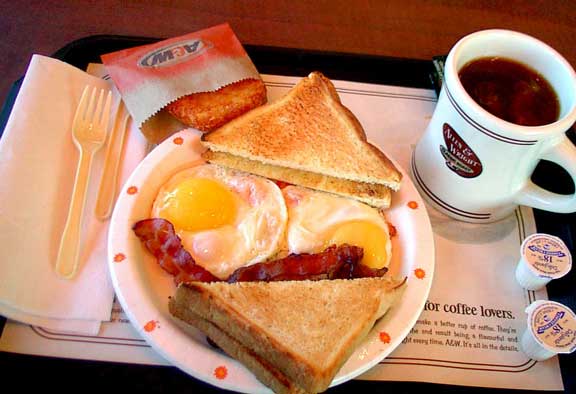 In search of breakfast
FTLComm - Tisdale - Friday, October 3, 2003
With the tragic closure of Hannigans its time to find an alternative place for my Thursday breakfast. Yesterday I had breakfast at Chicken Delight and discovered that they have made a big effort to put on a good range of meals just for breakfast.
The breakfast menu includes pancakes, waffles and the traditional bacon and eggs. I ordered a two egg, bacon, hash browns, toast and coffee breakfast and it came to just around $6.00 and was a good valued meal. The coffee at Chicken Delight is strong but acceptable. I liked Garry's coffee as did his customers because it was not a strong brew and one could sip three cups at leisure. The Chicken Delight coffee is a tad stronger and two would be my limit. The service was excellent, the eggs were large and done just right (sunny side up is what I like), the toast was Texas toast and very nice.
There were two things that I was not as pleased with and it would be up to me to change on a future order. The bacon was greasy, three nice slices done to the soft stage. A lot of people like there bacon that way but like Garry McPeak I too am a diabetic and really have to watch what I eat and fat bacon is not on the list. However, tasty crisp dry bacon, no fat dripping off it, is just right, so next time I well ask for the bacon to be crisp.
The other element of the meal that fell short was the potatoes. Hannigan breakfast potatoes have always been sliced fried without a hint of fat, gold brown and just the right amount for my breakfast needs. Alas Chicken Delight hash browns are cubed French fries. These things are tasty but about five times the amount of fat anyone needs. So next time I will order without the deep fried potatoes.
All in all the Chicken Delight breakfast is good enough and with a large menu to chose from looks like a contender.
A&W advertises a $4.00 "Farmer's Breakfast" and I thought I had better check it out and that's what you get in the picture at the top of the page, my breakfast this morning. Small or medium eggs, cooked fine, tasty warm toast and bacon. The bacon is low quality but not the xerox type served at Zellers. One thing about this bacon is that it was cooked well and no grease. The grease was in the potato cake hash-brown-fritter thing that had been deep fried. If you are not watching your diet this potato thing was tasty and went well with the breakfast. The coffee is similar to what you get at Tim Horton's and as you know there are lots of people who think its great stuff. It is a dark roasted strong coffee. At Hannigans I had three cups, Chicken Delight, but one and half cups of the A&W potent was more than my daily intake of caffiene.
Bottom line, still looking. The service at A&W like Chicken Delight was top notch. In both cases the surroundings excellent. A&W had few customers at the time I was there so I languish through the Star Pheonix and enjoyed my $4.00 "farmer's breakfast". But the search will continue. I realise that I am not going to find a true replacement for the standard breakfast that has been part of my weekly routine for three years but the main elements have to be found. I want flavour, ambience, low fat and value for the money. Both A&W and Chicken Delight offer breakfast that will do just fine, but more testing to come and I will keep you posted. In the mean time both of these restaurants will start your day.
---
Return to Ensign - Return to Saskatchewan News
This page is a story posted on Ensign and/or Saskatchewan News, both of which are daily web sites offering a variety of material from scenic images, political commentary, information and news. These publications are the work of Faster Than Light Communications . If you would like to comment on this story or you wish to contact the editor of these sites please send us email.
Editor : Timothy W. Shire
Faster Than Light Communication
Box 1776, Tisdale, Saskatchewan, Canada, S0E 1T0
306 873 2004