Donuts
FTLComm - Wadena - Sunday, June 6, 2004
Wadena's most modern gasoline outlet and convenience store is a typical glass wall of soft drinks, rows of potato chip shelves and a coffee bar but what sets it apart from others was the aroma of fresh donuts.

Using the simple method mom used a lady was cranking out plate after plate of bread donuts.

It was the spoon full of sugar to make the price of gasoline go down. Actually not that bad, 89.9¢ while the rest of the province was at 93.9¢. We fuelled at Stockholm for the amazing 84.9¢ Wednesday afternoon.

It struck me that this simple product if eaten in suitable moderation was a great morning snack and definitely picked up my spirits as we made our way along a five hour drive across the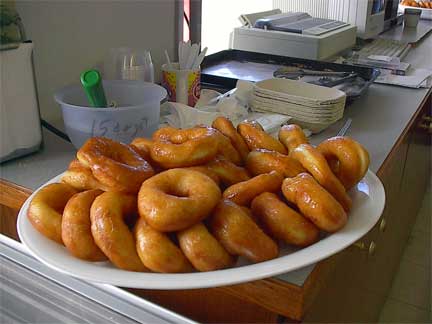 province. Just bighting into that donut made me recall the smell that filled our kitchen when my mother was in donut making mode. She made an outstanding "cake" donut which is a pretty heavy product but I remember her enthusiasm for the lighter bread type donut more common today. The first of these she made were "spudnuts" because they contained some mashed potatoes. One way or another a fresh donut is a delight, definitely something bound to endanger your diet problems but one, ah, just fantastic.
Return to Ensign - Return to Saskatchewan News
This page is a story posted on Ensign and/or Saskatchewan News, both of which are daily web sites offering a variety of material from scenic images, political commentary, information and news. These publications are the work of Faster Than Light Communications . If you would like to comment on this story or you wish to contact the editor of these sites please send us e-mail.
Editor : Timothy W. Shire
Faster Than Light Communication
Box 1776, Tisdale, Saskatchewan, Canada, S0E 1T0
306 873 2004