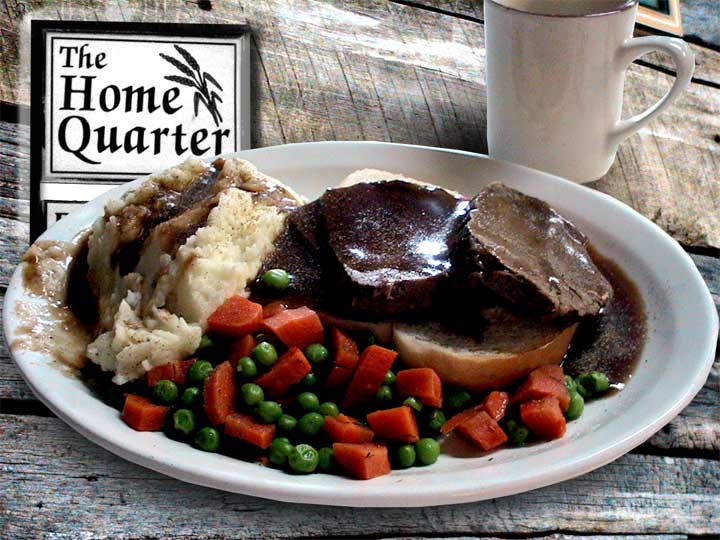 Lunch in Naicam
FTLComm - Naicam - Wednesday, February 25, 2004
That old myth about finding a good place to eat has some merit to it. On Monday the parking was tight around the The Home Quarter Restaurant in Naicam. Naicam is blessed with several interesting restaurants, one or two downtown and two on the highway. The Station also had a full parking lot but I decided it was time to try the Home Quarter. (That myth by the way is that if you are in an unfamiliar place check out the parking lot the locals will be at the best place to eat.)
I was greeted at the door and told that she would see me in a minute. I sat down and a second waitress told me the day's special was Roast Beef as she handed me the menu and I handed it back and said I would have coffee with my Roast Beef.
It was less than three minutes later she had brought me my coffee and a minute later set this steaming plate before me.
As you can see I was already into the mashed potatoes when I realised that this plate needed a picture. I was hungry and this was a wholesome Saskatchewan lunch. Sooner or later I am going to have to get a hearing aid because I had not heard that this was a hot roast beef sandwich as it had a slice of bread tucked under the three large portions of tasty beef and gravy, nor did I hear the price. But I finished a second cup of excellent coffee and it was time to go. The bill was $7.40 including my coffee and tax. Life is good.
Return to Ensign - Return to Saskatchewan News
This page is a story posted on Ensign and/or Saskatchewan News, both of which are daily web sites offering a variety of material from scenic images, political commentary, information and news. These publications are the work of Faster Than Light Communications . If you would like to comment on this story or you wish to contact the editor of these sites please send us email.
Editor : Timothy W. Shire
Faster Than Light Communication
Box 1776, Tisdale, Saskatchewan, Canada, S0E 1T0
306 873 2004