I have told you of my quest for a good lunch in Prince Albert before. I do not like to recommend something until I have tried it at least twice to see that the first time was not just a matter of luck but this is now a confirmed recommendation. For a good nutritional, tasty and value for your money lunch I am recommending the Famous Wok in the food court of the Gateway Mall.
I realise that this is a shocking recommendation because everyone has confirmed at least once that most of what is served at a shopping mall food court consists of the three basics of bad food; fat, MSG (monosodium glutamate)and sugar. But this one is the exception. First off there is no indication of loads of fat and no after taste that tells you that you have just had a pound of lard, no MSG and as a person to checks with a glucose meter the sugar level is definitely not a problem. So this means that the main thing about the food, that its not bad for you has been established.
The next thing is taste and the flavours in this meal were just as outstanding as the first meal I had there. I ordered the second combination with one more entree then the basic $5.59 meal and the beef, the ribs, the chicken were absolutely fabulous. For the price of an average lunch with a beverage I had an outstanding meal with at least ten times the food value of what I had bought at Grainfields.
But dining in a shopping mall food court has its draw backs. The thing about a place like this its pretty democratic, you will have little choice about who sits a few inches from your elbow and since it was lunch hour the placed was choked with people. Now I am very much aware of two things that make the dining experience positive or negative, the people with whom yo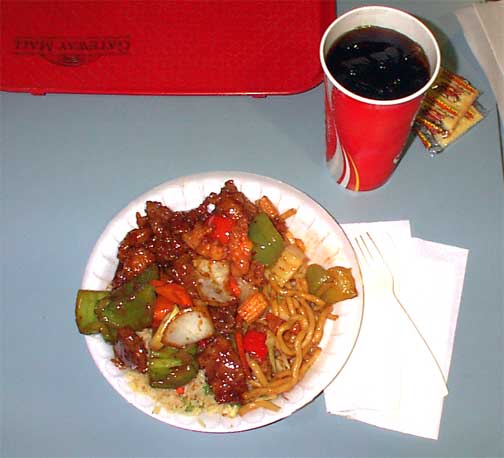 u share your meal and the atmosphere in which the meal takes place.
I must say the environment was pretty well standard shopping mall food court and though this one is clean and well lit is still is what it is, so wouldn't I be willing to pay more for a better place to sit and enjoy even an inferior meal? Perhaps but this food court has a secret.
By far the most important thing about food eaten anywhere is who is eating there with you. That's the difference between feeding and dining.
A couple of decades ago the province of Saskatchewan had some extra money to spend on establishing some "consolidated" high schools. Most of the provinces major centres took the money and built a nice composite school with the money and you can see them in Yorkton, Melville, Swift Current, Estevan, Weyburn, Melfort, Nipawin and many more. Prince Albert chose to scrap all of its high schools and encouraged the surrounding communities to go in with it in building a mega school. By-the-way studies, a lot of studies, have been done to determine the best size of a high school and the consensus is about five to eight hundred students. Any larger, the school increases its drop out rate and lowers its individual service delivery, not to mention school spirit and community involvement. Ignoring all this Prince Albert built Carlton which can has up to 3,000 students.
It was their choice and through the decades the community has learned to live with its massive impersonal campus, but for parents in Prince Albert there is a better alternative and that is St. Mary's. Located only a few blocks from downtown with a modest student population this Catholic run school gets by with a little less and produces a lot more.
As I sat admiring and savouring my lunch last Monday, I was surrounded by teenagers, well dressed, neat, courteous young people, who mostly look like they selected their clothes after considerable consultation in fashion magazines. The young women looked like what one would expect in a preppie private school and the young men matched them, not only in appearance, but in behaviour.
We used to pride ourselves in Watson Lake Yukon because our students were extremely accepting of each other. Not "white" kids or "Casca", "Taltan" or "metis" but Watson Lakers. Our kids mixed with one another, dated one another and made us proud of Canada's multicultural society. As I sat there in this crowded food court, surrounded by young people, who made me feel like I was right at home, back in Watson Lake.
A foot away from my left elbow sat an aboriginal girl and another beside her across the table from a blond girl and an aboriginal boy. The two aboriginal girls each had elaborate cell phones and one was taking a picture of her friend with the blond girl. I was impressed and interrupted them. I asked them to do it again and if it was okay for me to take a picture of them taking a picture, (below) well the camera, an old one, malfunction twice and twice more the cheerful teenagers cooperated with the fat old guy trying to take their picture. The young photographer said she downloaded the pictures from her phone into her computer.
The young man explained to me that they went to St. Mary's and had lots of time to get back to classes in time. They treated me with respect and were good natured about my inquiries. They are a credit to their school and the city of Prince Albert.
To have a good lunch in good company, absolutely, this is the place.