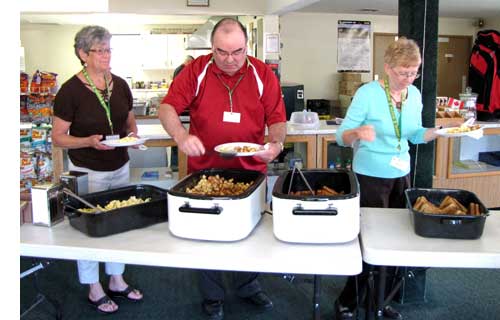 Forty-two members of the Tisdale Chapter of the Superannuated Teachers of Saskatchewan met at the Tisdale Riverside Golf Course Club House for a full breakfast on Monday, August 31, the first day of classes for the new school year. The yearly newsletter was given to members who were present and will be mailed to those who were not present. (Click here to download newsletter)

Following some time spent socializing and eating breakfast, President Maureen Donald called the meeting to order. She welcomed everyone present with a special welcome to our new members: Glenda Caughlin, Val Hvidston, Suzanne Thesen, Judy Shire and Timothy Shire. New members from last year were Theresa McHugh and Fran Riou.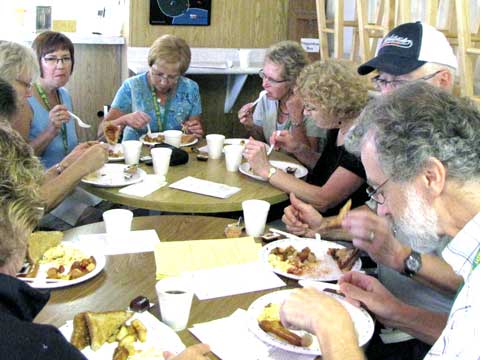 Bob Price reported that host families and volunteers were needed for 30th Annual Saskatchewan Provincial Leadership Conference from September 16 - 18 and encouraged the retirees to sign up to help with this event.

Secretary- Treasurer Darlene McCullough then reported that our chapter was presented with a Membership Growth Award at the STS Provincial Annual General Meeting held in Saskatoon last May. This award is presented to chapters when they increase their membership by ten per cent. She reminded members to contact her with any change in name, address, phone number or e-mail address so that the chapter records could be kept up to date.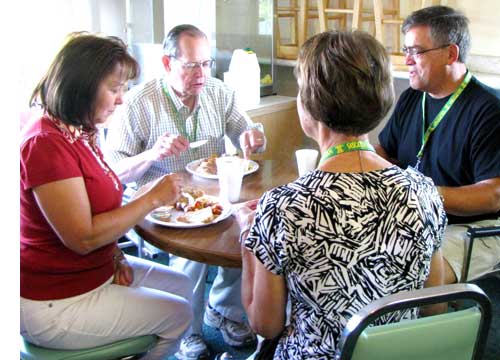 Val Furber then reminded members about the provincially hosted quilting retreat to be held in Fort Qu'appelle on October 4 - 6 and encouraged those interested to attend.

President Maureen then informed the members of the September Meeting which will be an outing for a noon meal at the Hidden Meadows Golf Course Club House on September 21. Chapter meetings are usually held on the third Monday of each month. Information about each meeting is e-mailed or phoned to members about a week before the meeting.

Maureen declared the meeting adjourned and many members then enjoyed a round of golf.

Return to Ensign or Saskatchewan News
This page is a story posted on Ensign, a daily web site offering a variety of material from scenic images, political commentary, information and news. This publication is the work of Faster Than Light Communications . If you would like to comment on this story or you wish to contact the editor of these sites please send us email.
Editor : Timothy W. Shire
Faster Than Light Communication
Box 1776, Tisdale, Saskatchewan, Canada, S0E 1T0
306 873 2004