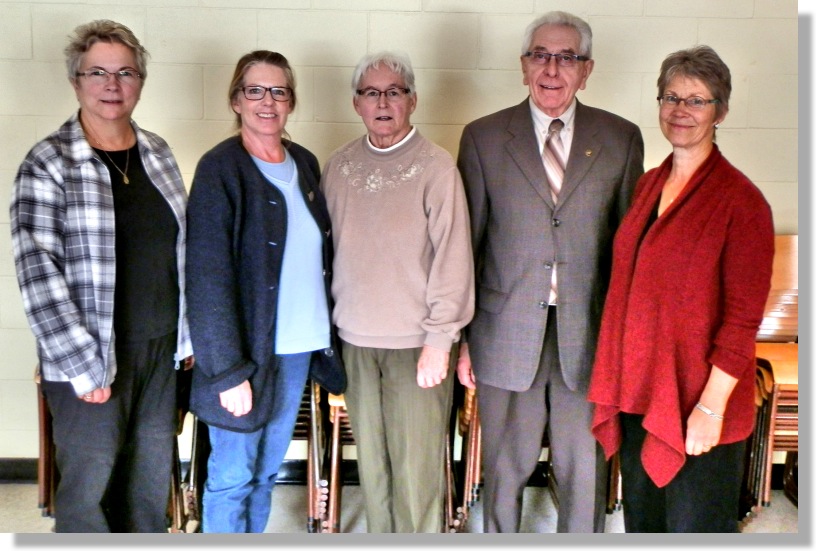 Lynda Gudjonson - Red Deer River Valley Chapter, Kate McCorriston- provincial executive liaison from Nipawin, Darlene McCullough - Secretary-Treasurer of Tisdale Chapter, Robert Wuschenny - Provincial STS President from Regina,
Deanna Gruending - President of Tisdale Chapter

Provincial President visits the Tisdale Chapter of Superannuated Teachers of Saskachewan
Tisdale - Sunday, October 27, 2013
by: Daflene McCullough

On Tuesday, October 22, Robert Wuschenny of Regina, the provincial president of the Superannuated Teachers of Saskatchewan visited with the Tisdale Chapter members. Eighteen members of the chapter, plus one guest, were also joined by Provincial Executive Liaison Kate McCorriston of Nipawin and Lynda Gudjonson, president of the Red Deer River Valley Chapter.

Tisdale Chapter President, Deanna Gruending , welcomed everyone to St Matthew's Anglican Church Hall before they enjoyed the lunch of pizza and salad.

Following the lunch, Robert Wuschenny did a quick review of the past 40 years of the STS and then updated the members on activities at the provincial level. There are now 10,300 members in forty-three chapters. The Benefits Plans are doing well. 90% of retired teachers join the STS and about 70% are members of the benefits plans. Disposition of resolutions from last Annual General Meeting are now posted on the web site. The diaries printed by the STS have been well received by the members. The Superannuation Commission is to carry out their usual duties and now have two additional staff.

This year the Annual General Meeting will be held May 13 - 15 at the Travelodge Hotel in Saskatoon. The Pre-Retirement Seminar of the STF is to be combined with the Retirement Lifestyles Seminar of the STS for two presentations this year. One will be held in Regina and the other in Saskatoon. The STS offices will be relocated during the summer. George Georget has been elected to the ACER-CART executive and Robert Wuschenny is the chair of the Age Friendly Community Committee of the Saskatchewan Seniors Mechanism.

Robert ended his presentation by reminding the members to make certain that they take their Blue Cross cards with them when they travel out of the country.

Deanna Gruending thanked Robert for his enlightenment and entertainment as she presented him with a gift of honey as a reminder of his visit to Tisdale.

A short business meeting followed the presentation of the guest speaker.

The next meeting of the Tisdale Chapter will be held in the St Matthew's Anglican Church Hall at 1;30 PM on Monday, November 18 when the main item of business will be the planning of the Christmas Social.