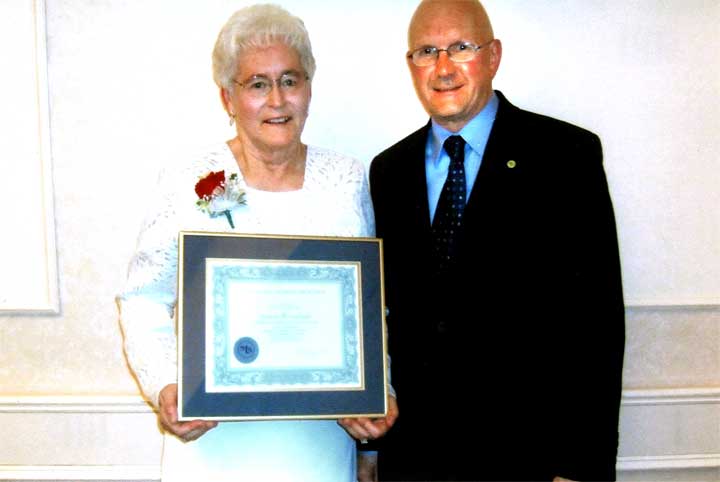 Darlene McCullough with her Honorary Life Membership certificate and Bob Donnan, president of the Tisdale Superannuated Teachers. Darlene received this certificate for serving on the provincial executive for 12 years. For 11 years she was chair of the Honorary Life Membership committee and for 8 years she served as co-chair of the Annual General Meeting Planning Committee. She has been Secretary-Treasurer of the Tisdale group for 16 years and continues to serve in that capacity.
Tisdale and area Superannuates;
annual to Hell with the bell meeting
Tisdale, Friday, August 29, 2008 by: Darlene McCullough
On Wednesday August 27th , 53 of us gathered at the Riverside Golf Course Lounge for our annual To Hell with the Bell breakfast on the first day of classes.

President Bob Donnan welcomed everyone and Darlene McCullough passed out the newsletters.
Past President Ken Thurston donated the wooden box he had made for the membership growth awards - the bell and three bases - that we have earned by increasing our membership by 10% each time.

Darlene had brought her Honorary Life Membership certificate and citation to share with the members. She thanked them for nominating her, and Ken Thurston, Bob Donnan, and Maureen Donald for writing the nomination. Bob also read the citation at the banquet of the Annual General Meeting held in Saskatoon where Darlene was presented with the certificate by STS Provincial President Siegrid Schergel..

Darlene gave an update on our financial situation and read a letter of thanks from Miriam Spenrath for our kind donations to the Caravan of Hope - an organization that helps people in Central America who are struggling to survive under conditions of basic human deprivation.

Maureen Donald asked members who were interested in attending the dinner theatre in Sylvania in November to let her know so that reservations can be made.

President Bob Donnan then outlined the proposed outing in September - a trip to Prince Albert to have lunch at Amy's then a tour of three historic churches in downtown PA.

Darlene moved a vote of thanks to Bob for the great job he always does with the editing and printing of the yearly newsletter.

And so with a hearty breakfast followed by a lot of socialising - we were off - some to home and others to a round of golf.

Thanks to the staff at the golf club for providing for us so adequately.

---
Return to Ensign or Saskatchewan News
This page is a story posted on Ensign a daily web site offering a variety of material from scenic images, political commentary, information and news. Theis publications is the work of Faster Than Light Communications . If you would like to comment on this story or you wish to contact the editor of these sites please send us email.
Editor : Timothy W. Shire
Faster Than Light Communication
Box 1776, Tisdale, Saskatchewan, Canada, S0E 1T0
306 873 2004