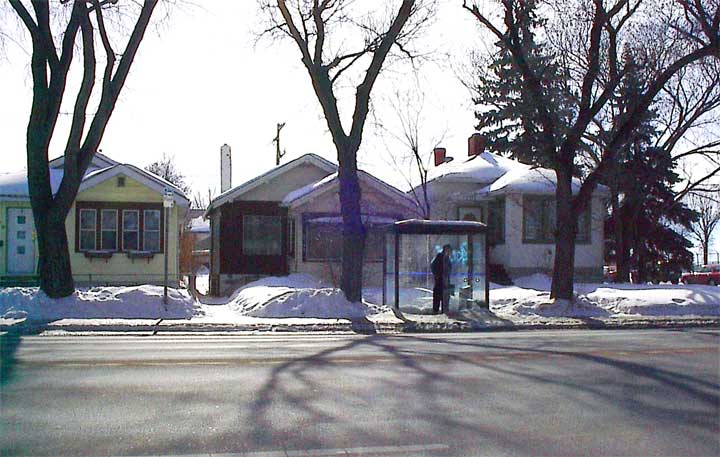 Mean streets
FTLComm - Tisdale - Thursday, March 17, 2005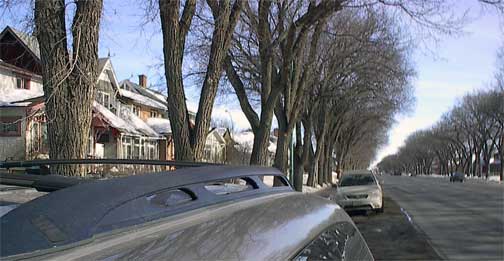 As a strategy, ignoring a major problem until it has gone way beyond the crisis stage is not acceptable.

This week a national report (PDF) told of the huge numbers of young people involved in gang related activities in Regina, Saskatoon and Prince Albert. This comes as little surprise to Saskatchewan people especially after the horror of the unsolved mystery of the disappearance of a little girl from a Regina house last summer. Regina has registered its first murder this year and today two women were murdered on the Gordon's reserve only an hour north of the capital.

These pictures were taken three weeks ago as I sat in my vehicle waiting to go into the Pasquia hospital for treatment and three youths walked by my van and flicked a used condom on the windshield. Hardly a major crime but it was mid afternoon when those three should have been in school and that act of contempt illustrates the attitude of desperate people in desperate times.

The problems for Saskatchewan's aboriginal people reached crisis proportions long ago as poverty, overcrowding, drug and alcohol abuse have just continued to mount in the three largest communities in the province. Those problems are hardly confined to these locations but spreads out across the entire province. Tuesday a seventeen year old youth appeared in court charged with the murder of three people on the Montreal Lake reserve.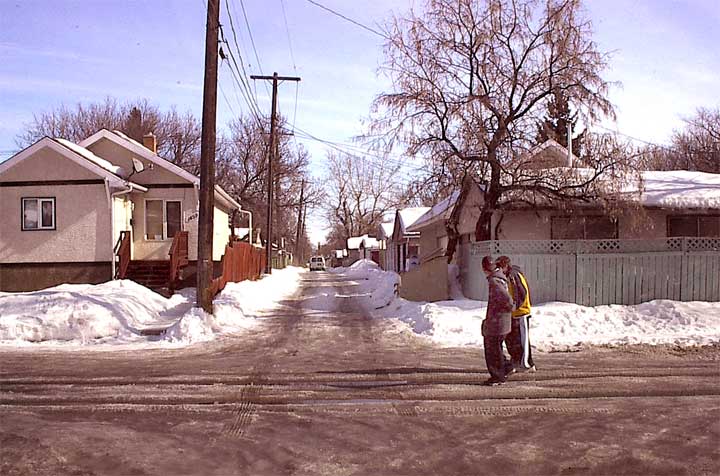 Each week and each day we can plot the course of deculturalisation as people of a hunting and gathering culture have lost their roots, have become dependent upon welfare and at the same time find their own government ever willing and able to steal from their own people. To do nothing, to look after part of a society and ignore another is not going to work. Ultimately the buck passing that has seen city government, reserve government, provincial government and federal government each allow the constitutional excuses for inactivity, while conditions and prospects continue to shrink.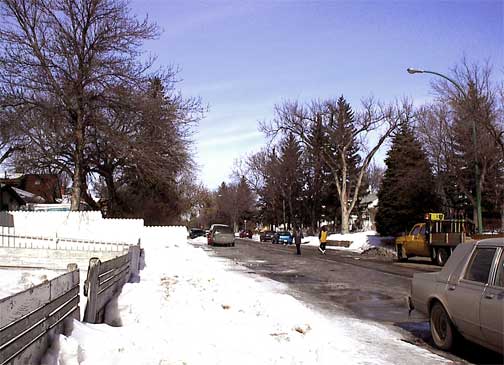 Today the National Post reported on the behaviour of Vernon Linklater a school trustee. He refuses to stand for the national anthem or recognise the Canadian flag. It is unlikely that this upstanding pillar of the community is an isolated case but rather part of an overall pattern that sees growing hostility and a lack of connection to any conventions of society. Without leadership and some focus the whole course of that segment of society has forgotten its past and no prospects for a future.

Despite the impotence of aboriginal leadership which in many cases is far more negative than positive the whole society must not and can not turn its back on such a huge part of the population. Up until now the strategies carried out have been a total failure mainly because the original deals (the treaties) have been ignored or subverted by government. Provincial governments continue to trample the spirit of the treaties with taxes and refusal to settle grievances to the point that respect for government and for law is pretty much nonexistent. Police state action, high incarceration rates and brutally high rates of violent crime have undermined the platitudes of society, as words without action are a mockery.

The solution is not a mystery, it is spelled out in law and treaty. Land claims, residential school abuse cases, the spirit of the treaties all must be resolved. The aboriginal people of this country need more than promises, they need to know that their agreements are respected and in turn they will respect the society that demands its government live up to its obligations
Return to Ensign - Return to Saskatchewan News
This page is a story posted on Ensign and/or Saskatchewan News, both of which are daily web sites offering a variety of material from scenic images, political commentary, information and news. These publications are the work of Faster Than Light Communications . If you would like to comment on this story or you wish to contact the editor of these sites please send use-mail.
Editor : Timothy W. Shire
Faster Than Light Communication
Box 1776, Tisdale, Saskatchewan, Canada, S0E 1T0
306 873 2004