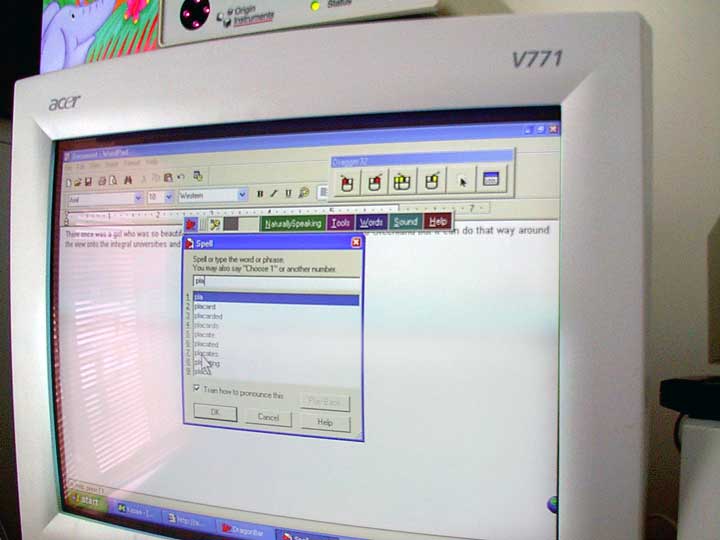 Dragger 32
FTLComm - Tisdale - Thursday, February 20, 2003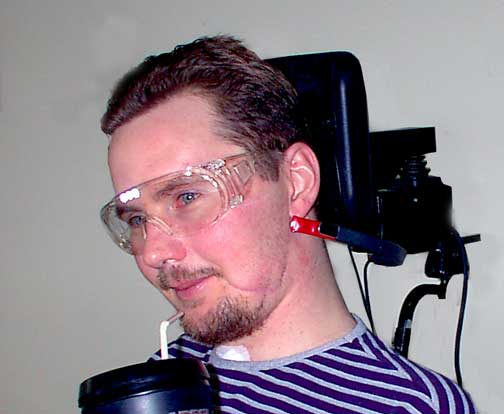 It has been two years since Rory, a thirty-one year old man from Aylsham was a back seat passenger in a car crash that left him unable to move from the neck down. So what can you do in today's world if you can talk, think and move your head?

Rory has set about crafting a new life for himself and this is the story of the tools that he uses that give him mobility, the ability to write and interact with the rest of the world using his computer and his connection with the Internet.

The key element is making use of technology and those functions available. At the top of this page is the working screen as Rory was showing me how he could word process and few of you reading this can type as fast as Rory. Wearing his glasses that really are only a mount for the three reflective dots that allow him to move the cursor around his screen and actuate the software he needs. With his head set in place and Dragon Naturally Speaking 6 he can speak and the computer types out the words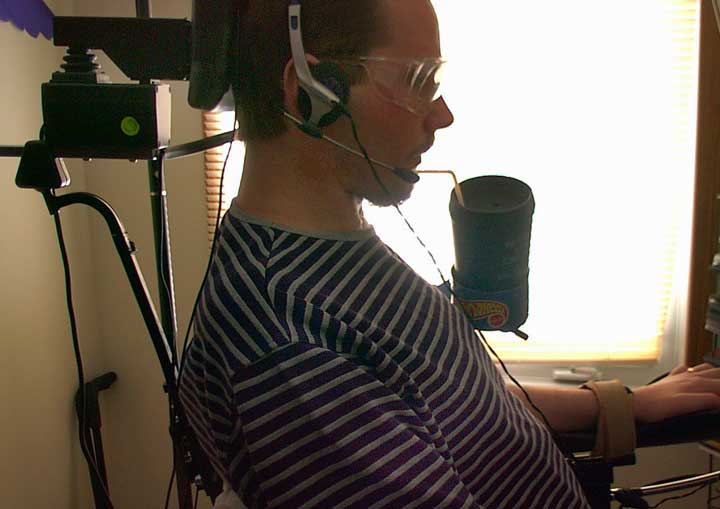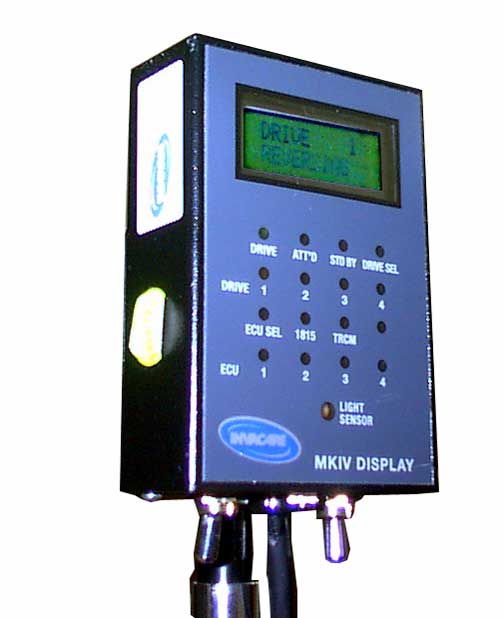 in whatever application he chooses, email, word processor, web browser all work equally well with the software. When a word comes along that the software does not understand he merely teaches it that word (this teaching process is what is on the screen at the top of the page).

A small box seen in the picture below reads the movement of the dots on his glasses and translates the information into the input that would normally be accomplished by a hand operated mouse. Just by pausing on a location the software "Dragger 32" activates the mouse button and engages the routine he is requesting.

Rory's electric wheel chair is directed by his head movements. He selects the menu on the display (left) and then with his head movement can move about.

Rory has no movement other than his head so sustenance, getting to and from bed, getting dressed and undressed, all are chores that his wife looks after. It is not until you watch him at work that you realise just how much a person takes for granted as flipping over a piece of paper, any task that requires hands, arms, legs and feet are just not an option. Though these remarkable technologies can provide him with a productive role in life it is the really simple things that only a care giver can provide.

Though it must be overwhelming at times to face the reality of the limitations created in a person's life by being unable to move, but at the same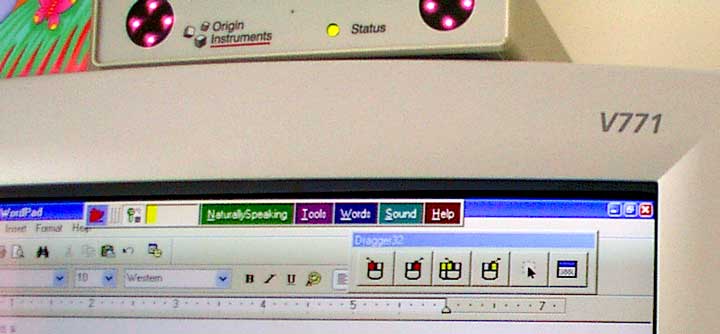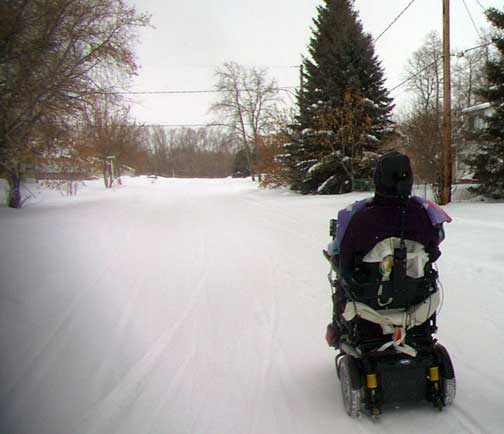 time, it is enormously important to put to work a creative and capable mind.

Rory's life was in music and the tools he has available to his head offer him the chance to begin a different and important phase of his musical career.

He has already written a book about his struggle over these past two years and now his newest project involves his knowledge and understanding of the music industry and in due course you are definitely going to hear and appreciate the work he is now undertaking.

After showing us around his hardware and software, he was bundled up and off we went about three blocks over to his mother's business for a fabulous hamburger. It was snowing at the time and there was about three inches of fresh snow on the ground but the chair moved easily along under his complete and total direction. "look Ma, no hands."

With "Dragger 32" and Dragon Naturally Speaking working so well the potential to move mountains of ideas and information is at his disposal.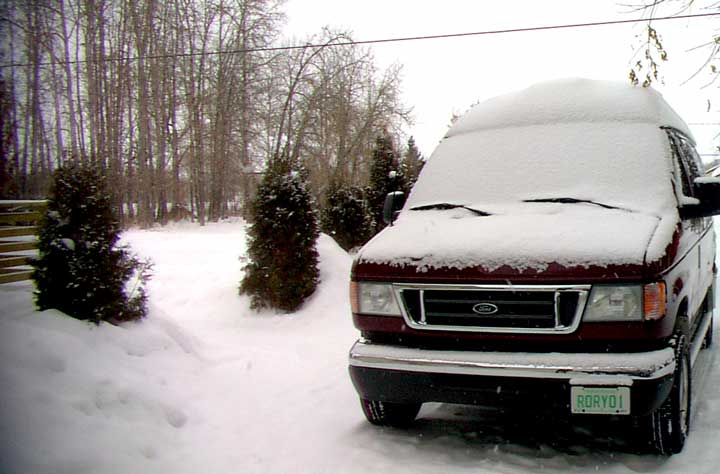 The following appeared in the Nipawin Journal:
Rory Gray

GRAY, Rory - Rory passed away suddenly with his family at his side Sunday, September 18th at the Tisdale Hospital.

Left to mourn his loss are his son Eric (mother Angie, brother Justin), mother Betty Archer (Richard), father Don Gray (Dianne), brother Glen Gray (Tammy), sister Tracey Jackson (Kelly), nieces; Alyssa Gray, Emily Jackson, Makayla Jackson, nephews; Travis Gray, Grayden Jackson, grandmother Edith Preston, many aunts, uncles, cousins and a host of friends.

Rory was predeceased by his father Murray Collison, grandfather George Preston, grandparents; Anne and George Gray and Clifford and Olga Collison.

Rory was born in Manning, Alberta September 3rd, 1969. In 1973 he moved to Aylsham with his family. He attended school from kindergarten to grade six at the Aylsham Elementary School and went on to attend high school at L.P. Miller Comprehensive in Nipawin.

Rory loved the farm and was a constant companion of Don, always along on tractors, combines and trips to auction sales for the "pig tanure" races.

Rory liked to invent things. He tried to invent everything from a helicopter, wood burning stove, mower blades, even a hot tub made from a bin bottom, which eventually became the home of an injured swan.

Rory had to try everything once, he had a daredevil, mischievous attitude. Rory loved animals especially his "Dukes", the German Shepherd dogs who were his constant companions.

Rory loved children. He was so excited when the light of his life, son Eric was born in 1997.

Music was Rory's passion. There wasn't a musical instrument he couldn't play. He was thrilled to have a band and recorded a CD with all original songs in 2000.

On April 8th, 2001 Rory was in a car accident that left him a quadriplegic. After many months of rehabilitation, he moved to Parkridge Centre in Saskatoon. This is where he developed an interest in computers.

With the assistance of Saskatchewan Abilities Council, Rory was able to run a computer by using a head mouse.

In 2002 Rory returned home to Aylsham to be with his family.

Because of his love of music and his new found computer abilities Rory developed AMHM Studio. Many musicians had an opportunity to record, and Rory was all about helping others that shared his passion. Rory was proud to be a part of the beginning of Codie Prevost's career.

Rory was pleased to be involved in the P.A.R.T.Y. (Preventing Alcohol and Risk-Related Trauma in Youth) Program. This gave Rory the opportunity to speak to young people at local high schools about the dangers and consequences of drinking and driving.

In 2005 Rory moved to Arborfield Special Care Home where he resided until his passing.

A celebration of Rory's life was held in the Aylsham Community Complex on Saturday, September 24, 2011 at 2:00 p.m. with Margaret Anderson officiating. Memorial donations to the Trust Fund for Eric Gray may be made at any Diamond North Credit Union. The family placed their trust with COVENTRY FUNERAL SERVICES of Nipawin 862-4233.106425
---
Return to Ensign - Return to Saskatchewan News
This page is a story posted on Ensign and/or Saskatchewan News, both of which are daily web sites offering a variety of material from scenic images, political commentary, information and news. These publications are the work of Faster Than Light Communications . If you would like to comment on this story or you wish to contact the editor of these sites please send us email.
Editor : Timothy W. Shire
Faster Than Light Communication
Box 1776, Tisdale, Saskatchewan, Canada, S0E 1T0
306 873 2004