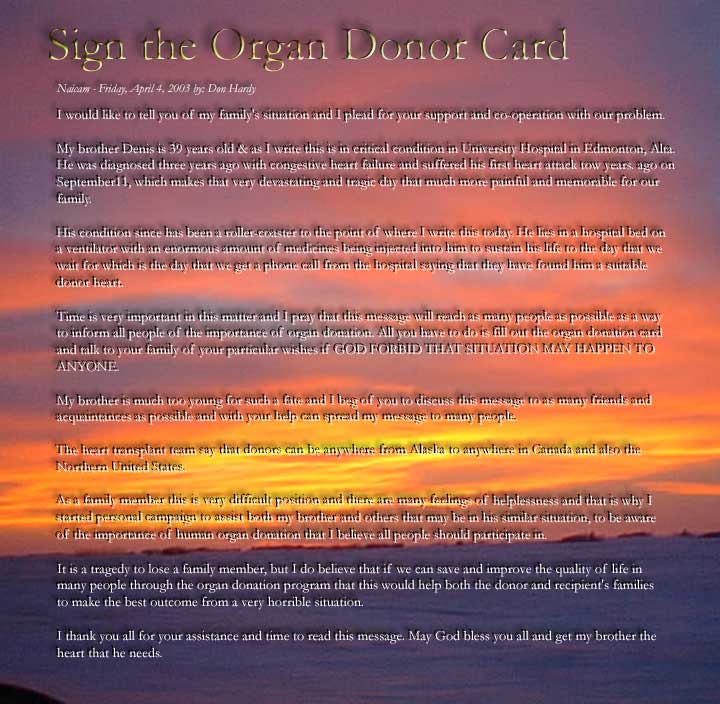 Sign the organ donor card

Naicam - Friday - april 4, 2003 by: Don Hardy

I would like to tell you of my family's situation and I plead for your support and co-operation with our problem.

My brother Denis is 39 years old & as I write this is in critical condition in University Hospital in Edmonton, Alta.
He was diagnosed three years ago with congestive heart failure and suffered his first heart attack tow years. ago on
September11, which makes that very devastating and tragic day that much more painful and memorable for our
family.

His condition since has been a roller-coaster to the point of where I write this today. He lies in a hospital bed on
a ventilator with an enormous amount of medicines being injected into him to sustain his life to the day that we
wait for which is the day that we get a phone call from the hospital saying that they have found him a suitable
donor heart.

Time is very important in this matter and I pray that this message will reach as many people as possible as a way
to inform all people of the importance of organ donation. All you have to do is fill out the organ donation card
and talk to your family of your particular wishes if GOD FORBID THAT SITUATION MAY HAPPEN TO
ANYONE.

My brother is much too young for such a fate and I beg of you to discuss this message to as many friends and
acquaintances as possible and with your help can spread my message to many people.

The heart transplant team say that donors can be anywhere from Alaska to anywhere in Canada and also the
Northern United States.

As a family member this is very difficult position and there are many feelings of helplessness and that is why I
started personal campaign to assist both my brother and others that may be in his similar situation, to be aware
of the importance of human organ donation that I believe all people should participate in.

It is a tragedy to lose a family member, but I do believe that if we can save and improve the quality of life in
many people through the organ donation program that this would help both the donor and recipient's families
to make the best outcome from a very horrible situation.

I thank you all for your assistance and time to read this message. May God bless you all and get my brother the
heart that he needs.