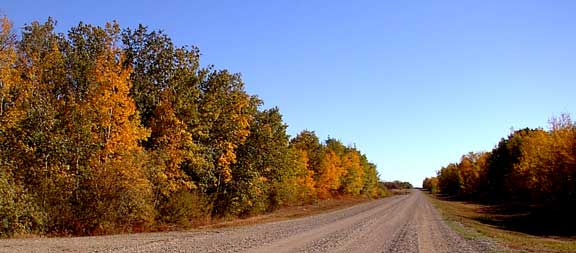 AutumnLand
FTLComm - Tisdale - Sunday, September 23, 2001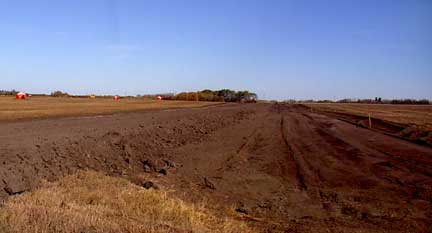 Not only is the summer of 2001 history but so it the harvest. We are in that in between period when the leaves will fall off and the sky will grow gray more often and we all hope that it will bring us precipitation to moisten this dry land.

Today's pictures were taken a mile North and then off to the East toward Edersley with glaring bright sunlight and a pleasant warming wind from the South.

The RM of Tisdale is hard at work installing a new farm access road about two miles East of the lagoon.

Many of the trees have already lost their leaves while the underbrush is mostly alive with a range of fall colours. The fields are bare except for the baled straw and the leaf cutter bee shelters that are found in the seed alfalfa fields.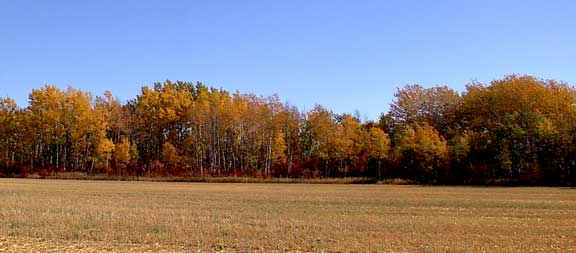 The stark emptiness of the sky and the unfailing flatness of the surrounding country drew me to the field below. The scene includes a glimpse of Harvest Valley Wheat Pool Corporation terminal, rows of leaf cutter bee shelters, a resting combine and sunshine. If this scene does not show up on your screen you need to download the free and remarkably capable QuickTime which is now up to version 5 and offers the user the ability to "stream" video, audio and only it is able to let you use QuickTime VR panoramas like this 360º view of the countryside about six miles East of Tisdale this morning.