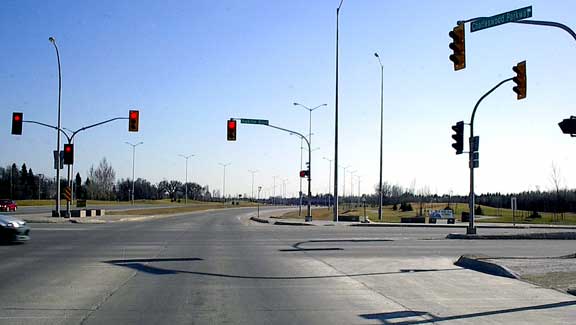 Not on my fairway!
FTLComm - Winnipeg - Tuesday, April 22, 2003
Land and how it is used has been a serious and abiding part of the conflicts between individuals since the beginning of time. The days of tribal societies involved military conflicts and raids over land and the possession of it while in feudal times the ownership of property became something that went with power. The British worked out some reasonable but far from perfect compromises between privately held land and "common" land. Here in North America there was a chance to start fresh with the problem and even after grabbing land held by the First Nations people a lot of land was set aside as "Crown Land", owned by and for the good of all. To this day huge amounts of Canada remain unavailable for private ownership.

One of the other things that North Americans did was reserve land for common use such as waterfronts which gave access to beaches and shorelines preventing private ownership of such lands. This has not prevented landowners who live in adjacent areas to do all that they can to privatise water side properties but the basic concept of common to all areas is definitely part of the Canadian landscape.

The interesting development in Winnipeg is the efforts by private owners to gain control over public land and property and it is amazing but they have achieved remarkable success. One clear set back for some Winnipeg people was this new expressway that many consider one of the most controversial roadways in the city's history.

The intersection above used to be the termination of a major North South thoroughfare known as Moray. City planners decided to extend this traffic route South to reduce congestion on other North South routes and this meant confiscating a golf course. The result is now a major benefit to the people who live in Charleswood who had been pretty much cut off from the rest of the city. This new extension of Moray has opened up their neighbourhood to better access and much better delivery of emergency services.

The beautiful landscaped expressway owes its appearance to the golf course through which it once was but for the greater good the golf course had to go.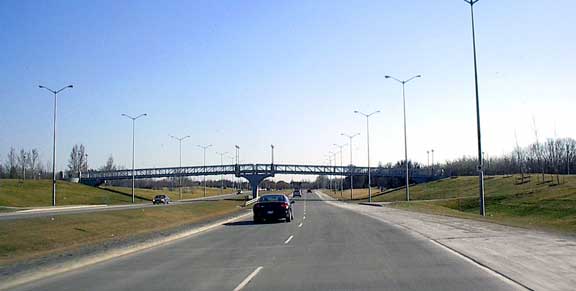 South of the Assinaboia Park there is this large wooded area that serves as a recreational and green spot for this part of the city, an excellent example of common land use.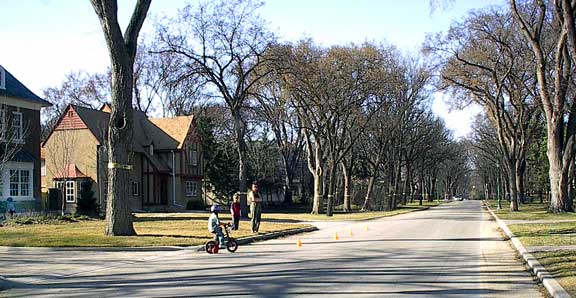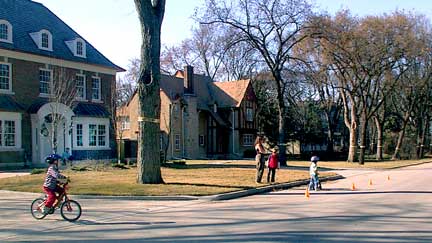 This last set of pictures are in an exclusive neighbourhood on the South side of the river. Here a lady is sorting out the bike riding rules of the road with three youngsters using a piece of street and their driveway.

But this far from a friendly part of the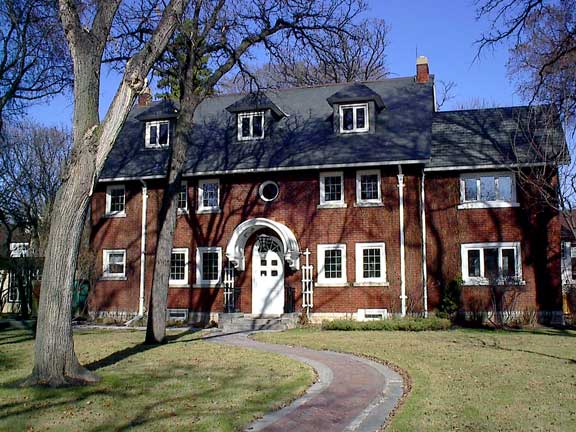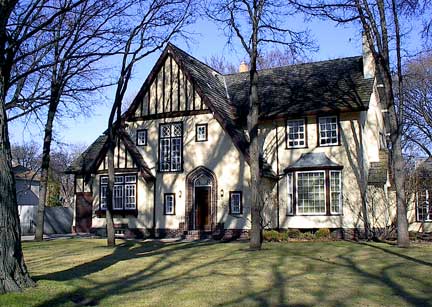 city of Winnipeg. The houses in the area are very expensive and with the outstanding beauty of the area the people from other parts of the city like to come and jog, stroll and cycle around its streets and pathways.

Amazing as it seems the city of Winnipeg has given in to these high earning tax payers and actually restricts traffic into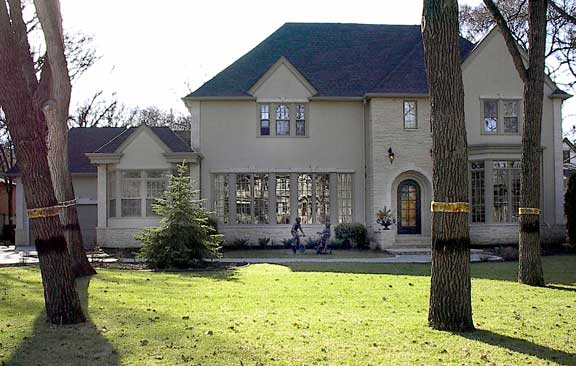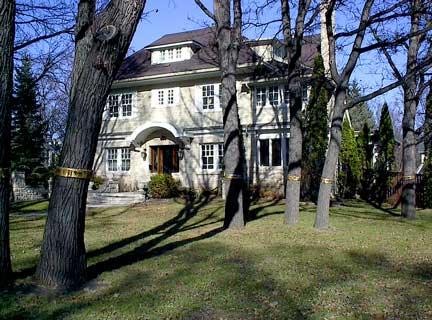 area on weekends.

As we paused to photograph this remarkable house above a lady poked her head out of the upstairs window demanding to know what we were doing photographing her house. Such is the atmosphere in this part of the city where the residents consider the public street their personal and private property.

Manitoba's declaration of its friendliness is not reflected in the way these people view everyone else. It is a we - they situation and one wonders what sort of implications go with this attitude. We have seen the increased development of "walled" neighbourhoods in most Canadian cities and yet these same citizens expect to be supported by the rest of society as recipients of all the same services as everyone else with the provision that what is theirs is theirs and what they can get is theirs. Certainly signs of savagery in all this.
---
Return to Ensign - Return to Saskatchewan News
This page is a story posted on Ensign and/or Saskatchewan News, both of which are daily web sites offering a variety of material from scenic images, political commentary, information and news. These publications are the work of Faster Than Light Communications . If you would like to comment on this story or you wish to contact the editor of these sites please send us email.
Editor : Timothy W. Shire
Faster Than Light Communication
Box 1776, Tisdale, Saskatchewan, Canada, S0E 1T0
306 873 2004