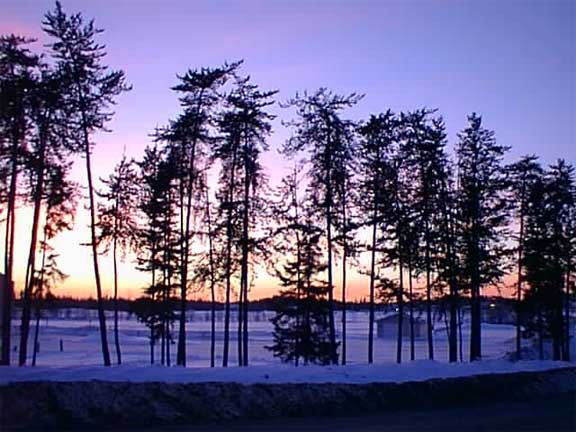 Its not easy being mean
FTLComm - la Ronge - Wednesday, February 25, 2004 - Images by: Judy Shire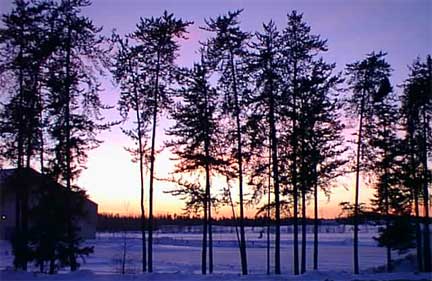 Actually there is probably nothing whatever mean about the spindly spruce trees of laRonge, but what they have to do to stay alive is a testament to the tenacity of life itself.

There is little or no dirt on the Precambrian Shield which makes its appearance at laRonge and Flin Flon. The bedrock of the planet simply is sticking out of the ground and all plant life from moss to trees have to find a crack to sink their roots into and gain whatever nourishment they can from the decayed plant life that is scattered a few inches thick over the rocks. So it is no wonder these trees look as they do.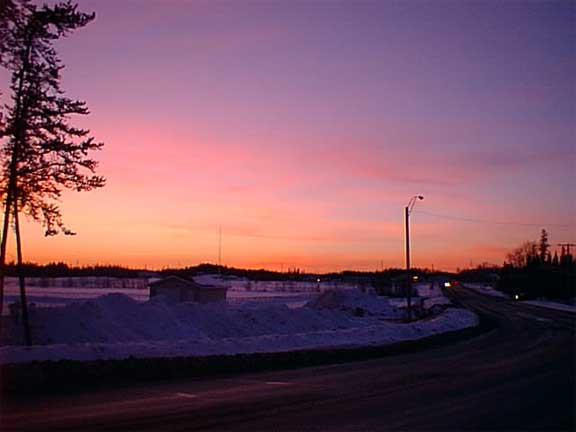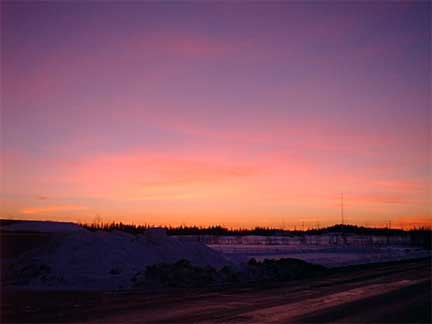 It is one of the facts about Canada that is almost a secret with most Canadians huddled along the US border most do not realise that they live in one of the most beautiful countries in all the world. Canada's north is like these pictures taken last night. A place of strong contrast, powerful and dramatic shifts in light from day to night and even though Canada's North is often a hostile environment it is the essence of this country.

From the tree line north the trees grow shorter, tougher and the people who live and work in this part of the land soon learn that they too must deal first with the elements and value survival above all else.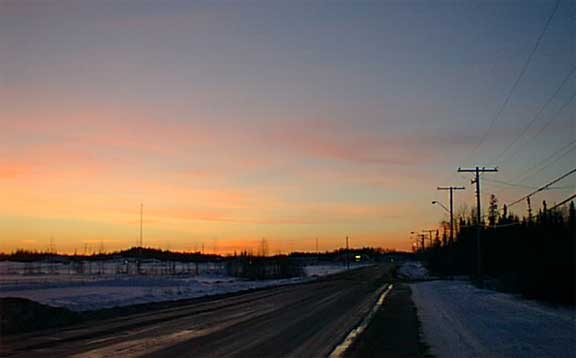 Return to Ensign - Return to Saskatchewan News
This page is a story posted on Ensign and/or Saskatchewan News, both of which are daily web sites offering a variety of material from scenic images, political commentary, information and news. These publications are the work of Faster Than Light Communications . If you would like to comment on this story or you wish to contact the editor of these sites please send us email.
Editor : Timothy W. Shire
Faster Than Light Communication
Box 1776, Tisdale, Saskatchewan, Canada, S0E 1T0
306 873 2004