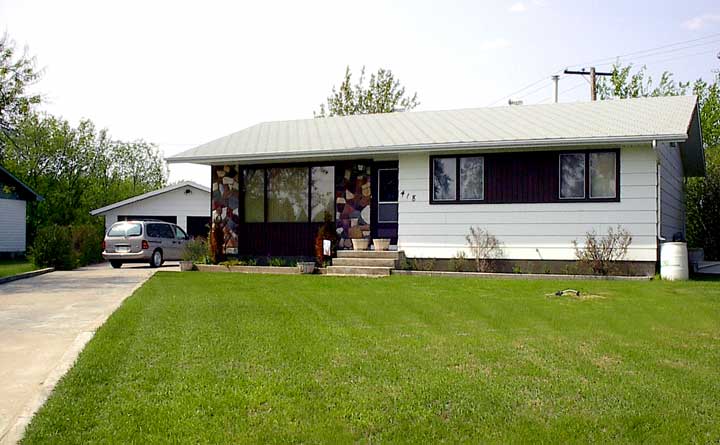 Multilevel yard
FTLComm - Nipawin - Friday, May 23, 2003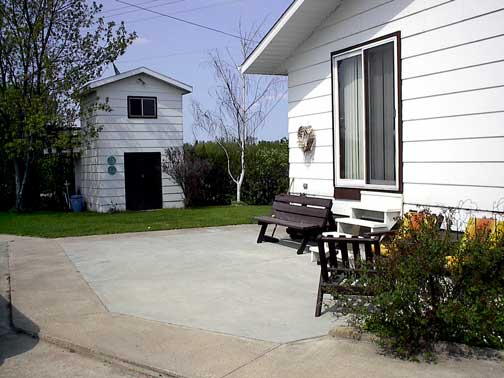 We as Saskatchewan people perpetuate the myth that this province is all flat and certainly people who have never been here have heard that this is the case but the reality is that many parts of the province have some topographical variation and certainly close the the many rivers in the province there are areas where glaciation produced some abundant variations. The town of Nipawin sits alongside the Saskatchewan River and much of the town site is sand and gravel moved around ages ago as the ice receded

This house is with several others located just East of the highway as it departs the community and heads off toward the bridge over the river and ultimately to Prince Albert. The picture above is how it looks from the street while this image shows the flat area on which the house is placed but sixty feet from the back door the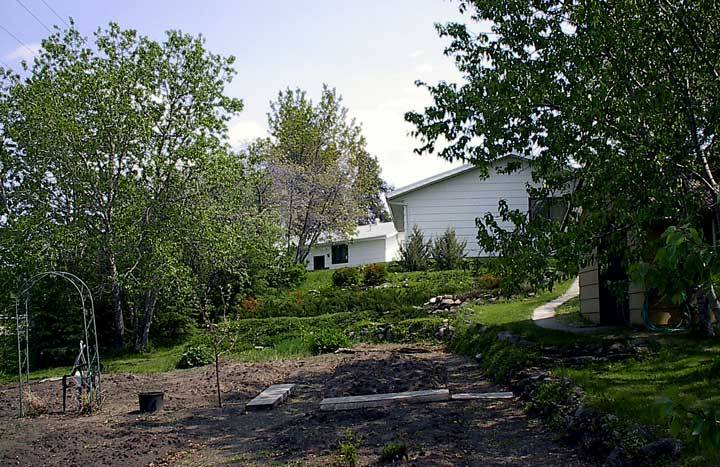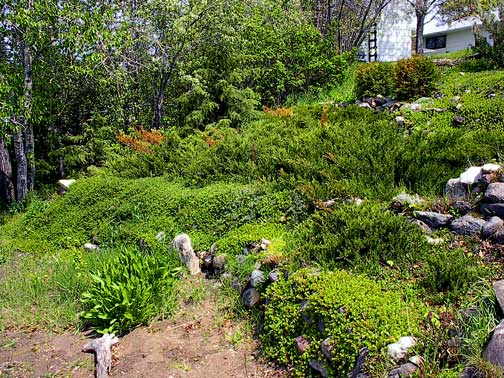 yard tumbles downward toward another level below. The challenge of handling the slope has been met by the property owners by installing these terraces with cedar shrubs. It has pathways down each side of the central slope and my guess is that in winter it is a great place to slide.

The scene below is a composite of two images to show you the large meadow and treed area at the edge of the yard.

The garden is not in yet and this yard has a lot of grass to mow and plants to maintain. Looks a lot like a full time job. Besides the playhouse on the street level there is a garden shed at the bottom level with its own pressure system and well to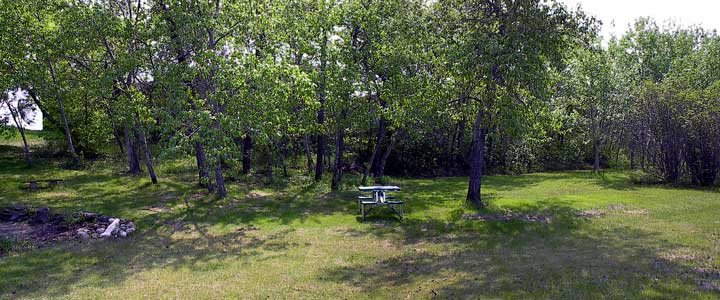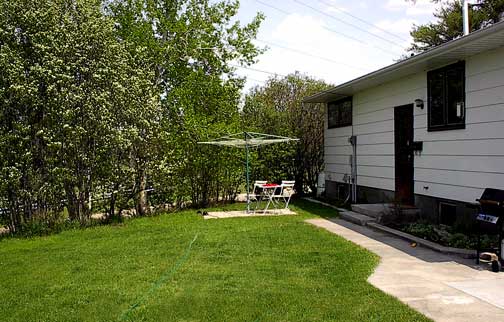 provide irrigation for all the grows in this really large yard.

Remarkably this sumptuous living environment is in a town, not out in the country some where and is only a block from one of the best golf courses in Saskatchewan while a short bike ride West, across the highway will put you in the magnificent Nipawin Regional park with its renown fishing spots and majestic camping ground snuggled under the towering spruce along the Saskatchewan River.

Below is a QuickTime Virtual Reality image from behind the two car garage looking down over the lower level and offering you a peek at the layout of this outstandingly unique place to live.
---
Return to Ensign - Return to Saskatchewan News
This page is a story posted on Ensign and/or Saskatchewan News, both of which are daily web sites offering a variety of material from scenic images, political commentary, information and news. These publications are the work of Faster Than Light Communications . If you would like to comment on this story or you wish to contact the editor of these sites please send us email.
Editor : Timothy W. Shire
Faster Than Light Communication
Box 1776, Tisdale, Saskatchewan, Canada, S0E 1T0
306 873 2004