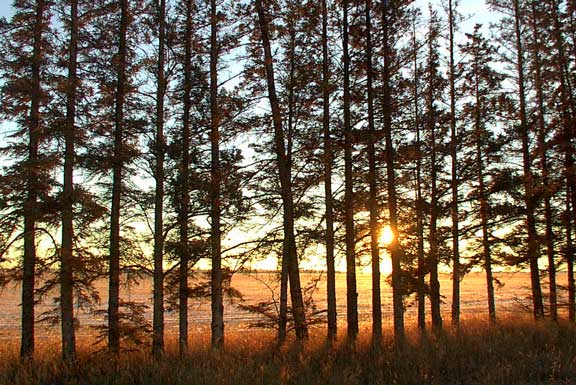 These pictures were taken between 9:00 and 9:45 this morning North and Northwest of Tisdale Saskatchewan.
The view from here
FTLComm - Tisdale - Thursday, November 21, 2002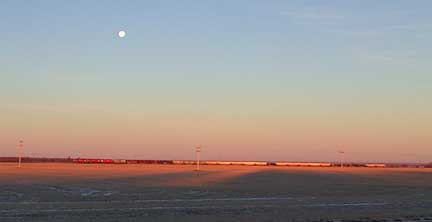 As we peer through the trees at the early morning sun the town of Tisdale is right there, just over a mile away, yet obscured by the sunlight and the distance. How much more difficult it is to come to terms with things that are beyond the horizon. The little grain block working its way South, parallel to highway 35, and nearly a quarter million miles away the moon dazzling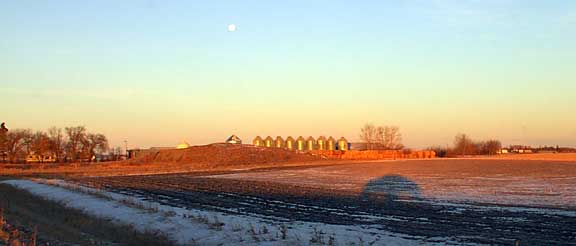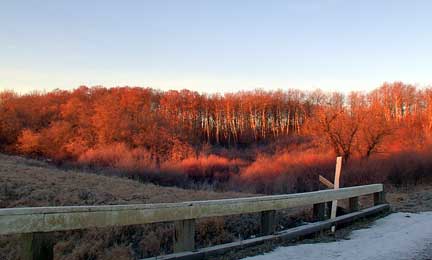 the morning sunlight back at us.

The warmth yesterday has seen the snow disappear from the fields and in this area the crops are in and like the cattle yard above, the bales are stacked up to hold the cattle over the winter.

Looking across the Doghide (below) and up its shallow valley (right) the prospects of another dry winter and even drier spring loom in the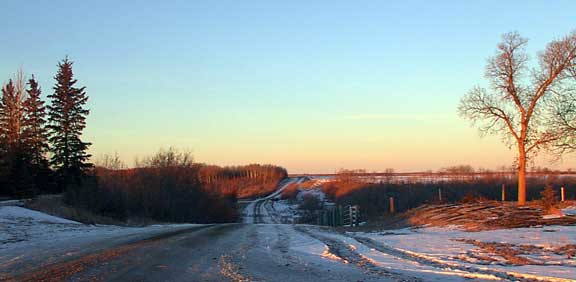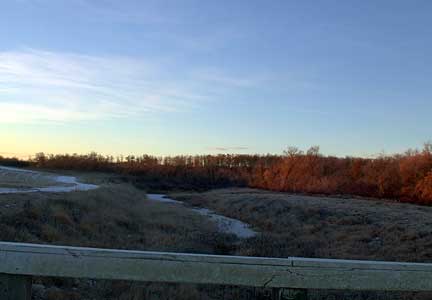 distance of time.

A coyote out looking for breakfast dashed across the road beneath a silent and almost cloudless sky.

With the perceptions of our parents and the glimmer of awareness from their parents we have a time window of about seventy-five years to position some perspective of on what may be reality. Social and economic orders, political constructs and traditions developed to fit our lives into. This creek bed is probably about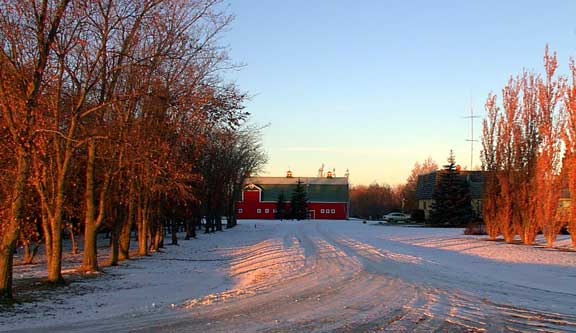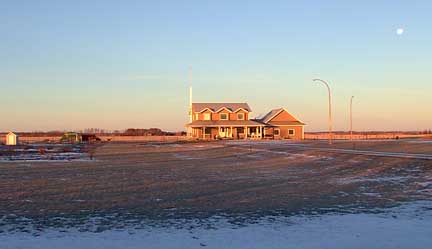 five to twelve thousand years old.

Horse barn from the 1940s and a new farm house only a few years old are a mere spark in the continuum, yet only a hundred years ago, no one but a passing trapper would have lived on this land.

Plastic shrouded bales, grain tanks, a huge fuel tank one quarter full, sit as part of an industry that serves customers around the world, many more would-be customers if they could but find resources to pay or trade for the products that grow here in abundance most years.

This is our world, from one horizon to the other, about seventy miles. Television, radio, print and this medium, open up a glimmer of reality to those places beyond, but the sun rises and sets on this place, where we are, and it is from here that we must try to understand ourselves first, and those beyond, we can only guess at what they are about.
This song on this page is from the sound track of the movie "O Brother Where art thou".
---
Return to Ensign - Return to Saskatchewan News
This page is a story posted on Ensign and/or Saskatchewan News, both of which are daily web sites offering a variety of material from scenic images, political commentary, information and news. These publications are the work of Faster Than Light Communications . If you would like to comment on this story or you wish to contact the editor of these sites please send us email.
Editor : Timothy W. Shire
Faster Than Light Communication
Box 1776, Tisdale, Saskatchewan, Canada, S0E 1T0
306 873 2004