Park flower beds dressed today
FTLComm - Tisdale - Thursday, May 27, 2004

Each year the two flower beds in Cenotaph park are laid out with a great display of flower and there are several other parks that get similar treatment.

The process of putting this year's display in place began before 9:00 this morning with a set of guide grid lines to mark the various varieties and colours to be used and shortly afterward the plants were being put in place.

As it turned out the dark skies of the morning gave way to great sunlight and the temperature edged upward to about 19º which, relatively speaking is almost tropical for 2004.

Flowers in a park truly lift the spirits of everyone who looks at them. You don't need to know their names or care anything about gardening flowers speak loudly for themselves and colour seems to bring out the best in all of us.

The town was completing its anti-dandelion campaign today as they sprayed all mowed areas for the "weed". Yet every kid loves the brilliant golden flowers of these pests for the same reason we all enjoy flowers of any sort. The colour and enduring resilience of them makes them special. As a little kid I would pick them give them to my mother who would put them in a bowl of water never once letting on they were weeds.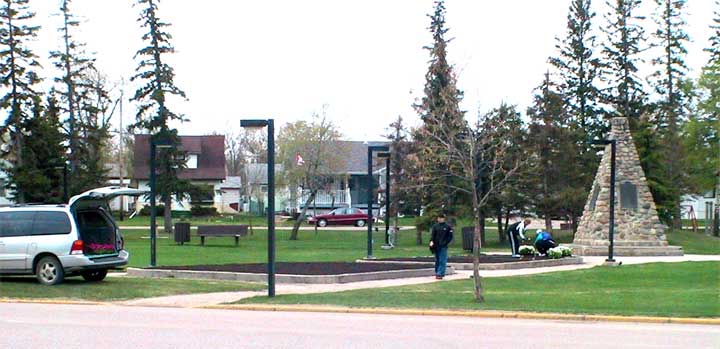 Return to Ensign - Return to Saskatchewan News
This page is a story posted on Ensign and/or Saskatchewan News, both of which are daily web sites offering a variety of material from scenic images, political commentary, information and news. These publications are the work of Faster Than Light Communications . If you would like to comment on this story or you wish to contact the editor of these sites please send us e-mail.
Editor : Timothy W. Shire
Faster Than Light Communication
Box 1776, Tisdale, Saskatchewan, Canada, S0E 1T0
306 873 2004