Skies, snow and more skies
FTLComm - LaRonge - Tuesday, May 18, 2004 Images by Judy Shire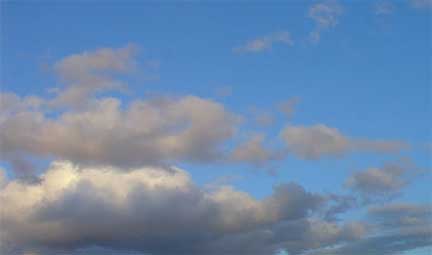 This set of pictures begins on Sunday May 9th with a sky filled with towering cumulus clouds and though it is not all that obvious the wind was a cold mean winter wind that if these clouds did hold moisture it would descend as snow on the countryside below. The picture below is near Kinistino.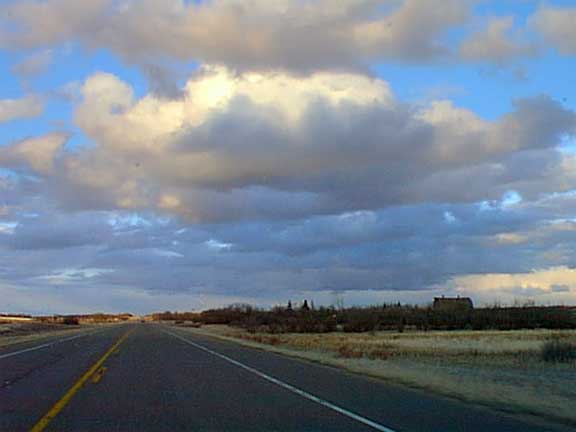 Monday May 10th this is how it looked in LaRonge. We often forget that LaRonge is a full two hours drive north of Prince Albert and spring is often delayed considerably further north. But as we all know this year snow fell quite equally on both the north and the south.

This month's issue of Popular Science examines the science behind rapid climate change so that a person can see the movie "The Day After Tomorrow" and have a bit of a reality check. The scary reality is that climate change does and has occurred and it has done so dramatically on this planet. Our problem is that our sample of reality is to small to realise the significance of small but important changes or are the small and unimportant changes. One would hope that the scientists of our time who have figured things out and remarkably they have been pretty much in agreement that things are changing.

Since the election of the present president of the United States scientists and their warnings have been disregarded because of some economic ramifications. This has produced a remarkable situation where some 60 US scientists took out a large advertisement condemning environmental policies of their country. The gap between the scientists and the US government has widened to the point where the White House has accused its most prominent scientists of being subversive and "leftist."

Friday, May 14th our intrepid photographer was once again on the road and caught this picture near Birch Hills of a farmer burning his fields. This practice is widely condemned by agricultural experts and experienced farmers yet each spring and sometimes in the fall farmers set harvested canola fields ablaze to get rid of the strong and durable straw from the previous year's crop. Though the smoke is unpleasant and a nuisance it is far worse on the fields where valuable nutrients are destroyed in the burning process. Fortunately, each year there is less and less burning taking place.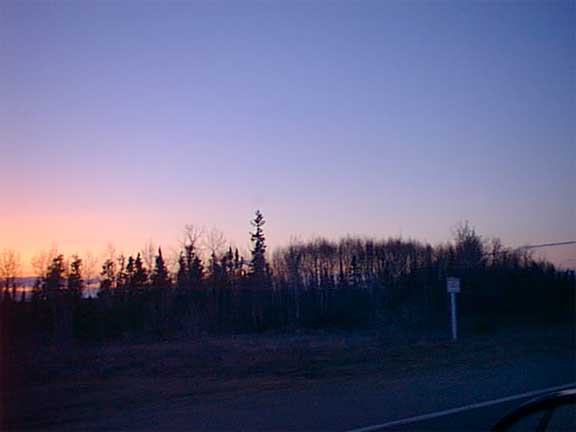 These pictures were taken on Sunday May 16th with heavy skies between Melfort and Prince Albert with some showers further north closer to LaRonge.

As you look at these images you immediately realise the complex cloud formations that develop over Canada's boreal forest. The forest itself reduces wind speeds close to the surface and the trees and bodies of water create temperature extremes that contribute to the clouds that form above them.

As the snow disappears it takes a while for Northern Saskatchewan lakes to become free of ice and their white reflective surfaces are not visible from the ground. However, those frozen lakes and ponds keep the northern geese sitting on the fields well south of the tree line until late May. Only recently the snow geese have moved from the Watson area up to the flats between Kinistino and Birch Hills.

As the trees begin this year's life cycle they are particularly susceptible to fire but this year the cold temperatures and moderate moisture will delay the fire season this year.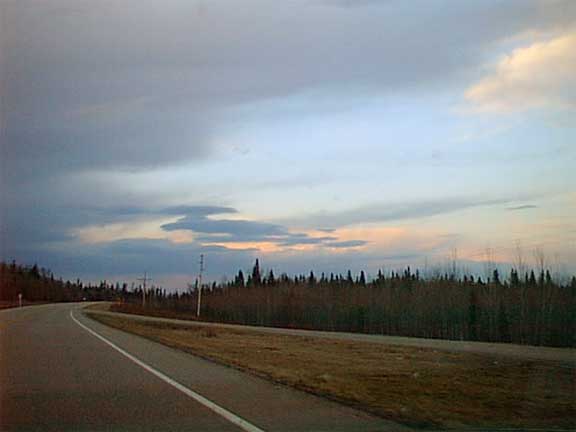 Return to Ensign - Return to Saskatchewan News
This page is a story posted on Ensign and/or Saskatchewan News, both of which are daily web sites offering a variety of material from scenic images, political commentary, information and news. These publications are the work of Faster Than Light Communications . If you would like to comment on this story or you wish to contact the editor of these sites please send us e-mail.
Editor : Timothy W. Shire
Faster Than Light Communication
Box 1776, Tisdale, Saskatchewan, Canada, S0E 1T0
306 873 2004