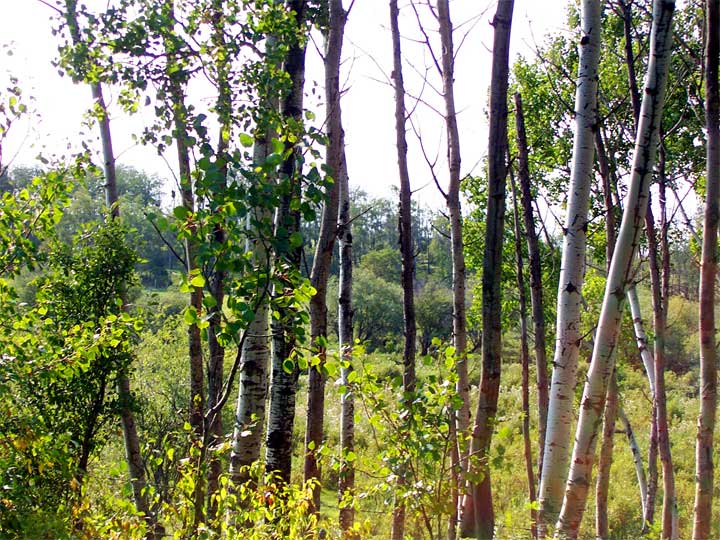 Scenes south of town
FTLComm - Tisdale - Tuesday, August 29, 2006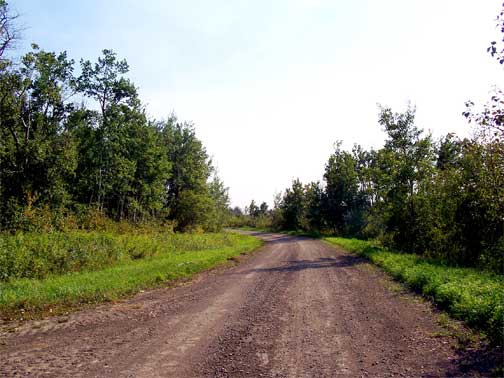 I had initially set out to get a combine picture for the Farmer's Union story on the Wheat Board and discovered that most of the fields east and south of town had already been cleaned up for the year. So, I just kept going heading south on a dirt farm access road a mile east of highway 35.
The Doghide river wanders through that area and I came to this curve in the road that dodges the little valley and on the other side there was the scen below of the gentle valley and the river as it now rests in its late summer fashion.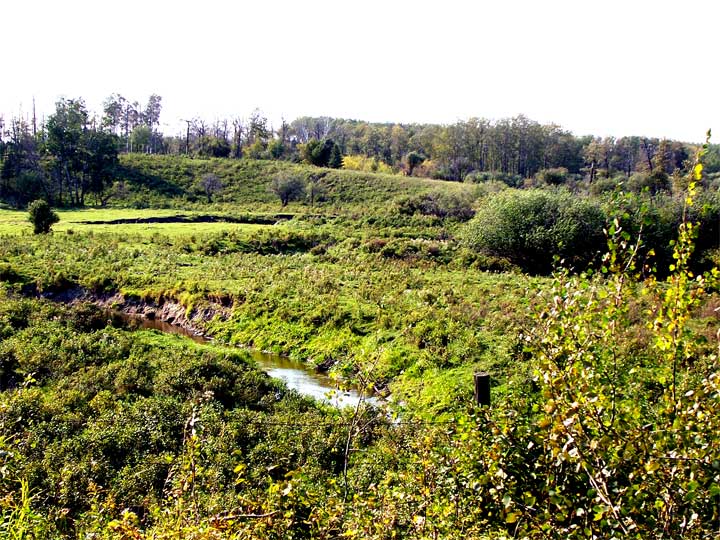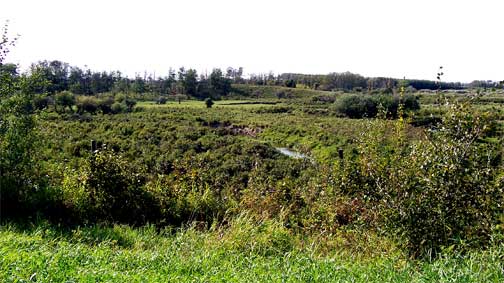 The summer of 2006 was dry for a bit but in a valley that flooded three times last year and once this year with the spring run off the growth along the river it remarkable and so are the poplar trees. Large trees have a tough time in an area like this because of annual flooding so the trees are really more scrubs than trees but they are extensive and wearing the fading colour of summer as a hint of brown creeps into all scenes.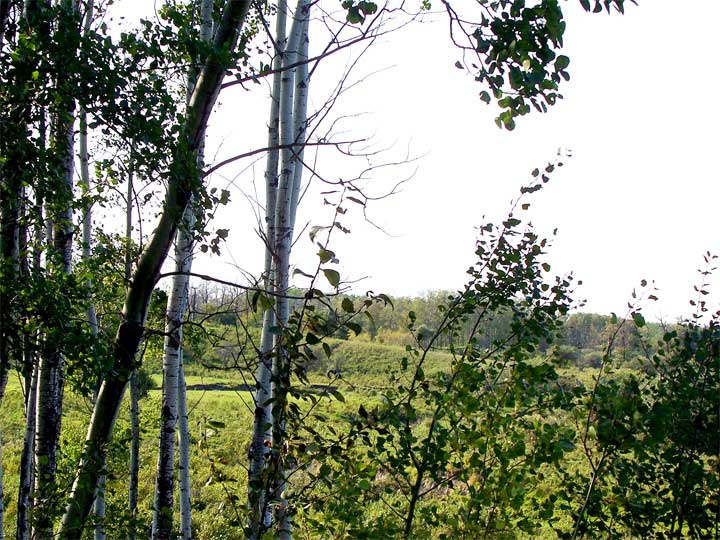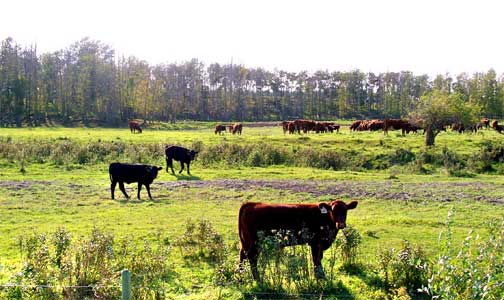 Just a half mile further I came upon this outstanding herd of beef cattle all looking like they were enjoying the summer of 2006 and did not especailly miss the swimming involved in 2005.
This area of the province has an abundance of feed this year so the cattle producers are only having to deal with market prices and what to do with animals that are not marketable due to the BSE problems which continue to trouble the industry.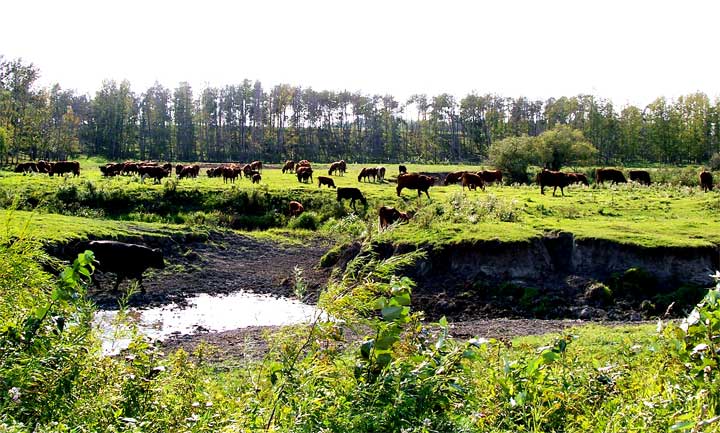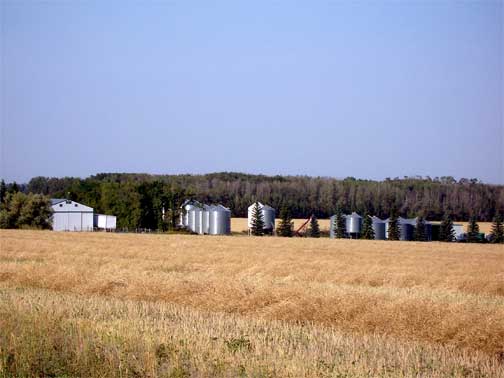 Almost all of this year's wheat and barley crop is in the bin or on the way to the elevator and as you can see from this image the canola is swathed and combining of it has begun. It would look like in the area south of town as few as five days will see most crops harvested. Someone said they will have to wait for the flax which was planted a bit late and is still not finish at this time.
The farm below looks finished. Farm yards like this one are all to common through the province. People with dreams who built new homes on farms and the economy of agriculture just did not cooperate.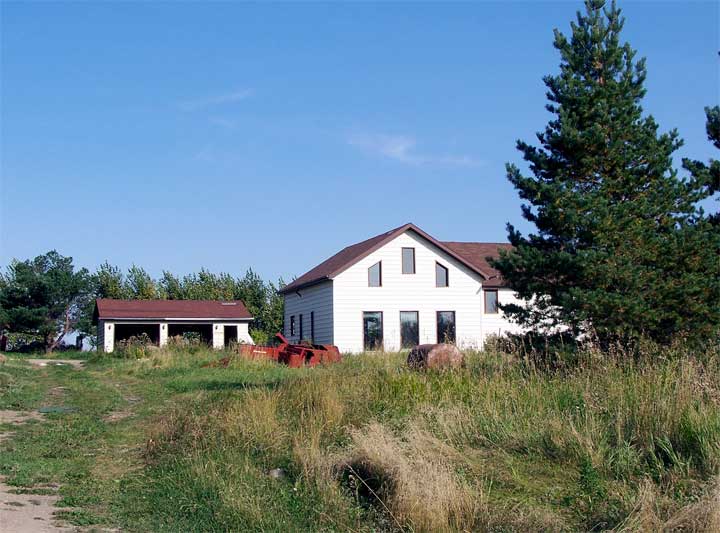 ---
Return to Ensign
This page is a story posted on Ensign and/or Saskatchewan News, both of which are daily web sites offering a variety of material from scenic images, political commentary, information and news. These publications are the work of Faster Than Light Communications . If you would like to comment on this story or you wish to contact the editor of these sites please send us email.
Editor : Timothy W. Shire
Faster Than Light Communication
Box 1776, Tisdale, Saskatchewan, Canada, S0E 1T0
306 873 2004