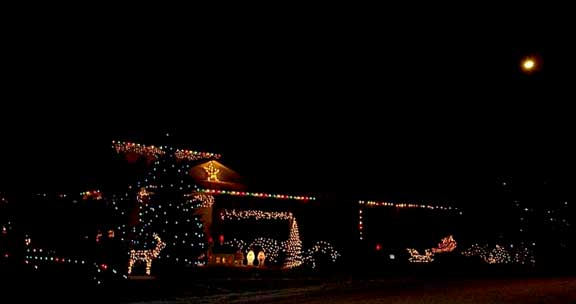 Nipawin's parade of lights
Nipawin - Sunday, December 15, 2002: Sandra and Kevin McIntyre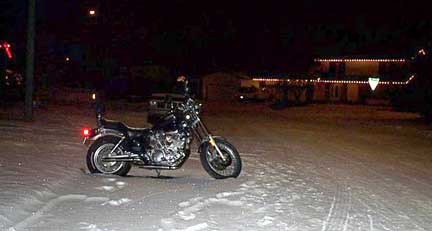 Friday was yet another unnaturally warm night and we went to Nipawin for dinner out and to enjoy their annual Parade Of Lights. Comparing Tim's pictures of Tisdale 40 miles to the south, the North Country has about a 4" head start on snow. With it being so warm, that translated into streets you could skate on. Want to make a U-Turn? Crank the wheel and blip the throttle.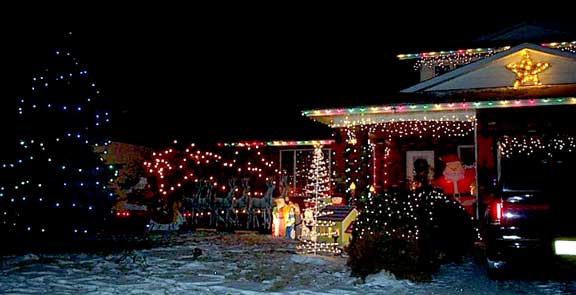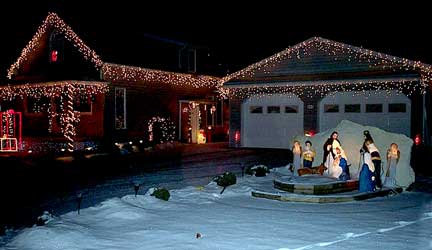 After dinner we drove through most of the town enjoying residential light displays. For those familiar to the area, the best display was just north of the Honda dealership. Whether you drove up the front street or the back lane, this was a home worthy of the trip [edit tim, #285~289]. And while one may laugh at the sight of a motorcycle at the curb this time of year, the neighbors across the street had their boat ready to go in the driveway.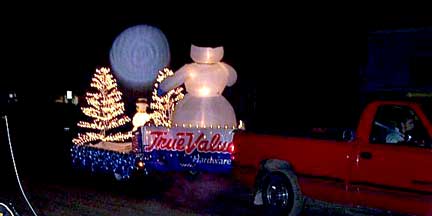 At 8:30 we went back downtown to get a good spot: everyone was driving on the wrong side of the street and backing into the curb.

A warm and convivial atmosphere, in and out the stores, up and down the parade route. Carolers from the local 4-H, hot chocolate, and kids with hockey sticks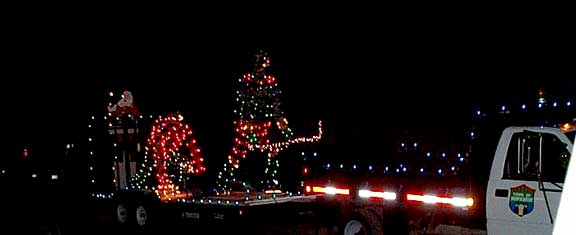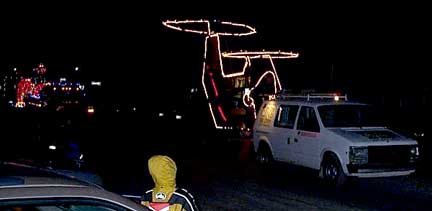 relished a street that was empty of traffic, waiting for the fun to begin.

Ten minutes after the appointed time the street lights were turned out and the parade began, headed by the traditional RCMP escort. While we took pictures of every float not all turned out. Mostly the displays were too large to fit in frame.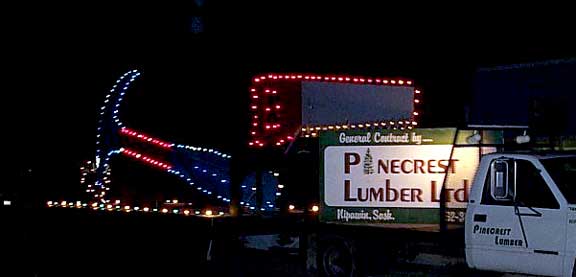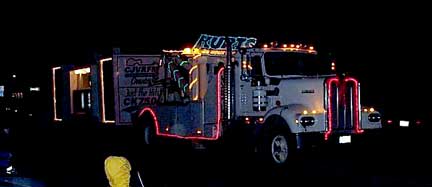 Curbside may have been too close for professional-quality photos, but we were loathe to take our eyes off the parade, afraid to miss a moment of the fun.

Holiday parades in larger cities had nothing over the fun and excitement of taking pride in displays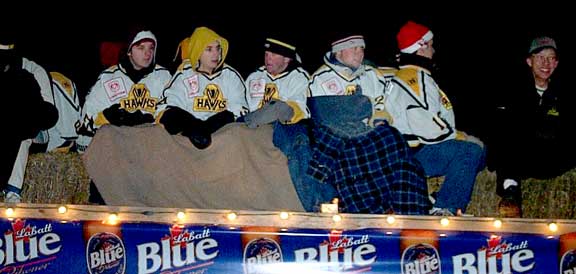 representing local businesses one shops at every day, and the sense that, "These are our folks!" Its the essence of community pride. We were able to capture from the Nipawin Hawks to the Storm Chopper of CJNEFM[.com]

I have no idea how they didn't get all tangled up in extension cords.....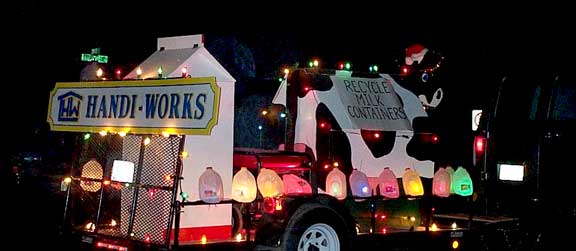 ---
Return to Ensign - Return to Saskatchewan News
This page is a story posted on Ensign and/or Saskatchewan News, both of which are daily web sites offering a variety of material from scenic images, political commentary, information and news. These publications are the work of Faster Than Light Communications . If you would like to comment on this story or you wish to contact the editor of these sites please send us email.
Editor : Timothy W. Shire
Faster Than Light Communication
Box 1776, Tisdale, Saskatchewan, Canada, S0E 1T0
306 873 2004