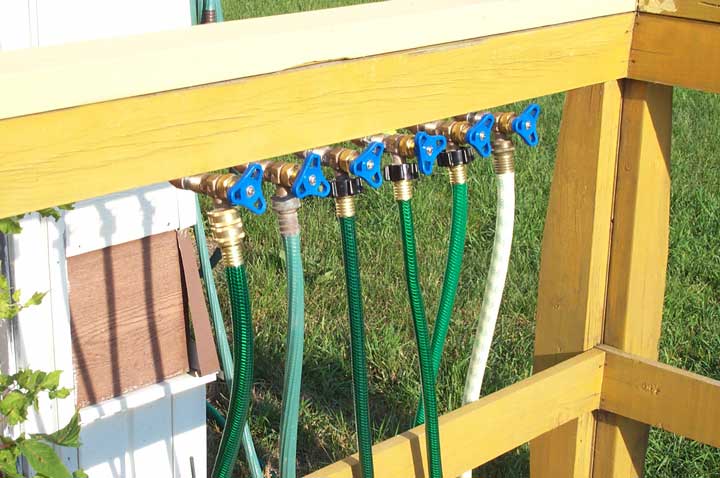 Automated Sprinklers
FTLComm - Carrot River - Saturday, July 5, 2003
When we farmed the yard was on a sand ridge. In the spring the yard was wet for one day, after a rain you could be working again in 20 minutes. The drainage was perfect, but we never could grow much of a lawn. Living in town now we're off the sand and can finally grow a decent lawn. The last two years drought hasn't helped and this year it doesn't look much different. Having a 12,000 square foot lot meant moving sprinklers all the time and the fun was wearing off that quick. Currently, the budget doesn't lend itself towards an under ground system, so some improvisation was required.
After a trip to the local True Value and Co-op I knew what was required but the needed parts weren't available in the numbers I needed. Off to a plumbing store and I had everything required for a Water Manifold. To have one supply line in and five feeder lines out required six wastegate valves, four "T" connectors, eight 90 degree elbows and 18 lengths of 3" long copper pipe. Assembled and tested, $64.10. Using four 180 degree screw down clamps I mounted it under the top rail of the deck *nearly* out of site. From there we ran the supply line from the main tap into the first wastegate valve. Because the hose was to long we cut it to length and inserted a half inch female hose end to make the connection. From there we ran four garden hoses to impact sprinkler heads strategically placed around the yard. Two are 100 foot lengths, one is 25 and the fourth is 50.

Two days later we had to make a modification. The hose end we created wouldn't seal tight, it began leaking. One parts run later, this time to the Co-op Home Centre in Nipawin, we bought a 3/4" X 3/4" female to female Swivel Adapter and another 50 foot hose. This unit connects the hose directly to the water valve with no opportunity for leaks. The extra length of hose was simply coiled up.
All sprinklers were placed against fences, building or deck. The hose connectors are pointing exactly East or South as the case may be so that if they have to be moved to cut the grass lining them back up is no problem. With the impact sprinkler, they are set anywhere from 90º to just beyond 180º degrees of arc. That covers all but a couple of corners of the whole yard. With the 5th line available, we attached a regular hose with a multi attachment hand sprayer for the plants in containers on and around the deck. If one wanted to fertilize the lawn, you could assemble a short section of rubber hose to attach a fertilizer container between the supply line and manifold.
From living in a sandy yard we learned long ago to set the mower deck high. As long as the grass is cut to the same length it looks good: if the mower is set to 3.5 or 4 inches, the lawn will stay lush and green in low water conditions. If you cut it short, the sun will burn the roots no matter how much water you put to it. Watering the lawn is simply as could be. Go on the deck, turn on the supply line valve then select which zone you want to water. Go out every half hour, turn a couple valves, the lawn is wet, green and happy. Even the two Spruce trees are within the watering arcs. The only changes I would make would be to go from the standard 1/2" copper lines, valves and hoses to 5/8's just to increase volumes of water and extend the reach of the sprinklers. That would run your costs up slightly. As is, complete, I have less than $150 into this system.
"If the women don't find you handsome they should at least find you handy." Red Green would be proud.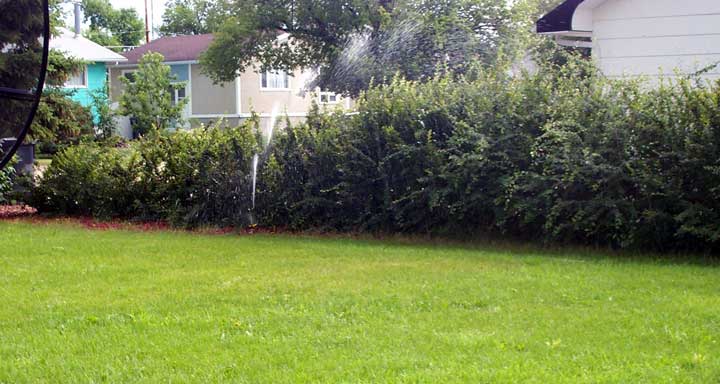 ---
Return to Ensign - Return to Saskatchewan News
This page is a story posted on Ensign and/or Saskatchewan News, both of which are daily web sites offering a variety of material from scenic images, political commentary, information and news. These publications are the work of Faster Than Light Communications . If you would like to comment on this story or you wish to contact the editor of these sites please send us email.
Editor : Timothy W. Shire
Faster Than Light Communication
Box 1776, Tisdale, Saskatchewan, Canada, S0E 1T0
306 873 2004