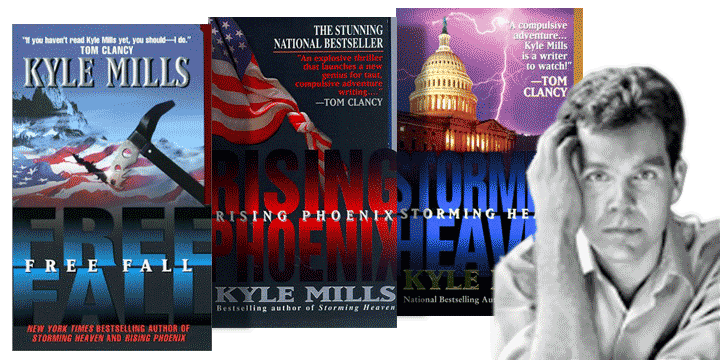 Kyle Mills
FTLComm - Carrot River - Monday, June 7, 2004
Ok, I just finished reading his third book Free Fall. It was one of the best I've read and it'll take a couple days to absorb it.
His first was Rising Phoenix then followed by Storming Heaven. That should be read before Free Fall as he writes like Clancy and Clive Cussler.
The hero, or anti hero, of the series is Mark Beamon, an over weight chain smoking alcoholic FBI agent who in this book is on suspension and facing dismissal and penitentiary time. With lines like
"He was steering with hs knees as his right arm was in a sling and his left was better used to reach the beer can on the dash board".
Just the image you have of the FBI isn't it?
Mills was born in 1966, this book was written in 2000, and his father is a retired FBI agent. His dad's friend, Tom Clancy, got him hooked up with Harper Collins to publisher his books.
Reference:
Mills, Kyle, Free Fall, Chapter One Excerpt, as seen on line June 7, 2004, Harper Collins
Return to Ensign - Return to Saskatchewan News
This page is a story posted on Ensign and/or Saskatchewan News, both of which are daily web sites offering a variety of material from scenic images, political commentary, information and news. These publications are the work of Faster Than Light Communications . If you would like to comment on this story or you wish to contact the editor of these sites please send us email.
Editor : Timothy W. Shire
Faster Than Light Communication
Box 1776, Tisdale, Saskatchewan, Canada, S0E 1T0
306 873 2004