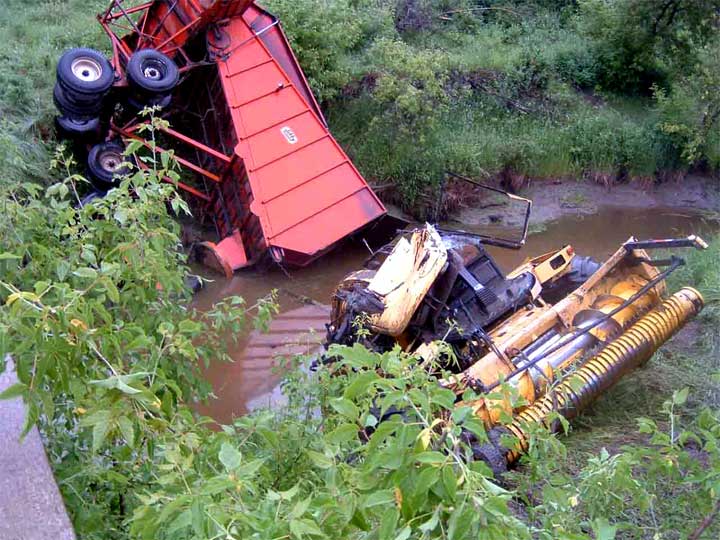 It was all avoidable
Arborfield - Wednesday, July 19, 2004
For the last 40 years now the North East of Saskatchewan has been a major producer of Alfalfa. There are a number of processor plants in the area, mostly farmer owned, with the final product being processed pellets for sale into the Asian market as feed for poultry and livestock. From the farmers prospective it is a Win Win situation: they own by share the local plants and in the spring they will under seed their regular crops with alfalfa. The next year the alfalfa is ready for harvest: three times a year it is cut, hauled to the plant and processed into the final product of pellets and cubes. The individual plants formed a marketing arm based in Tisdale to be their sales agency. The seeded fields produce for three to four years then are sprayed out with Round Up to kill all weeds etc. then plowed down.
The farmer has no input into the fields in that time. All production is handled by the plant freeing up the farmers resources then at the end of that fields production cycle the crop is plowed under. The nutrients from the plants are natural fertilizers. As farmers they get paid for their crops, as shareholders they get annual dividend checks. As parents the dehy plants provide summer jobs for their children or for themselves. This is where things can go bad.
Until mid to late 70's, trucking was contracted out in the plant we were shareholders in and trucking was done with several regular grain trucks. As economies changed, the grain trucks were sold and replaced first with tandem Mack trucks then with tandems pulling trailers behind them. They were still driven by regular farm boys, or local workers who were lucky to get a job. All done with regular Class 5 passenger vehicle licences. On average the Arborfield Dehy would lose a truck a year from road accidents. Traveling back roads loaded doing 120 KPH it didn't take much of an imagination to see why. During the mid 80's SGI called the plant manager and said "yeah that claim you put in for the Mack Truck last week, we see the driver does not hold an air brake endorsement so we're denying your claim". It was a bit of a scramble, but soon all drivers held a 1A commercial licence. They still lost trucks, but they were covered. Their safety record was quite good otherwise, no serious injuries save for a fatality regarding a swather eight to ten years back.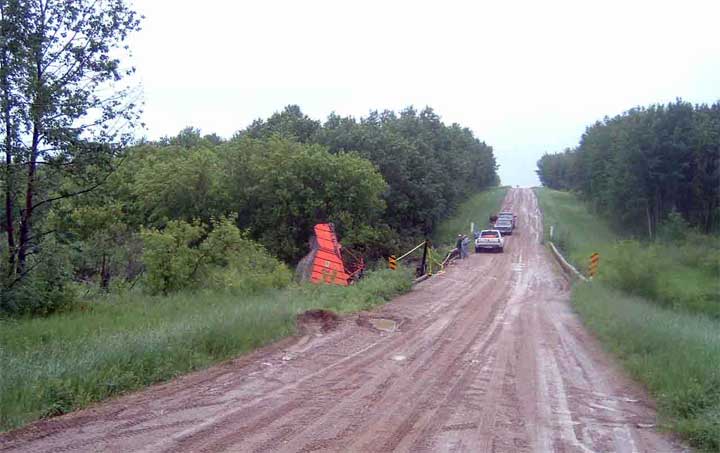 July 2nd that changed. A young man from Aylsham was killed when the harvester he was driving went out of control and crashed off a bridge into a creek. On the surface this is bad enough, but once you get close to it, this was 100% preventable.
Before they used a harvester called a Field Queen. A unit that picked up the swath and blew the loose alfalfa into an onboard hopper. As technology moved on and fields came at greater distances from the plants they moved to larger trucks and harvesters grew in size too. The Carlea plant uses John Deere harvesters which don't use a hopper, the product is blown directly into a truck that follows along side.

New Holland had a similar unit which Arborfield used, only Arborfield pulled a wagon behind which would then dump into a truck when full. Despite specific instructions not to do so, as the unit was not designed to pull a wagon, they in fact, did pull a hay wagon behind the unit.
That situation rose up and bit them bad July 2nd. A 21 year old man with limited experience was returning a harvester to the plant for repairs. These units are large and not designed for ease of handling on a road. With a 35MPH road speed he came to a sharp hill and lost control. As with a swather, the weight is all on the front axle, which also drives the unit through a hydrostatic [oil drive] transmission. Speculation is, once he started down the hill, he pulled back on the hydrostatic drive lever to slow the machine, which was his undoing. With large tractor tires on the front a sudden change in ground speed shifted the weight forward which would unload all weight off the rear axle - which was the steering axle. Pulling a heavy hay wagon behind, he was pushed off the road into the creek bed, the sudden stop causing the wagon to flip over the unit landing on the cab crushing him
The lawyers will love this one. An inexperienced operator running a unit that was being used outside of its design parameters and an industrial equipment designed apparently without sufficient roll over protection in the cab for the operator. This is an industry with nearly 40 years of operation. It has moved beyond 'summer jobs for farm boys going to university', and they're dealing with large equipment of significant mass. The dehy plant couldn't remove the wreckage from the creek, they had to call a contractor and have it removed with a D8 Cat. The family, I hope, is going to sue the plant and New Holland. Workmans Comp will be going after the plant and New Holland. New Holland will be going after the plant as they defend themselves - it's going to be a mess
And it was all avoidable.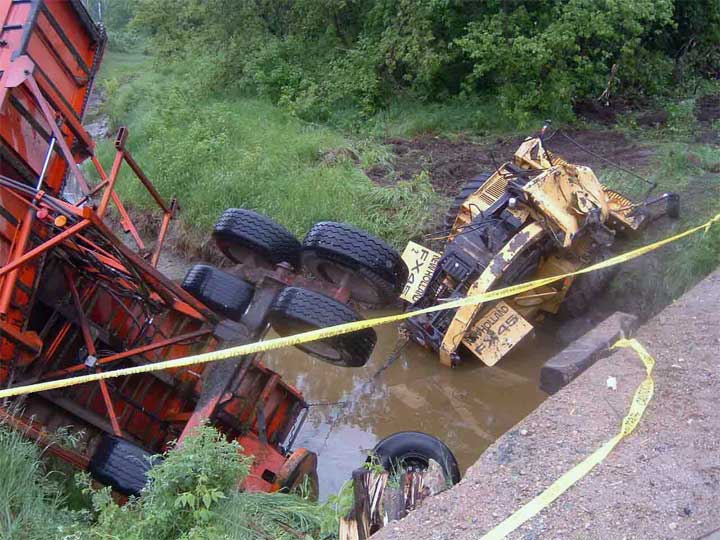 Return to Ensign - Return to Saskatchewan News
This page is a story posted on Ensign and/or Saskatchewan News, both of which are daily web sites offering a variety of material from scenic images, political commentary, information and news. These publications are the work of Faster Than Light Communications . If you would like to comment on this story or you wish to contact the editor of these sites please send us email.
Editor : Timothy W. Shire
Faster Than Light Communication
Box 1776, Tisdale, Saskatchewan, Canada, S0E 1T0
306 873 2004