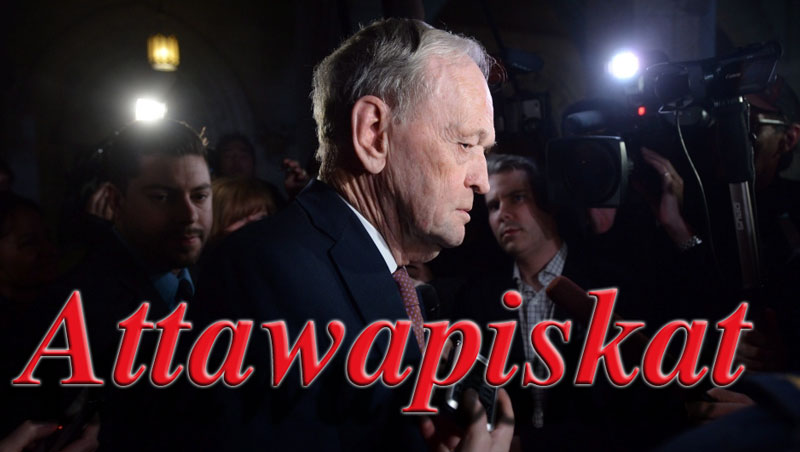 Former prime minister Jean Chretien leaves the swearing-in ceremony for seven new senators on Parliament Hill in Ottawa, Tuesday April 12, 2016.
(Adrian Wyld é THE CANADIAN PRESS)
Adapt and become self sufficient
Carrot River
April 20, 2016
by:Kevin McIntyre
When Jean Chretein said last week that sometimes you have to leave your traditional lands to seek employment elsewhere, like you did, he's right. Until the Chiefs take that seriously and lay down an edict that the kids WILL go to school and actually graduate, we got what we got.

Two weeks ago when the fire on the Rez due east of Winnipeg killed nine people in one house: come on people.

Have Ottawa pay instructors to come in, it can be offered from grade ten up and Ottawa has to pay for it, but have schools teach trades. Carpentry, plumbing, electrical, all can be part of a school curriculum at no additional expense.

That reserve is surrounded by forest. I see a small sawmill. That provides both jobs and product. Roads can be built for export and profit and you take all those kids learning trades and I see an industry being born. Construction, maintenance - all sourced 100% from within. Poverty goes away. The feelings of worthlessness goes away. Disease, substandard housing, crime, alcoholism - it would all go away.

Ottawa has an obligation for education so there is no new funding to seek, its there. However, as with everything else, it lands on the shoulders of the Chiefs and Band Councillors and their track record is pocket the money, while their bands live in poverty and filth as they blame Ottawa.

Small sawmills are cheap and put out a lot of product. Source your own lumber, sell the excess and put your own people to work providing plentiful safe clean housing. People don't wreck things they built themselves.

Its easier to blame Ottawa though.