WASHINGTON (AFP) - A congressional staff probe has revealed that sex ed classes, backed by the administration of President George W. Bush, that preach abstinence for US teens feature incorrect or misleading information about the safety of condoms and the risks of abortion.

The report released by Democratic Representative Henry Waxman (news, bio, voting record) of California examined claims in sex ed curricula used by federally funded abstinence-only education programs across the United States, one of which claims that just touching another person's genitals "can result in pregnancy."

"The report finds that over two-thirds of these federally funded abstinence programs rely on curricula that distort information about the effectiveness of contraceptives, misrepresent the risks of abortion, blur religion and science, treat stereotypes about girls and boys as scientific fact and contain basic scientific errors."

Such "errors" explain why programs teaching youngsters abstinence "have not been shown to protect adolescents from STDs (sexually transmitted diseases)," according to the report, which was released Wednesday.

The Bush administration has sharply increased funding for programs that teach abstinence as the only way to protect against STDs and unwanted pregnancies.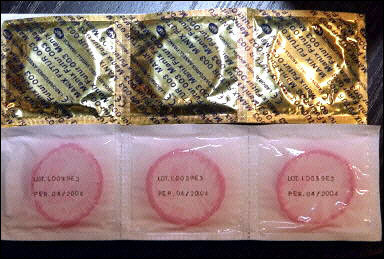 Condoms on a display table. The majority of sex ed classes that preach abstinence for US teens feature incorrect or misleading information about the effectiveness of contraceptives and the dangers of abortion, according to a report released by a Democratic congressman.(AFP/File/Jean-Pierre Muller)



The US government has devoted 170 million dollars to the cause for the 2005 fiscal year, more than double the 80 million allocated in 2001.

Some class manuals claim that condoms can help transmit the AIDS (news - web sites) virus, that masturbation "can result in pregnancy," that five to 10 percent of women who have had legal abortions will be unable to conceive in the future and that a 43-day-old embryo "may be thought of as a thinking person."

"Something is seriously wrong when federal tax dollars are being used to mislead kids about basic health facts," Waxman said in a statement accompanying the report's release Tuesday.

In other glaring examples plucked from the findings, one curriculum incorrectly lists "exposure to sweat and tears as risk factors for HIV (news - web sites) transmission."

While another claims that "women gauge their happiness and judge their success on their relationships. Men's happiness and success hinge on their accomplishments."

Other examples included sections saying that a pregnancy occurs one out of every seven times that couples use condoms while another curriculum states that in "heterosexual sex, condoms fail to prevent HIV approximately 31 percent of the time."

However, according to the Centers for Disease Control and Prevention (news - web sites) (CDC), "Latex condoms, when used consistently and correctly are highly effective in preventing the transmission of HIV, the virus that causes AIDS."

The report for Waxman's office also cites a study by Columbia University which found that while some "virginity pledgers" did delay sex, 88 percent still had premarital sex and their rates of STDs showed no statistically significant difference from those of non-pledgers.

Other off-the-mark claims cited include: "While a man needs little or no preparation for sex, a woman often needs hours of emotional and mental preparation."

The congressional staffers reviewed the program summaries of 13 curricula used in federally funded abstinence-only education programs across the country.

Of the 13 reviewed, 11 contained "major errors," according to Waxman's office, while the remaining two curricula did not contain major mistakes or distortions.

The eleven curricula are used in 25 states by 69 grantees, including state health departments, school districts, and hospitals as well as religious organizations and pro-life groups.