When Bev Armitage woke up from brain surgery last week at Royal University Hospital, there was something unexpected happening in the room -- construction.

Her daughter, Teri Armitage, said her mother was horrified to find construction workers drilling into a wall only three beds away from her mother just hours after she emerged from the operating room.

"Tears were just streaming down her cheeks, she was in such pain from it," Armitage said. "It was loud. The nurses, their nerves are frayed. It's like a big drill reverberating in a big open room."

The hospital's intensive care unit has been under construction for two weeks while the Saskatoon Health Region (SHR) builds two new isolation rooms. The region badly needs the rooms to care for patients who are either dangerously contagious or need protection from everyone else's germs, said Sandra Blevins, vice-president of clinical and operations support services for the SHR.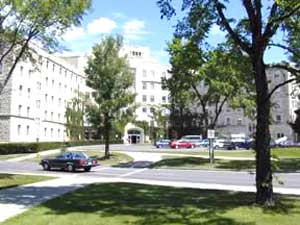 Armitage contacted the health region to complain. "To alleviate it they put . . . those little sponge earplug things in her ears and that was their idea of a solution," she said.

Armitage said the health region told her it was trying to minimize inconvenience for ICU patients from the construction.

"We weren't talking about an inconvenience," Armitage said. "I was talking about physical pain in addition to the pain of just having her skull split open. She had to have her head cut and then she's lying there in agony because of the drilling by her head. And they're saying there's nothing they can do about it."

Although Blevins said the situation isn't ideal for patients, the hospital doesn't have a choice.

"I can certainly appreciate being a family member sitting through that, you'd be conscious of all those sounds -- and probably more so than the patient is at the time -- but I certainly appreciate you would be upset."

Royal University Hospital is the city's major trauma centre, and closing the ICU there is not an option, Blevins said. The room is also filled with reams of built-in equipment that can't be moved.

Moving brain surgeries to a different hospital for the three weeks of construction isn't an option either, she said.

The region informed the contractors that patient care comes first, and the workers will leave the room if medical staff ask them to, Blevins said. The hospital is taking steps to minimize the intrusion, such as setting up vents and curtains that prevent any debris from falling on patients and shutting construction down now and then to give patients a rest.

"It's not an ideal time to be in that unit but I think that everyone is trying to be as conscientious as possible," Blevins said.

Although Blevins said the health region hasn't had any other complaints about the work, staff have started informing patients destined for the ICU and their families about the construction. The ICU is typically a noisy, intimidating environment for patients' families even without construction, she added.

Armitage's mother, who is now recovering in a regular ward, doesn't want any other patients to have the same experience she did, her daughter said.

"I just think there should be a better plan. . . . I can't see that it would be very soothing to come out of anesthetic after life-threatening surgery and be in a construction zone," Armitage said.

The construction should be complete by the end of the month, Blevins said.