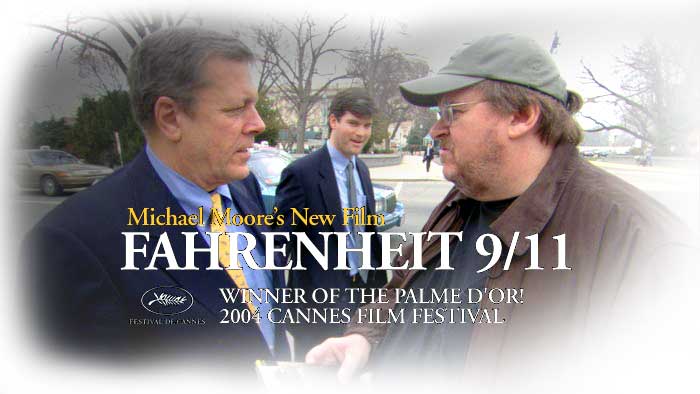 Fahrenheit 9/11 in theatres June 25th
Flint, Michigan - Tuesday, June 8, 2004
June 4, 2004
Hey Everyone...
As you may have heard by now, we finally have a distributor in America for "Fahrenheit 9/11." Actually, two of them! Lions Gate Films and IFC Films have agreed to aggressively distribute "Fahrenheit 9/11" in theaters all across the country beginning three weeks from today on Friday, June 25th. We are, needless to say, extremely grateful for their courage (trust me, no matter what the potential box office may be, anyone who has considered taking on this distribution job has also met with a lot of pressure NOT to do it in the past month).
They will open it on a record number of screens for a documentary. There is no stopping it now!
These are great distributors. Jon Feltheimer, the man who runs Lions Gate, was the executive in charge of the company that produced my television series, "TV Nation." And the people at IFC (which owned Bravo) were the same people responsible for funding and broadcasting my other series, "The Awful Truth." So we are in very good hands.
(And, as an added bonus, Lions Gate is a Canadian company. Once again, the Canadians to the rescue! It was also a Canadian company, Salter Street Films, that produced "Bowling for Columbine." I know, it's kinda sad we have to keep depending on our good neighbors to the north. But maybe this is the year we give 'em their Stanley Cup back.)
There's a lot more to tell you -- and I will write to you again over the next few days. I'm in the mood to spill some beans, much to the consternation of certain people. Oh well!
Also, I have posted the trailer for "Fahrenheit 9/11" so that you can get your first glimpse at scenes from the movie--you can check it out at www.fahrenheit911.com .
Thanks for all your wonderful letters of support -- they have meant a great deal to us.
Save the date -- June 25! It's the first summer film where the special effects will be real...
Reference:
The official website of Michael Moore
Thomson, Doreen, Fahrenheit 9/11': Connecting With a Hard Left, May 18, 2004, Washington Post
World Press Review, Fahrenheit 9/11 Wins Palme de Or, May 23, 2004, a series of comments from around the world on the film
Cooper, Tracie, Fahrenheit 9/11, June 2004, the New York Times
Corliss, Mary, A First Look at "Fahrenheit 9/11", May 17, 2004, Time Magazine
Return to Ensign - Return to Saskatchewan News
This page is a story posted on Ensign and/or Saskatchewan News, both of which are daily web sites offering a variety of material from scenic images, political commentary, information and news. These publications are the work of Faster Than Light Communications . If you would like to comment on this story or you wish to contact the editor of these sites please send us email.
Editor : Timothy W. Shire
Faster Than Light Communication
Box 1776, Tisdale, Saskatchewan, Canada, S0E 1T0
306 873 2004