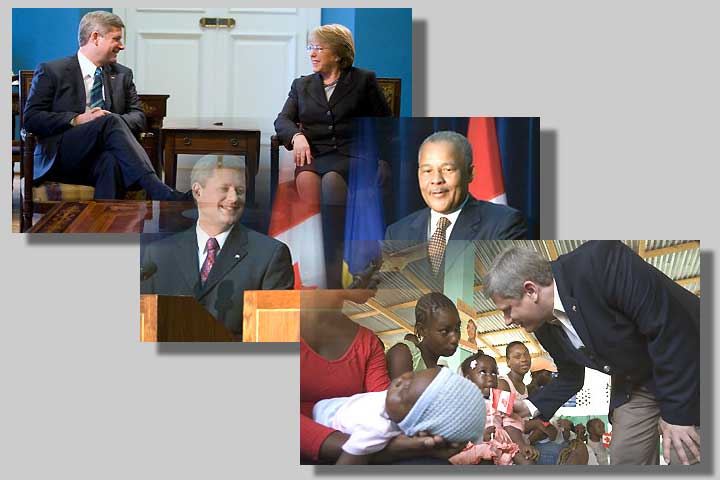 Prime Minister with President of Chile, Prime Minister of Barbados and in Haiti
(images from Prime Minister's site)
Words promise Latin America a "third way";
Actions belie them
Victoria, B.C., Tuesday, July 24, 2007, by : Eugene Parks
The Prime Minister recently traveled to Latin America to offer what he calls Canada's "third way." An alternative in which he, "cast Canada as firmly distinct from the U.S." Latin Americans could choose a path other than to "return to the syndrome of economic nationalism, political authoritarianism and class warfare, or to become just like the United States." He argued that under his "third way" Canada differs substantially from being like the United States. "Our cultural values and social models have also been shaped by unique forces and we've made our own policy choices to meet our own needs."

However, Latin Americans can be forgiven for being unable to distinguish Mr. Harper's shaping of the Canadian alternative from the path to becoming just like the United States.

Politically, Mr. Harper is moving Canada closer to the American model of fixed election dates and elected Senators. Economically, the aim of Mr. Harper's participation in the Security and Prosperity Partnership Summit in Montebello is explicitly focused on generating even more Canada-US economic harmonization and integration. In terms of security, "Some observers of U.S.-Canada relations say that since 9/11, the security perimeter is being erected regardless of what Canadian officials call it."

What Mr. Harper offers as a Canadian option appears to be the path to becoming incrementally more and more just like the States. Sadly, our Prime Minister's actions belie his promise of offering a Canadian "third way".
References:
Foot, Robert, Harper casts Canada as firmly distinct from the U.S. (pdf) July 17, 2007, CanWest News Service
Sanchez, Marcela, U.S.-Canada gulf widening Can Canada do anythiung to stop it? (pdf) July 20, 2007, Washington Post
Prime Minister's web site, Prime Minister Harper signals Canada's renewed engagement in the Americas, (pdf) July 17, 2007, Government of Canada
---
Return to Ensign
This page is a story posted on Ensign a daily web site offering a variety of material from scenic images, political commentary, information and news. This publication is the work of Faster Than Light Communications . If you would like to comment on this story or you wish to contact the editor of these sites please send us email.
Editor : Timothy W. Shire
Faster Than Light Communication
Box 1776, Tisdale, Saskatchewan, Canada, S0E 1T0
306 873 2004