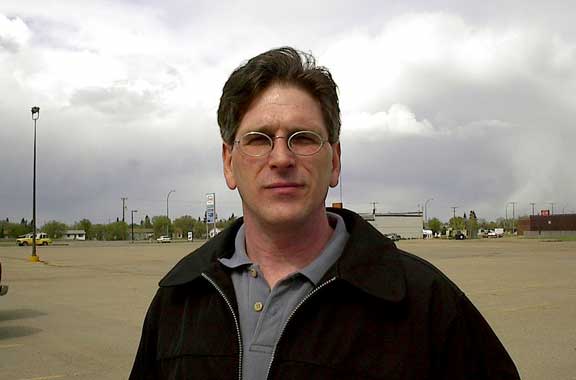 Mark Pitzel
FTLComm - Tisdale - Sunday, May 18, 2003
Mark Pitzel grew up in Bjorkdale and moved with his family to Tisdale when he was in grade ten. After graduation he attended St. Peter's College at Muenster where he met and married wife and they now have four children.
Mark became a meteorologist with environment Canada and he had the good fortune of becoming a Watson Laker having spend many years in Watson Lake Yukon as a weatherman.
On October first, 1999 he went to work as the ministerial assistant to the provincial minister of Energy and Mines where he has served since that time.
As we all know places like Tisdale are hard to leave and easy to return to and Mark has come home to seek the nomination for the New Democratic party and to run in the next provincial election.
Mark's background in the liberal arts programme at St. Peter's gives him a wide reflective view of things, coupled with the humbling experience of having to interpret the weather in one of the most dynamic and changeable weather locations in Canada made him ideally suited to dealing with the difficulties of provincial government. The ministerial assistants programme within the provincial government is intended to develop future political leaders who understand the limitations and responsibilities of government.
As a working part of government for the past four years Mark Pitzel is going into the election arena with the understanding of provincial government and a reputation with the present politicians and administration. With a back ground like that he would be an extremely effective representative in the legislature for people in this riding as he would certainly be a prospective cabinet minister.
Two others are also seeking the nomination which will be held at the Golden Age Centre in Tisdale on May 27th.
---
Return to Ensign - Return to Saskatchewan News
This page is a story posted on Ensign and/or Saskatchewan News, both of which are daily web sites offering a variety of material from scenic images, political commentary, information and news. These publications are the work of Faster Than Light Communications . If you would like to comment on this story or you wish to contact the editor of these sites please send us email.
Editor : Timothy W. Shire
Faster Than Light Communication
Box 1776, Tisdale, Saskatchewan, Canada, S0E 1T0
306 873 2004