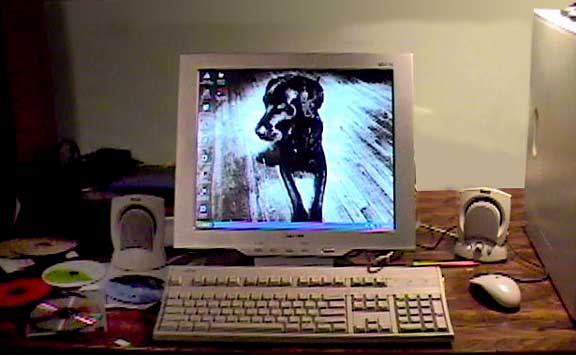 A new box on the desk
Kamloops - Monday, December 16, 2002 by: Michael Townsend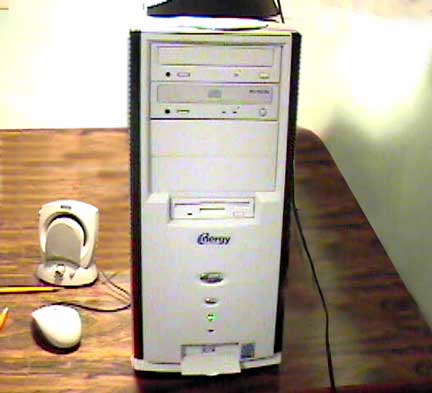 Pentium 4, 2.53 ghz, 512 meg ram, 80 gig HD, 48x cd-rw, dvd-rom. I use a 2 ghz 1 gig ram machine at school and I and notice the difference in speed with this machine when using Photoshop.

This one is very fast. But for me the computer revolves around this monitor. 17" LCD which seems to have the same viewable area as my 19" monitor at school. But this one is so much easier on the eyes.

Four USB 2.0 ports, two front two back. I will be doing a lot of work with Photoshop so speed and the monitor are very important.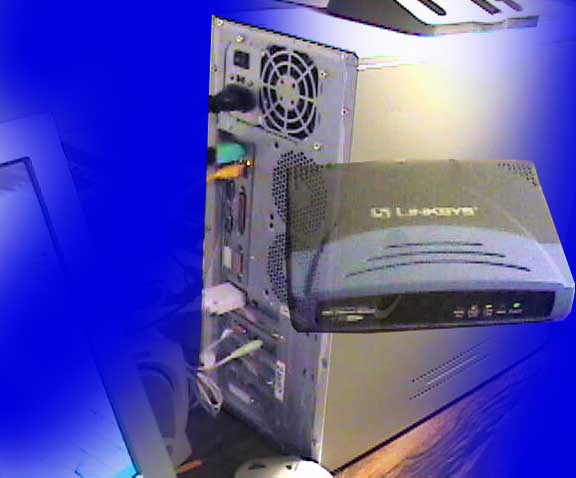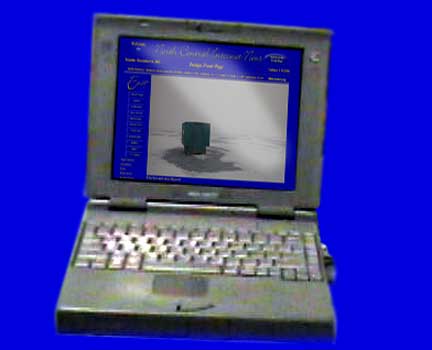 The images that I create for our yearbook range in size from 5megs to 60 megs and higher. Definition at home now exceeds that at school so much of the work can now be done at home.

Also I will be doing video work where once again speed is very important.

This machine should hold up very well. The speakers are Altec stereo with a sub woofer. They sound terrific.

And finally, the connect speed. ASDL ethernet. Man, the only way to go. Since Shaw pulled out of providing service at the school, (another Liberal thing I think), sending large files will be doable at home.

But of course I have included a picture of my LC 650 Mac (6 -7 years old?). I have a Personal LaserWriter attached so still do word processing and when I am away from school, I fax in my lesson plans with "Marvin's" MacandFax modem. (No modem with the new one.) Notice also "Marvin II"(about 5 years old). He has yet to find a home. With 16 megs ram and 1 gig HD, he was my e-mail machine. Maybe he will become my travelling note book.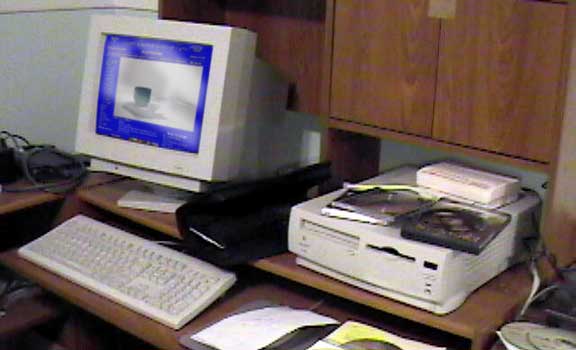 Editor's note: Michael Townsend took these pictures with a JVC digital video camera. The image in the top picture is it appeared, the other images have been added to the other screens on the page.
---
Return to Ensign - Return to Saskatchewan News
This page is a story posted on Ensign and/or Saskatchewan News, both of which are daily web sites offering a variety of material from scenic images, political commentary, information and news. These publications are the work of Faster Than Light Communications . If you would like to comment on this story or you wish to contact the editor of these sites please send us email.
Editor : Timothy W. Shire
Faster Than Light Communication
Box 1776, Tisdale, Saskatchewan, Canada, S0E 1T0
306 873 2004