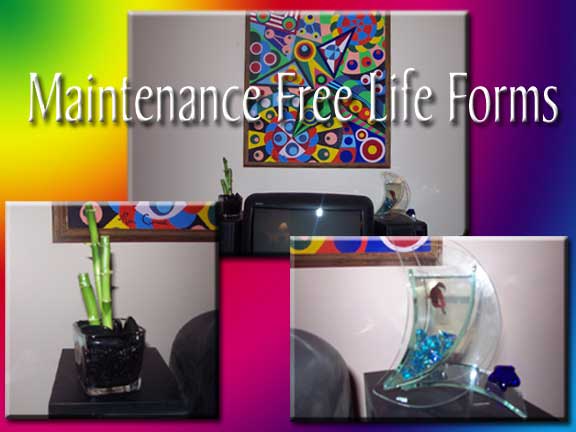 Kamloops - Saturday, January 25, 2003 by: Michael Townsend
I have found the perfect living companions.
First my fish. Some time ago 'Crash' died. I tried to make his life fuller, more complete. I got a new tank, with air and plants, everything. I changed his water regularly and fed him once every three days. Life seemed good for him until I found him belly up. Now I have 'Crash MX'. New container, change the water when I can't see him any longer and feed him when I vacuum. (Once a week when I remember.) And he is thriving and seemingly very happy.
Second the plant. 'Shui Bamboo'. I just make sure he is in one or two inches of water at all times. Change the water once every three weeks. Keep him out of direct sunlight and that's it. Shoots of leaves will grow from each section of the bamboo, and he'll grow up to two feet in height with over a dozen leaves on each one. 'Shui' will live for many years, without ever having to be replanted.
Life is good.
---
Return to Ensign - Return to Saskatchewan News
This page is a story posted on Ensign and/or Saskatchewan News, both of which are daily web sites offering a variety of material from scenic images, political commentary, information and news. These publications are the work of Faster Than Light Communications . If you would like to comment on this story or you wish to contact the editor of these sites please send us email.
Editor : Timothy W. Shire
Faster Than Light Communication
Box 1776, Tisdale, Saskatchewan, Canada, S0E 1T0
306 873 2004