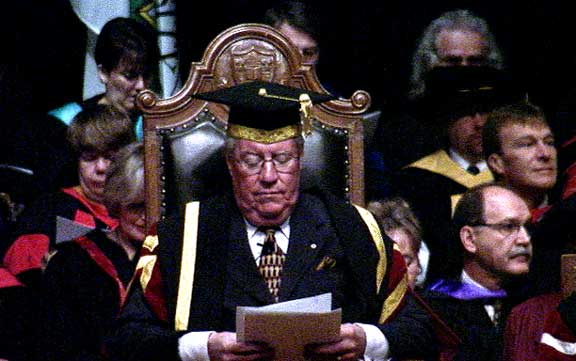 University of Saskatchewan Chancellor W. Thomas Molloy checks out the programme
University of Saskatchewan
Fall Convocation
FTLComm - Saskatoon - Sunday, October 27, 2002, Images by: Matthew Shire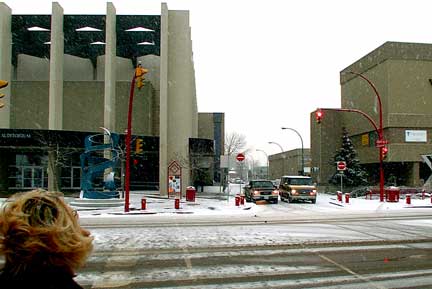 We mark our passage through life with a series of events and rituals that validate for ourselves and others, our progress. There is no question that graduation, be that from high school, completing your bachelor's programme, masters, or ascending to a Ph.D., is an important landmark and on Saturday, the University of Saskatchewan held its fall convocation to recognise its students who have reach each of their immediate goals. In addition, the University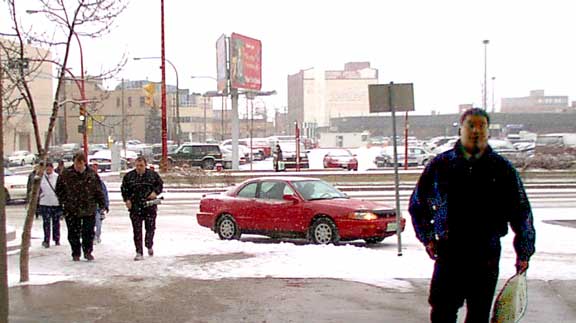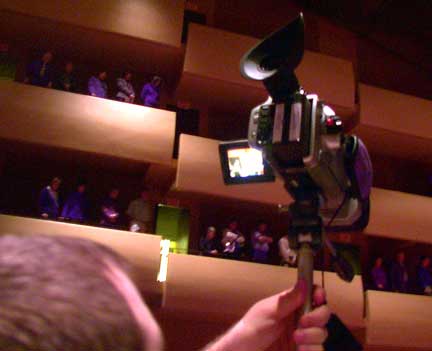 used the occasion to recognise and pay tribute to members of its faculty and staff who have excelled in their roles to the point that their achievements need to be validated and rewarded by the recognition of their peers and the community as a whole.

The doors of the auditorium did not open until 8:00 AM but we were there shortly after 7:00 and were not alone. We slipped out for breakfast and with at least a thousand or more other friends and relatives of the graduates of this fall's convocation, were in our seats at 8:45.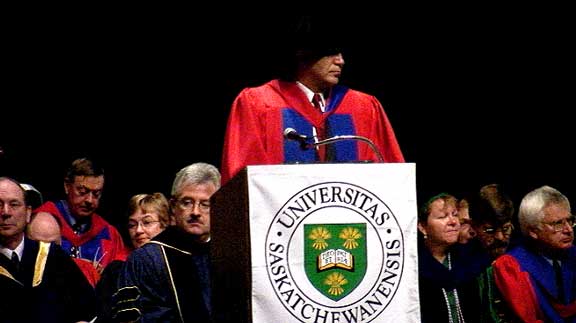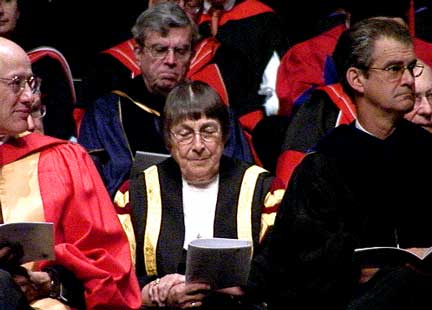 As the graduants filed in, Matthew had the camera focused on the endless row of proud people in a room of equally proud supporters. Glenn Gillis conducted the University orchestra as they filled the huge auditorium with music suited to the situation then backed up Tatrina Tai in the national anthem.

On the extreme left of this picture is the profile of Moose Jaw native Barry Wigmore who received an honourary doctorate of Law and presented the convocation address.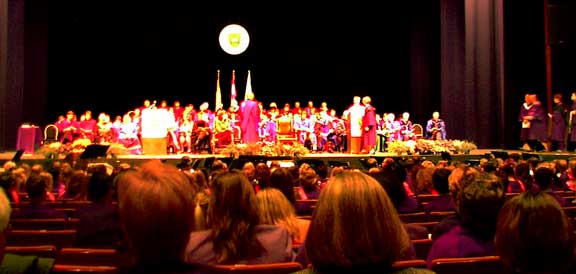 Wigmore became a teacher in 62, got his B.A. in 63, masters in 64, a B.A. in politics in 66, then at Oxford achieved an M.A. in philosophy and Economics in 1971. Not bad for somebody who grew up as a doctor's son in good ole' Moose Jaw. He has made is home in New York as an investment banker since then, whipping out a couple of books, been a director of several corporations and was involved with policy work for former US president Bill Clinton. Achievement and recognition are great, but perhaps oratory was not considered that important. I am pretty sure he mentioned the volatility in the stock market, but spent a few minutes talking about ducks. Apparently, inspiration was not part of this morning agenda.

Everything is a part of something else and we must never forget that context is the only thing that makes and keeps something relevant

Were it not for the cloud of mercantilism and corporate worship that seems to be the context of the University of Saskatchewan, President Peter MacKinnon's speech might have had more impact, but his lofty and no doubt valid remarks (to him), seemed to ring so hollow. Without the University under his leadership, showing it means what it says, instead of its actions and behaviour demonstrating clearly that it is only going through the motions, when it comes to honouring the principles of higher learning and honesty in true research. MacKinnon and his staff have boldly and rigourously supported Dr. David Cassidy and his research for hire and the University of Saskatchewan is stained with the money from business, government and industry, so that the validity of each degree and word spoken have to be viewed within that context. If an insurance company can buy support from the University for no fault insurance then you have to wonder what else is for sale.

But the students recognised at Saturday's ceremony did their work each to better themselves and avail themselves of scholarship. All over the world and every part of Saskatchewan was represented as scientists, teachers, nurses, engineers and agricultural scientists received their hard earned degrees. Each and every one of them deserved their honour and place in the sun.

There were also thirty-six people who received their bachelor of commerce, eight their masters of business administration and eleven masters of accounting. All, no doubt, fine people trained to make no known worthwhile contribution to society. (Clearly my disappointment with the Arthur Andersons of the world is showing, but it is the time in which we live and as I have stated, we can not view, or see things without placing them in context. The test I bring to this issue is this, what would the world be like if we did not have trained business administrators? The answer: "Better.")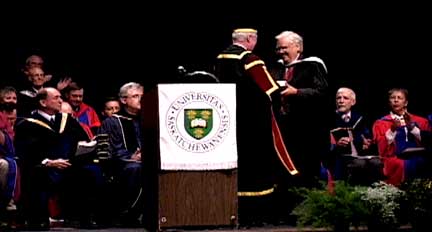 Though the huge audience was there to recognise the people graduating, the University took the opportunity of having a crowd on hand to recognise and grant awards to a small group of outstanding people among them Donald Kerr (right) a man who has been credited with helping "Saskatoon residents understand how to live with their city's past." This is a very laudable achievement when you consider the remarkable challenges facing this crime ridden prairie city.

Despite my negative remarks about the social research and the university's on going complicity with Monsanto and other American corporate entities, the hard working pure scientists still exist at the University of Saskatchewan and among them is remote sensing space pioneer (below) Edward J. Llewellyn.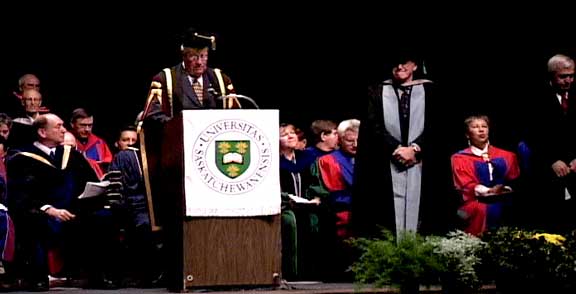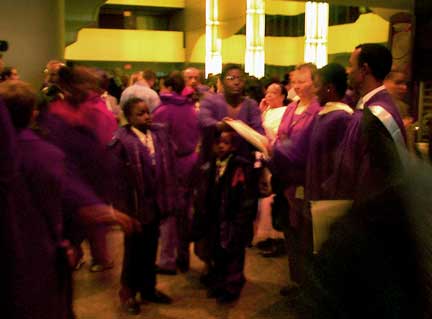 With the honours bestowed and recognised, the event ended with "God Save the Queen" a charming way to close an event and one that has outstanding merit.

Families and friends flocked around the graduates, posing for pictures, offering their simple presence to show their pride in the achievements. Cameras, hugs, smiles and a genuine good feelings choked the hallways and reception areas.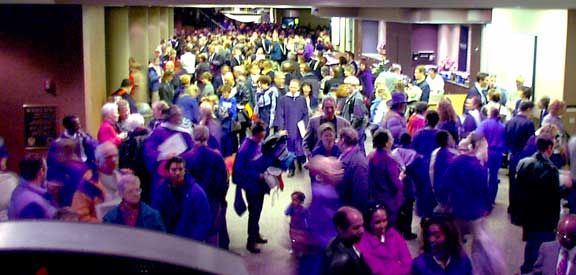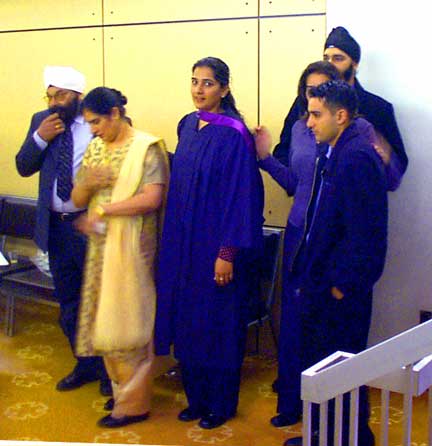 The concept of the University, every university, is to bring people toward their goals and always seek the wonder of knowledge and the quest for the unknown. The marvel of Canada and of being a Canadian is the amazing richness brought to our land, our communities and certainly our learning institutions, by all of us, each immigrates to our country, which has boldly chosen to pursue multiculturalism. The lists of students and their names tell of what we Canadians are and we need to be reminded of what this treasure means.

Amidst the graduates was a young man wearing his clan blanket (Thunderbird) from Prince Rupert, researchers from Korea, Beijing, the middle East and every corner of the planet. Saturday morning they were there together honouring each other just as they have worked toward this goal together and will continue to build this country together, with the wisdom and understanding that they are building.

As a family, we were like the others, beaming with pride and looking forward to the day when others among us would reach their turn marking this point in their lives. We all step forward.
---
Return to Ensign - Return to Saskatchewan News
This page is a story posted on Ensign and/or Saskatchewan News, both of which are daily web sites offering a variety of material from scenic images, political commentary, information and news. These publications are the work of Faster Than Light Communications . If you would like to comment on this story or you wish to contact the editor of these sites please send us email.
Editor : Timothy W. Shire
Faster Than Light Communication
Box 1776, Tisdale, Saskatchewan, Canada, S0E 1T0
306 873 2004