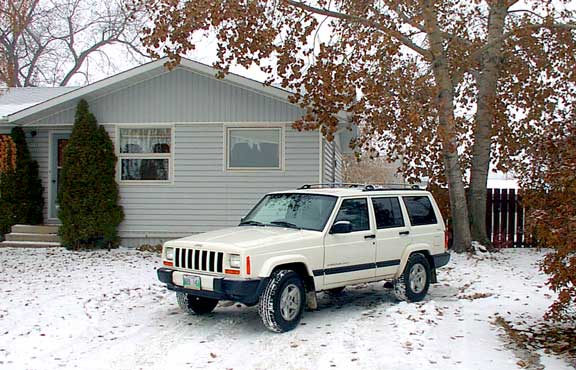 Ice, fog and four wheel drive
FTLComm - Tisdale - Friday, October 25, 2002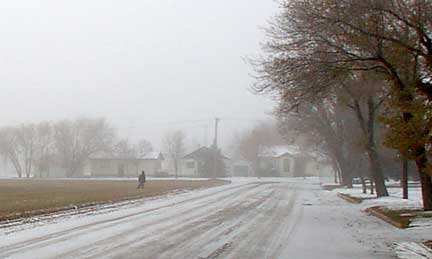 During the middle of the night it looked like it was closing in with fog but what actually was happening was a light flurry of snow was occurring that by 5:30 was still less than half an inch but with dawn the ceiling settled down upon us giving us fog.

With the temperature at -2º C the covering of snow on the street was turning to ice and made Tisdale's streets very slippery.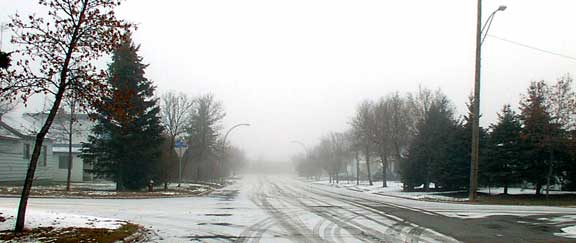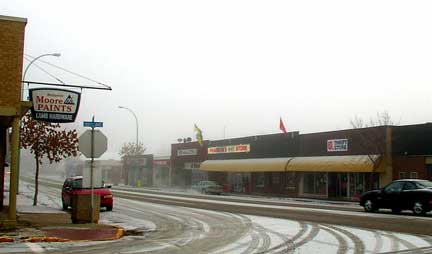 The two pictures above show the view South and the view North on the street in front of our house while this image shows down town at 8:30.

Each winter with the arrival of slipper streets we all have to learn to drive in a new manner giving ourselves a little extra room and being more careful of the limited traction available.
On my bicycle ice is especially uncomfortable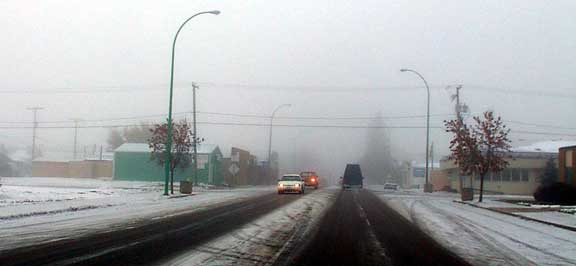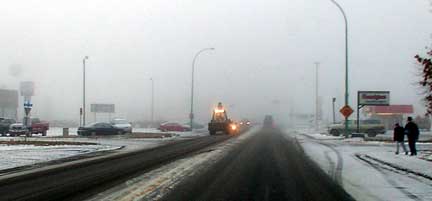 but most four wheeled vehicles also seem a little out of control. This morning as I drove around I was driving a automatic transmission version of a Jeep Cherokee with the four wheel drive engaged.

I tried several sections of street first in two wheel drive and then with all for wheels grabbing hold.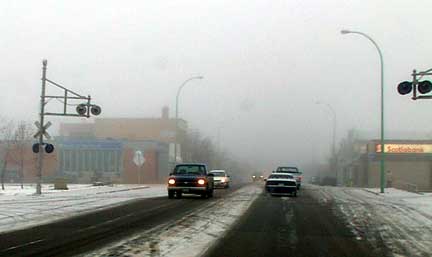 It was immediately apparent why North Americans are in love with the gas guzzling SUV (sport utility vehicle). Besides being heavy and giving you the feeling of increased security the four wheel drive on slippery pavement is a complete revelation to the two wheel driver.

Steering, breaking and acceleration all are more positive and more than twice as positive than even a front wheel drive. Though I have driven a four wheel drive before it was always a manual transmission and it was not as easy to see the direct comparison with the Taurus or a Windstar van. The automatic transmission in the Jeep allowed me to observe the simplicity of handling and clearly demonstrated the advantage such vehicles have.

What a pity that the added equipment to make all four wheels develop power is costly, increases gasoline consumption and increases the cost of maintenance because the security and safety of this kind of vehicle is quite remarkable.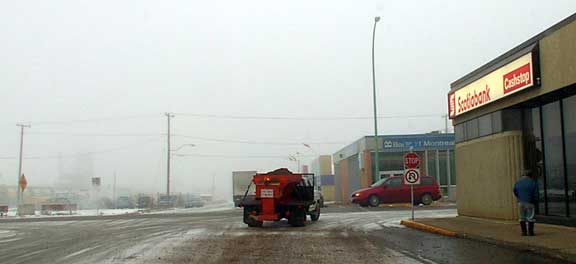 ---
Return to Ensign - Return to Saskatchewan News
This page is a story posted on Ensign and/or Saskatchewan News, both of which are daily web sites offering a variety of material from scenic images, political commentary, information and news. These publications are the work of Faster Than Light Communications . If you would like to comment on this story or you wish to contact the editor of these sites please send us email.
Editor : Timothy W. Shire
Faster Than Light Communication
Box 1776, Tisdale, Saskatchewan, Canada, S0E 1T0
306 873 2004